Use our LinkedIn Login to download this post to PDF or save it to MyLibrary!
HR Software Solutions, Inc. is a The HRIS World preferred-vendor
Click on the image to discover more
When I finished writing our pillars, I always felt something just wasn't complete.
The pillars provide an insight into who we are, what we stand for, our values, even the value of knowledge… Wisdom… Discernment… and Principles…
And much thanks to Simon Sinek's teachings, I was able to discover what that feeling was, what made me feel the pillars weren't complete.
I never addressed the why…
Why The HRIS World?
It is one thing to have a vision, it is another to have a motivator – one will inspire, the other will drive, motivate.
We could say we created The HRIS World because we love blogging, which we do — but a lot of people love blogging so why The HRIS World?
We could say we created The HRIS World to make a living — which doesn't make sense as blogging is not the easiest way to make a living.
You're making a living and if the stats are right you are one of the more than 60% who is holding a job to generate a paycheck and you are not really in a job you really love.
post continues after this free offer
Featured Free Offer
The complete guide to getting better work, taking more time off, and financing the life you want.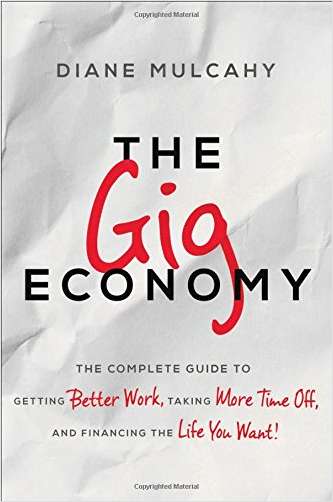 The Gig Economy - Book Summary
Full-time employment, once the quintessence of security and stability, is increasingly rare.
Employers create fewer full-time positions and outsource existing work. For growing numbers of job seekers, working independently is a safer bet.
Living without a corporate safety net may sound precarious, but with proper planning, you can manage a freelance career that's at least as stable as a full-time job.
And, it holds out the prospect of more control over your work and your life.
In this breezy, entertaining how-to manual, Babson College professor Diane Mulcahy offers a blueprint for assembling and managing a diversified portfolio of work.
She outlines appropriate approaches to saving, vacations, homeownership and retirement planning. getAbstract recommends her manual to anyone seeking an alternative to the cubicle, the assembly line or the corner office.
In this summary, you will learn:
Why traditional full-time jobs are disappearing;
Why freelance or contract "gigs" are taking their place; and
What strategies you can use to assemble a portfolio of gigs that offers you reliability, financial security and personal satisfaction.
Offered free by:


a d v e r t i s e m e n t s
a d v e r t i s e m e n t
post continues from above
You may love your current job but would change in a heartbeat for your dream job ever crossed your path.
So, why The HRIS World?
Here's why…
Everyone loves success and being successful,
you want to achieve success and be successful…
so do we.
We believe we have what is necessary
to inspire you to have the information needed
so to prepare for the next change;
to inspire you to have the information needed
to build traits within your organization,
within yourself,
so to inspire others around you.
We believe we know what is necessary
to build and hone relationships
that will support your success and
that drive you towards and into your success.
There is only one missing part – your participation.
The HRIS World wants to inspire you
to have successful relationships
that will motivate you to be successful,
which will, in turn,
will inspire you to inspire others
in having successful relationships…
your participation is highly desirable.
Everyone loves success and
everyone loves being successful,
we want to see everyone in this industry
to be as successful as they can be,
especially you.
We hope to see your success become reality soon.
Use the comments below or use the blue 'contact us' button on the lower right of your screen to share your thoughts.
Even better, become a free member with The HRIS World – the summary of your LinkedIn profile as well as your email will be added to our database where we can provide you everything you need to participate.
Know up front, we do not sell nor buy lists with anyone, assuring confidentiality of your information.
If you desire any of our newsletters, then click the image below — you control everything you receive, change it when you desire.
All newsletters provide links at the bottom to give you quick access to your newsletter profile.
---

Click the image to start your newsletters now!
---
Just what are your free member benefits?
This page explains everything about our public and member services – and is updated often!
Garrett O'Brien
Publisher, Editor, Charman
The HRIS World
Our Social Media Presence
Where to Follow Us!
Twitter

More than 20 magazines and smart magazines to follow - check them out now!
LinkedIn
Google +
Minds.com
Open Group | Free Minds membership required
---
(Visited 30 times in the last 4 wks, 30 visits today)
The following two tabs change content below.
Garrett is the publisher, editor, writer forThe HRIS World Research Group, which includes The HRIS World, The HRIS World Research, The HRIS World Jobs, The HRIS World News, and The HRIS World Videos
With more than 20 years in roles as a client executive sponsor (#thwCES), project manager as well as functional / technical lead, Garrett is sought for his expertise for project insights, thought leadership, and team management globally.
He has been involved in large-scale and complex implementations since 1991 and has recently moved his operations to be with his wife in Brazil.
Garrett has had the pleasure of working with some of the greatest talents in the industry, and constantly shares his experiences and knowledge through content and webinars.
He maintains his fluency in Portuguese, German, French, and English with his various endeavors and contacts..
When not working, you will have to be adventurous to stay up with him as Garrett loves motorcycling, gunnery, boating, sailing, flying, and sports fishing -- and accompanying his wife on her various likes
About The HRIS World Research Group
The HRIS World blog, which is read by more than 50,000 from more than 160 countries monthly, manages to have more than 550,000 pages viewed monthly. 40%+ of the audience are decision-makers in their organization (and about half of that being C-levels!).
As CEO for CGServices USA Inc, he focuses on multi-provider, multi-line implementations consultation for HRIS systems
Council and Education Member of Gerson Lehrman Group Council, helping institutions of the world leaders meet, engage and manage experts across a wide range of sectors and disciplines.
Your Invite to Contribute to The HRIS World blog
If you'd like to provide a post, a series of posts, or even be a regular contributor to any of The HRIS World blogs, click the blue contact us button on the bottom right of your screen to send us a message or reach us through our social media for details...
You can always contact Garrett via email, social media, or by leaving a comment below...
Latest posts by Garrett O'Brien (see all)
Posted in
The HRIS Career World
,
The HRIS World
,
The HRIS World AI & NLP Series™
,
The HRIS World Content Series: Next Gen Vendors™
,
The HRIS World Content Series™
,
The HRIS World HR Dog Series™
,
The HRIS World Millennials Series
,
The HRIS World Project Insights Series™
,
The HRIS World Research
,
The HRIS World Speaker Interview Series™
,
The HRIS World Store
,
The HRIS World Transformational Leadership Series™
,
THW News and Trends
and tagged
career management
,
inspiration
,
Leadership
,
pillars
,
success
,
Why The HRIS World
.