Use our LinkedIn Login to download this post to PDF or save it to MyLibrary!
p r e f e r r e d - v e n d o r
Who is a Product owner?
Which functions does this role embody?
What place does the role of a product owner take within Agile project?
Definition of Product Owner
Let's start with the definition: a product owner is a representative of a customer which takes part in the process of software development and monitors correct implementation of requirements…
A product owner evaluates if the initial requirements are still actual and modifies them if necessary
A product owner is likewise responsible for the formation of stories in the product backlog.
It is a rare situation when a product owner represents a single customer or a single end user
Correct Communications
He regularly communicates with a project manager and with a project team and even can be called a full member of this project team.
And, as it is already known, correct communications mean so much within Agile methodology.
Through the product owner it can be really possible for the customer to start testing software as early as it is possible in order to discover defects opportunely. It is obvious that the earlier a defect is revealed, the cheaper is its correction.
Active involvement of a product owner
Active involvement of a product owner in the procedure of software development within Agile makes it simpler for a customer to understand the position of a project team and to look at things from their point of view.
It also becomes simpler to solve some controversial issues between a customer and a developer with the help of a product owner, and to find some compromise solutions.
post continues after these free offers
a d v e r t i s e m e n t s
Today's Featured Free Offer
You're Doing it Wrong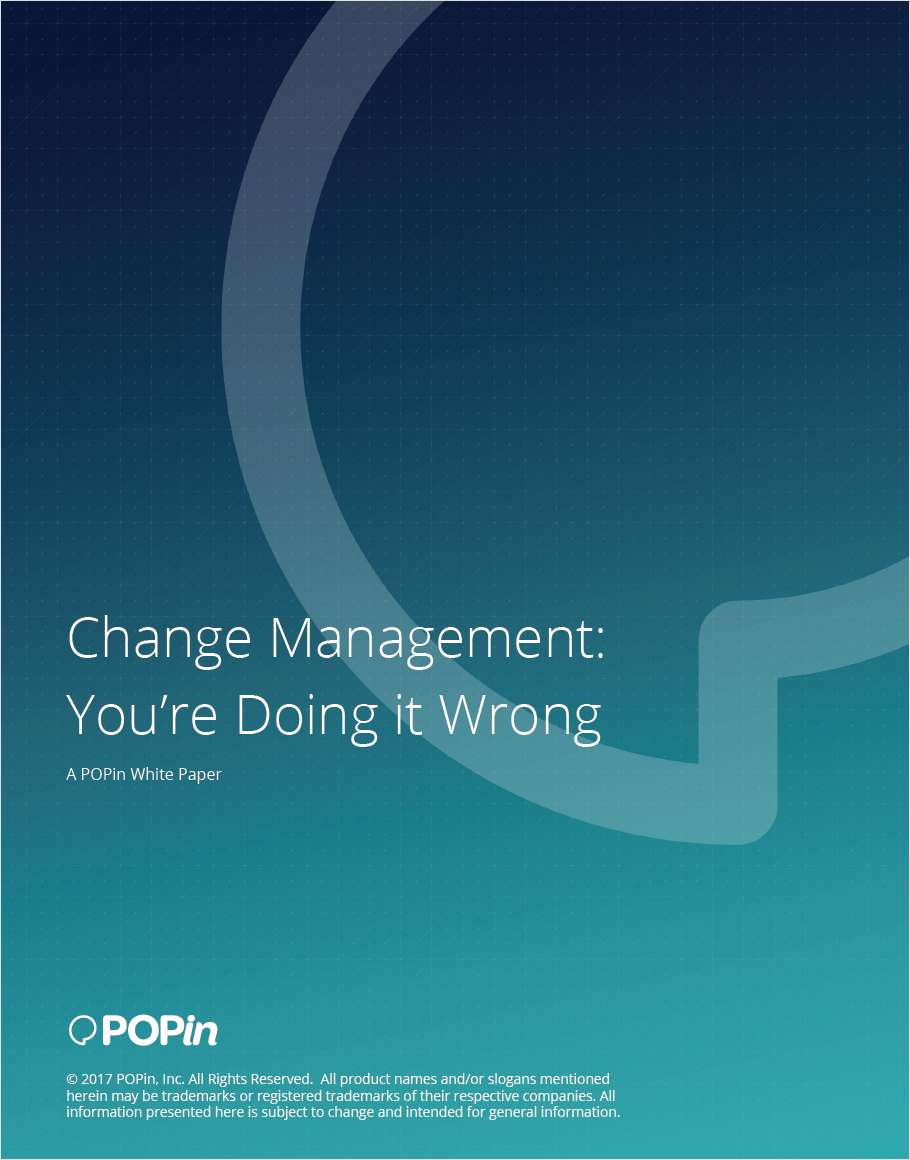 Change Management for Your Organization
I am a recovering change management consultant. Over the last 20 years or so, I've focused my career primarily in the people change management space. My job was to help companies realize the ROI of their multi-million dollar investments – whether they be investments in organizational redesign, new systems or large scale business transformations – by mitigating resistance, creating buy-in and driving adoption. The way to do that was to get the people on-board with what was happening. If they stopped resisting what was inevitable and just adopted the change, then all would be right in the "corporate" world. And I use the term "corporate" as a catch-all. These challenges and my project work spanned industries and organizations, from non-profit and government to privately owned and publicly traded enterprises.
The challenge is and always will be people. People will make or break the success of any change a company wants to make. So my job was part data analysis, part coaching, part writing, part training and part shrink. Get into the heads of the people to figure out what they wanted and find a way to make this change something they want. Or better yet – need. Call it marketing. Call it change management. Call it what you want. No matter how you slice and dice it, or whatever you call it, I was doing it wrong. And so are you.
If we apply the "Ask, Listen and Do" mindset to this problem, we as change management professionals can increase our effectiveness while enabling organizations to actually realize the ROI of their big dollar investments.
Let's look at 2 different change management models to see the difference and similarities: Lewin's Change Management Model and Prosci's ADKAR Model and 3-Phase Process.
Offered Free by: POPin
a d v e r t i s e m e n t
post continues from above
Limitations and Focus of a Product Owner
Of course, the presence of a product owner does not negate correct project management and optimal allocation of tasks between the team members.
It is a competence of a project manager to cope with such important activity. And, certainly, some helpful tools such as issue tracking software, will only help to organize workflow optimally.
For instance, the following situation is not excluded.
For instance, a product owner decided to optimize requirements at a certain stage of a project and a project manager decided to hire some freelance specialists to cope with the tasks which appeared because of the modification of requirements.
Here one can get the information about contemporary and effective tools which will assist to monitor the activity of remotely working freelance specialists.
So, the key role of a product owner in Agile project is constant participation in a project and optimization of project workflow.
Discover More From Our Project Insights Series
Our Social Media Presence
Where to Follow Us!
Twitter

More than 20 magazines and smart magazines to follow - check them out now!
LinkedIn
Minds.com
Open Group | Free Minds membership required
Google +
---
(Visited 8 times in the last 4 wks, 8 visits today)
The following two tabs change content below.
Steward Copper operates a
software development project management company
. As a project coordinator and BA, Stewart has worked with many PM tools, BA instruments, and collaboration programs -- including tracker and task management software solutions. You can reach Steward by email, social media, or by leaving a comment below...
Latest posts by Steward Copper (see all)