Use our LinkedIn Login to download this post to PDF or save it to MyLibrary!
p r e f e r r e d - v e n d o r
R "Ray" Wang is the Principal Analyst and CEO at Constellation Research Group and has provided an excellent article called named "Coming to Terms with the Consumerization of IT" on the Harvard Business Review blog.
His article focuses on the reality many companies need to face as their employees consumerize the services of IT….
Though this article was posted in 2011, there is still a lot of relevancy in what Ray has to share.
The rate of change in technology is behind much of what is happening today — before technology started changing so rapidly, cultures and society had time to adapt and 'catch up', now it is a matter of identifying what is a fad, as well as what is really on a trend.
But in all cases, improvisation by the youth and young at heart will be leading the way.
There are some fundamental constants but they too are facing an accelerated pace that will require innovative ways.
The Value Shift
Business Process Management has only started to become valuable to companies especially after they started realizing they are seeing their talent leave with the undocumented knowledge they had provided.
Many companies make the mistake of thinking employees are dependent upon them – it is fast becoming the other way around.
Companies are becoming very dependent upon skilled, very knowledgeable talent with the latest technology.
Yet, most companies will not do anything to keep that talent.
A quick look at the awards given by companies as well as the resumes sitting in a recruiting database reveals that most are only at a job between 2 and 7 years.
As hard as it is to believe, there are employees that have been with the same company for 30, 40 years.
The Roots and Growth of Consumerization
Consumerization of any product or service has always been the result of the failure of the current status quo to deliver as promised, or has failed to meet the needs of an employee or company to maintain or improve their service level.
As a result, the employee starts to improvise.
This is not unique just to IT.
Funding your own retirement has already gone through consumerization.
Colleges and healthcare are facing the consumerization as well as the IT industry, never mind IT within a company.
post continues after these free offers
a d v e r t i s e m e n t s
Today's Featured Free Offer
You're Doing it Wrong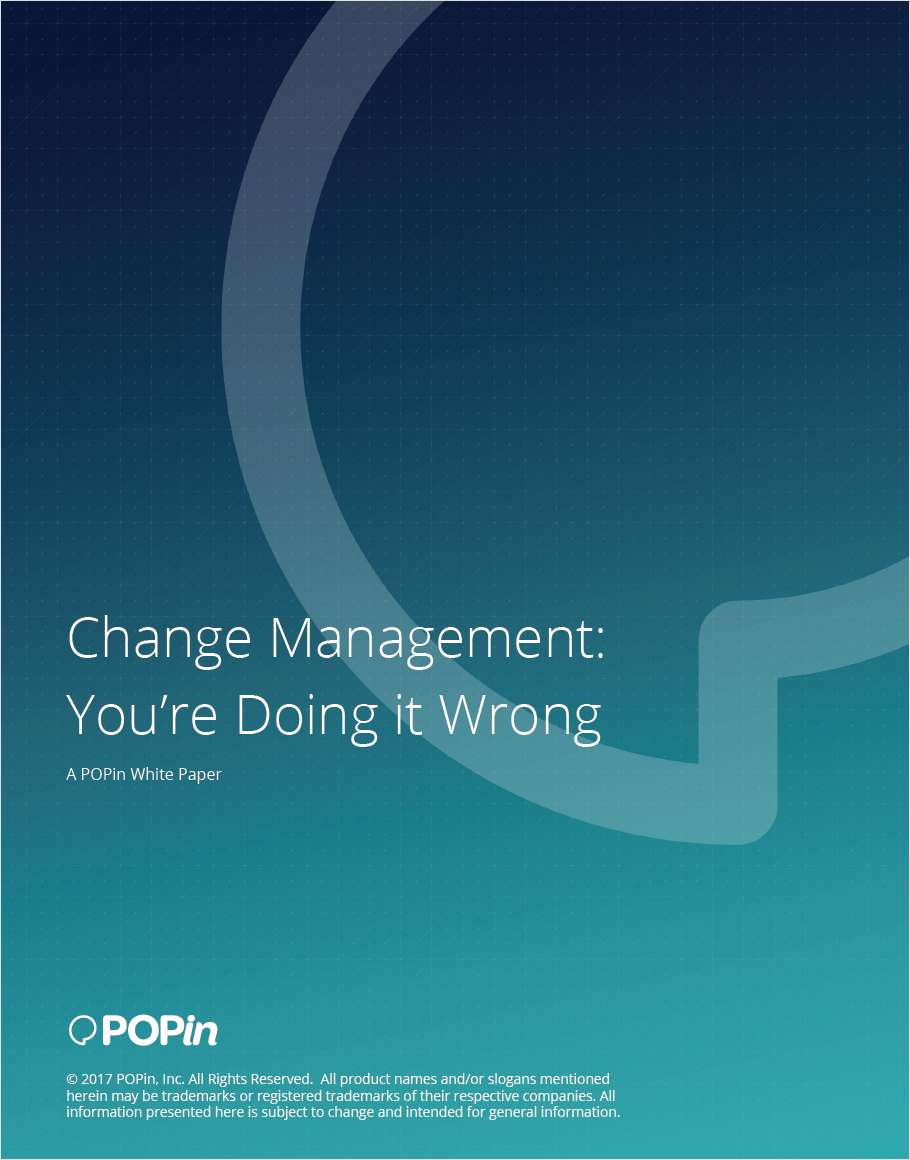 Change Management for Your Organization
I am a recovering change management consultant. Over the last 20 years or so, I've focused my career primarily in the people change management space. My job was to help companies realize the ROI of their multi-million dollar investments – whether they be investments in organizational redesign, new systems or large scale business transformations – by mitigating resistance, creating buy-in and driving adoption. The way to do that was to get the people on-board with what was happening. If they stopped resisting what was inevitable and just adopted the change, then all would be right in the "corporate" world. And I use the term "corporate" as a catch-all. These challenges and my project work spanned industries and organizations, from non-profit and government to privately owned and publicly traded enterprises.
The challenge is and always will be people. People will make or break the success of any change a company wants to make. So my job was part data analysis, part coaching, part writing, part training and part shrink. Get into the heads of the people to figure out what they wanted and find a way to make this change something they want. Or better yet – need. Call it marketing. Call it change management. Call it what you want. No matter how you slice and dice it, or whatever you call it, I was doing it wrong. And so are you.
If we apply the "Ask, Listen and Do" mindset to this problem, we as change management professionals can increase our effectiveness while enabling organizations to actually realize the ROI of their big dollar investments.
Let's look at 2 different change management models to see the difference and similarities: Lewin's Change Management Model and Prosci's ADKAR Model and 3-Phase Process.
Offered Free by: POPin
a d v e r t i s e m e n t
post continues from above
All were and are the result of the less-than-satisfactory level of return or service expected or needed by the customer – whether that customer is someone planning for retirement, wanting an education, or need technology to accomplish their work.
Customer Awareness is Key
The dominoes are falling in many places with this consumerization — marketing will be playing a big part in who rises to the top.
And it need not be the best product as history has proven this several times – example: iPhone is the one of the worst cellular phones but this is not mentioned as the bells and whistles of the iPhone far outshine the inferior phone technology it holds.
As the new technologies arrive, the best means of improvising will be leading others to do the same… only much faster now.
Recommended Reading
Discover More About Business
Our Social Media Presence
Where to Follow Us!
Twitter

More than 20 magazines and smart magazines to follow - check them out now!
LinkedIn
Minds.com
Open Group | Free Minds membership required
Google +
---
(Visited 1 times in the last 4 wks, 1 visits today)
The following two tabs change content below.
Garrett is the publisher, editor, writer forThe HRIS World Research Group, which includes The HRIS World, The HRIS World Research, The HRIS World Jobs, The HRIS World News, and The HRIS World Videos
With more than 20 years in roles as a client executive sponsor (#thwCES), project manager as well as functional / technical lead, Garrett is sought for his expertise for project insights, thought leadership, and team management globally.
He has been involved in large-scale and complex implementations since 1991 and has recently moved his operations to be with his wife in Brazil.
Garrett has had the pleasure of working with some of the greatest talents in the industry, and constantly shares his experiences and knowledge through content and webinars.
He maintains his fluency in Portuguese, German, French, and English with his various endeavors and contacts..
When not working, you will have to be adventurous to stay up with him as Garrett loves motorcycling, gunnery, boating, sailing, flying, and sports fishing -- and accompanying his wife on her various likes
About The HRIS World Research Group
The HRIS World blog, which is read by more than 50,000 from more than 160 countries monthly, manages to have more than 550,000 pages viewed monthly. 40%+ of the audience are decision-makers in their organization (and about half of that being C-levels!).
As CEO for CGServices USA Inc, he focuses on multi-provider, multi-line implementations consultation for HRIS systems
Council and Education Member of Gerson Lehrman Group Council, helping institutions of the world leaders meet, engage and manage experts across a wide range of sectors and disciplines.
Your Invite to Contribute to The HRIS World blog
If you'd like to provide a post, a series of posts, or even be a regular contributor to any of The HRIS World blogs, click the blue contact us button on the bottom right of your screen to send us a message or reach us through our social media for details...
You can always contact Garrett via email, social media, or by leaving a comment below...
Latest posts by Garrett O'Brien (see all)