Use our LinkedIn Login to download this post to PDF or save it to MyLibrary!
HR Software Solutions, Inc. is a The HRIS World preferred-vendor
Click on the image to discover more
A Discipline Requires Only 21 Days – Afterwhich, It Is A Habit
The time and energy to create a habit occurs in the first 21 days, afterwhich you perform this task without thought and much energy…
Success is, at first, a discipline — then a habit!
Everybody wants to be successful…
And one of the best ways to find success is to learn from the lessons of those who have come before you.
Take Your Ideas Seriously
How many times do you think…
"I wish there was a…" — or — "You know what would be great"?
"If we could…" — or even — "I should…"?
Take a moment to stop and seriously consider the idea that just popped into your head.
If nothing else, take a second to write it down in a notebook or enter it into a note-taking app on your phone so you can visit it later.
You might have the next big thing rolling around in your brain, but you won't know unless you really explore it.
Just think: What if Tim Westergren had let Pandora be just a passing thought?
Your 10 Lessons on Success
Don't Assume You Know Everything

post continues after these offers

a d v e r t i s e m e n t s

a d v e r t i s e m e n t

Want to inspire others? So do we!
Help us inspire our audience as well as expand your audience
so they may inspire others as well!
Your sponsorship will bring podcasts, videos, and interviews
that will motivate both our audiences into action!
Just click the image below to discover more!

post continues from above
The world moves really fast, and there are lessons to be learned from the people who have already climbed up the ladder.
If you assume that you already know everything, you won't learn from the mistakes of others and instead will be more likely to make the same exact mistakes and set yourself back.
Be open to learning and following someone's example.
Even better, find a mentor who can guide you and help you refine your talents and offerings.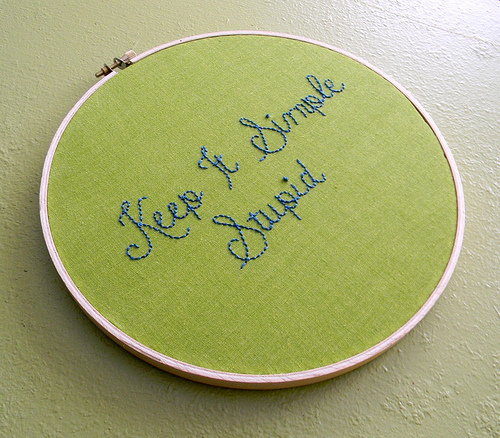 Maybe not the most eloquent way to put it, but the philosophy is sound!
Image Courtesy of Hey Paul Studios
Simpler Is Better
Don't over-complicate something that is best left simple.
Adding in a bunch of features you don't need or making something overly complicated is more likely to turn people off than impress them.
Another way to think of it is this: Just because you can doesn't mean you should.
Focus on What You Love, Not What Makes You Money
If you go after something simply because it seems profitable, you probably won't be able to take it anywhere.
Going after what you love is always better.
Why?
Because you'll want to work on it.
You'll be more likely to stick with it until you become successful at it.
And when you do become successful, you'll be able to enjoy it even more than if you had simply gone after the cold hard cash.
Don't Wait for Permission
Do you think Steve Wynn waited around for someone to say "I give you permission to build an empire"?
Of course not!
He saw a need in the Las Vegas Valley, and he jumped on the chance to fill it.
He didn't ask someone if he could or if he should. He just went and did it.
If you wait for someone else to give you permission to pursue success, you're never going to be successful.
Ask for Assistance
Don't try to do everything yourself.
If someone is better than you at something, ask them to assist you (or, better, to teach you).
Nobody becomes successful completely on their own.
They had people who helped them, assisted, supported them, and guided them.
If there is something you need or an area in which you are lacking, asking for assistance is the best way to continue moving forward and building on your idea.
Keep Your Day Job
But don't let your day job be your whole life.
You need to have money coming in so you can cover your expenses (which should be kept as low as possible).
This lets you pursue your ideas and projects with a freedom you wouldn't otherwise have.
Einstein worked as a patent clerk to keep his hands busy and his mind free to focus on his own work.
Stephen King worked in a laundry while he wrote Carrie.
Obviously you don't have to work at a dull job, but also don't work at a job that consumes your whole life.
Be Kind
The golden rule matters in the world of entrepreneurship.
If you get a reputation of being cold and only out for yourself, nobody is going to want to help you succeed.
In fact, they might actively start working against it.
Putting goodness into the world helps goodness come back to you.
Fail
Failure is how you learn.
You are going to fail over and over again before you succeed.
Nobody gets everything perfect on the first try.
The key is to look at failure as an opportunity instead of a road block.
When you fail, you get to learn what not to do on your next attempt at success.
Julia Child didn't spit out Mastering the Art of French Cooking and find immediate success — the book took her and her cohorts years to compile and then went through several rejections and revisions before it became the book we know and love today.
Get Stubborn
More than anything else, you need to believe in yourself.
You need to be able to believe in yourself in the face of people telling you that you are wrong or dumb or even bad.
It's important to grow a thick skin and to simply keep going.
Know that you will live up to your potential and keep working toward that goal no matter what gets in your way.
From Our Motivation and Success Playlist on Our YouTube Channel
The Last World
These are just 10 of the qualities and lessons that you can learn from entrepreneurs who have become successful.
What are some of the qualities you think are important to finding success?
What Are Your Thoughts?
✔ What works for one person may not for another, even in the same type of business — this is why it is import to keep trying. What are you doing now that others cannot replicate as a success?
✔ Failure only happens when you don't get back up — Thomas Edison repeated his attempts at creating the lightbulb more than 5000 times, doing something different each time. Most of the best athletes in sports also fun high numbers in failures. Focus is what is important — where you focus is where you end up. Where are you focusing?
✔ What research and/or services can The HRIS World do for you and your company when it comes to Motivation and Success? Feel free to leave a comment below or click below to use our contact page to reach us!
Please share your thoughts with us and our audience in the comments section below! Or you can reach us directly from our contact page.
More Recommendations from Our Store
[custom_author=PinterestTHWS]
[custom_author=PinterestTHWRN]
[custom_author=PinterestTHCWYT]
---
The following two tabs change content below.
Debbie Allen was brought to our attention by Katrina Robinson of Media Shower, who can be reached via email by clicking here.
---
Debbie Allen is an online marketer, professional writer, and is the founder of TheThingsWomenWant.com an online magazine that covers topics that women care about, both personally and professionally.
Debbie's background as an Organizational Development Practitioner provided her with opportunities to learn about Six Sigma and other strategies and tools for process improvements. Having extensive experience in several aspects of operating and owning a business, she remains faithful to her belief that all departments of an organization have to function together in a seamless fashion, including a security system. She refers to this as a holistic approach to business management.
As a small business owner and independent contractor, she maintains a focus on making customers/clients happy.
Debbie can be reached via email, through the social media, or by leaving a comment below...
Latest posts by Debbie Allen (see all)