Use our LinkedIn Login to download this post to PDF or save it to MyLibrary!
p r e f e r r e d - v e n d o r

While not at all complaints are necessarily legitimate, each and every manager or HR professional should take concerns about harassment seriously
Not only do such complaints pose a threat to the company because of the possibility of lawsuits, but complaints are often made for very serious reasons.
A workplace that allows or overlooks harassment is a workplace in which unfairness, hostility, and emotional pain become the norm.
Here are some basic steps to take in the event that an employee reports a case of sexual harassment or discrimination…
Know Groups Protected by Employment Law in Your State
In order to determine whether the alleged offense is sexual harassment or discrimination as stated by the law, you should be able to determine immediately if the problem can be an offense against a classified group.
By federal law, common groups include sex, race, color, religion, ethnicity, pregnancy, national origin, age, marital status, mental disability, physical disability, and a few more. Some states protect sexual orientation, and some do not.
If a person is being made to feel uncomfortable because of being part of any one of these groups, then the complaint is legitimate.
Attempt to Deal With the Problem Before Filing An Official Complaint
Most of the time, those perpetrating harassment aren't even aware that they're doing it.
Maybe they're making distasteful jokes that some employees find funny, while others find the jokes hurtful.
Often, you can simply sit and talk with the employee, notify him or her of their behavior that others find offensive, and the buck most of the time stops there.
Get Documentation, Witnesses
Ask the person alleging harassment to document all evidence.
If possible, ask for witnesses.
Sometimes harassment is malicious, is meant to intimidate, and it may have been happening so frequently that there is no other recourse but to file an official complaint.
It's important that the employee accusing another worker to document all evidence (emails, a paragraph or two retelling incidents, etc.).
If others may have been present when the harassment took place, talk to them, too, and note down their testimony.

post continues after these free offers
a d v e r t i s e m e n t s
Today's Featured Free Offer
You're Doing it Wrong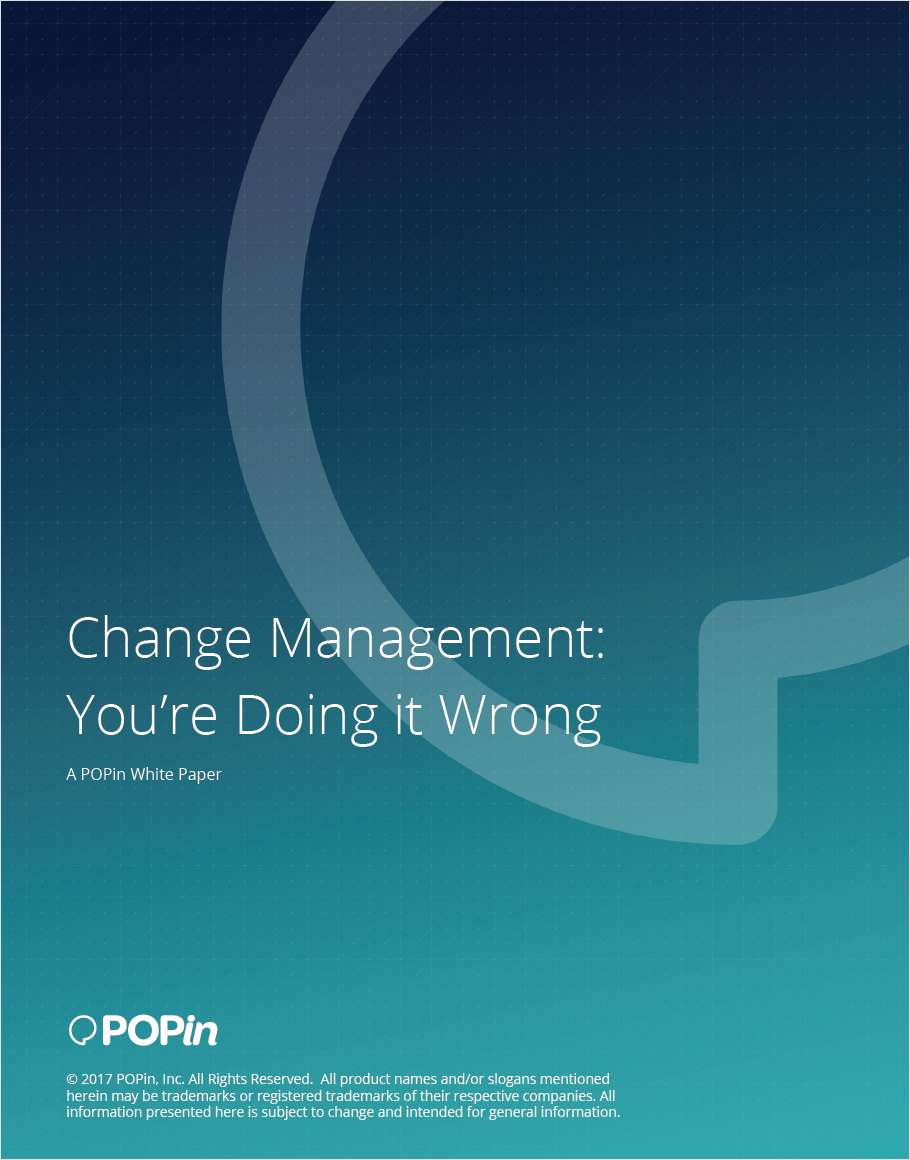 Change Management for Your Organization
I am a recovering change management consultant. Over the last 20 years or so, I've focused my career primarily in the people change management space. My job was to help companies realize the ROI of their multi-million dollar investments – whether they be investments in organizational redesign, new systems or large scale business transformations – by mitigating resistance, creating buy-in and driving adoption. The way to do that was to get the people on-board with what was happening. If they stopped resisting what was inevitable and just adopted the change, then all would be right in the "corporate" world. And I use the term "corporate" as a catch-all. These challenges and my project work spanned industries and organizations, from non-profit and government to privately owned and publicly traded enterprises.
The challenge is and always will be people. People will make or break the success of any change a company wants to make. So my job was part data analysis, part coaching, part writing, part training and part shrink. Get into the heads of the people to figure out what they wanted and find a way to make this change something they want. Or better yet – need. Call it marketing. Call it change management. Call it what you want. No matter how you slice and dice it, or whatever you call it, I was doing it wrong. And so are you.
If we apply the "Ask, Listen and Do" mindset to this problem, we as change management professionals can increase our effectiveness while enabling organizations to actually realize the ROI of their big dollar investments.
Let's look at 2 different change management models to see the difference and similarities: Lewin's Change Management Model and Prosci's ADKAR Model and 3-Phase Process.
Offered Free by: POPin
a d v e r t i s e m e n t
post continues from above
Follow-Through and Communicate
Once you've filed the complaint to the proper authorities, make sure you follow through with the complaint and stay in touch with the employee.
Once you've filed the complaint to the proper authorities, make sure you follow through with the complaint and stay in touch with the employee.
There's nothing that fills one with more anguish that to make a complaint (which is emotionally draining in the first place) than to have nothing happen.
If an employee files a complaint with you, make sure the authorities process the complaint as quickly as possible.
If you have not heard back, keep making phone calls and writing emails until the problem is taken care of.
Always keep the employee who made the complaint in touch about the status of the complaint.
Objective Professionalism
Always take all complaints seriously.
It's very easy to completely dismiss a complaint as someone just taking themselves too seriously.
The Last Word
Sometimes it can become exasperating when someone filing a complaint seems to be the type of person who is easily offended. Just remember to put yourself in their shoes.
Ignoring a complaint could lead to very serious problems—for you, for the parties involved, and for the company—in the future.
Although we like to think that harassment and discrimination are things of the past, you'd be surprised by how much farther we have to go.
As managers and HR professionals, it is our job to make sure that we maintain an inviting and respectful workplace.

---

Click the image to start your newsletters now!
---
Our Social Media Presence
Where to Follow Us!
Twitter

More than 20 magazines and smart magazines to follow - check them out now!
LinkedIn
Minds.com
Open Group | Free Minds membership required
Google +
---
(Visited 460 times in the last 4 wks, 2 visits today)
The following two tabs change content below.
Angelita
Though she specializes in online education, she can provide content on any topic with substance and precision.
You can contact Angelita by leaving a comment below or reaching out to her via email...