Use our LinkedIn Login to download this post to PDF or save it to MyLibrary!
p r e f e r r e d - v e n d o r
Our Voice, Ears, Words Determine Our Destination
Wouldn't multiple sets of ethics skew our perspective?
The well-known leadership expert/speaker/author, John C. Maxwell, was asked by a colleague what his thoughts were on business ethics.
Without hesitation, Mr. Maxwell said, "There is no such thing as business ethics!"
Now, before being dismissive, realize Mr. Maxwell has sold more than 13 million books worldwide and his organizations have trained more than 2 million leaders worldwide.
I believe he knows a few things about what he shares…
John C. Maxwell's Biography
John C. Maxwell is an internationally recognized leadership expert, speaker, coach, and author who has sold over 19 million books. Dr. Maxwell is the founder of EQUIP and the John Maxwell Company, organizations that have trained more than 5 million leaders worldwide. Every year he speaks to Fortune 500 companies, international government leaders, and organizations as diverse as the United States Military Academy at West Point, the National Football League, and the United Nations. A New York Times, Wall Street Journal, and Business Week best-selling author, Maxwell has written three books which have each sold more than one million copies:
The 21 Irrefutable Laws of Leadership
Developing the Leader Within You, and
The 21 Indispensable Qualities of a Leader
You can find him at JohnMaxwell.com and follow him on twitter as well.
About
The HRIS World Transformational Leadership Series™ #thwTLS
Leadership needs to change with change -- and yet still discern what and which principles should not be forsaken.
The HRIS World Transformational Leadership Series™ takes both a high-level as well as up-close look at what it takes to inspire commitment so to achieve the vision of a preferred future, the very definition of Transformational Leadership.
Hashtag for The HRIS World Transformational Leadership Series™ is #thwTLS
For more information about this series, feel free to click the blue contact us button on the lower right of your screen to let us know how we can assist -- or if you are reading this by our newsletter, then hit the reply button to get back to us!
---
The Base Principle of Ethics
Given Mr. Maxwell is considered a well learned man and speaker in ethics, faith, philosophy, and psychology, his answer caught his colleague off-guard.
In truth, his colleague — as well as many of us upon hearing this story — was expecting an entirely different answer.
When asked to explain his reasoning, the simplicity of John's wisdom became apparent.
Ethics is
the result of
planned, conditioned behavior and
thoughts that are true
to oneself.
If you need to keep remembering what set of behaviors and thoughts you should be displaying and when…
If you need to keep remembering which set of ethics to use for your family, your friends, your work place, in any process of negotiations…
Then how can you say you are truly being honest with yourself – and with those in your relationships?
This breaks the base principle of ethics:
Be true to yourself…
Pretending versus Real
I am not going to discuss what is good and bad ethics — that is far beyond the limitations of a blog posting as well as completely out of the scope of this blog.
Most of you already know — some of you believe you know.
But during your next conversation of what is right and what is wrong, what is good and bad, ask the person this…
"Just what are you pretending not to know?"
If you get a blank stare, then it is safe to say that they have already lowered — or even abandoned — their ethics.
There is no hesitation when a person does not need to process a question, they already instinctively know the answer, almost in reflex.
There are some universal ethics that are prevalent in every society — whether it be a small isolate tribe in the Amazons or the crowded streets of New York City, London or New Delhi.
Ethics like you should never steal, never lie, and always be cordial.
Now let's focus on the issues resulting from having more than one set of ethics…
There Is A Cost for Having One Set of Ethics
That cost comes in the form of your ethics being tested, most of the time without warning — to know ahead of time or to not have your ethics tested is much like trying to sharpen a knife with a sponge.
Ethics are meant to be tested — they build our character, our resolve and sharpen our focus.
Many governments suffer from corruption due to various sets of ethics and even the total lack of ethics.
No government nor sovereignty is NOT exempt from this situation — as long as there are humans, there will be corruption as some level.
Nothing can destroy the fiber or moral of a country, a business, a relationship, a family faster than finding out you've been lied to or the victim of extortion by someone with the ethics of a paper bag.
Forgiveness may come swiftly but the victims will not forget.
Many businessmen, like CEO Jon Huntsman, discover only after the fact that they have been involved in a form of corruption 00 in Jon's case it was kickback scheme with a foreign government.
His mentors in the foreign country were paying a 'fee' to allow his business to exist and operate for the first year — Jon only discovered they had been doing this when they decided that Jon had to pay his own way.
Most would continue with business as usual, justifying it as the cost of doing business.
For Jon, he recognized his integrity was at stake and could never be corrected if he continued paying the kickbacks, especially since he gained full-knowledge of the kickbacks.
He notified his business partners, who were natives of the country, and told them flat-out that all orders were being pulled and business in that country would cease immediately.
His employees knew Jon and knew their country — they didn't weep nor feel sorry for their country…
He left that country and never returned.
If you are not familiar with Jon Huntsman, it would do your soul some good to read his book, now in the 2nd edition, "Winners Never Cheat" (available below).
Avoid Junk Bonds
The same single set of ethics mindset applies to business that court new businesses, new customers, new employees.
post continues after these free offers
a d v e r t i s e m e n t s
Today's Featured Free Offer
You're Doing it Wrong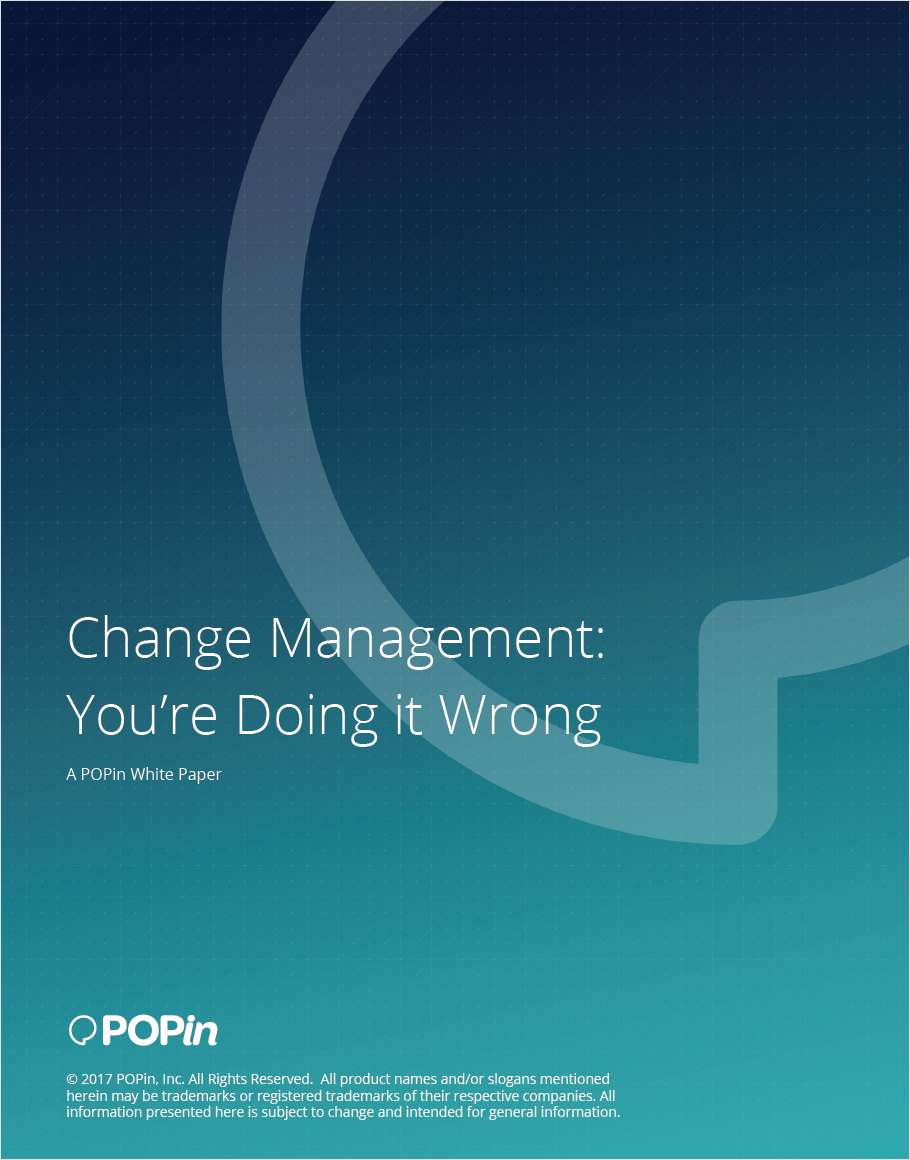 Change Management for Your Organization
I am a recovering change management consultant. Over the last 20 years or so, I've focused my career primarily in the people change management space. My job was to help companies realize the ROI of their multi-million dollar investments – whether they be investments in organizational redesign, new systems or large scale business transformations – by mitigating resistance, creating buy-in and driving adoption. The way to do that was to get the people on-board with what was happening. If they stopped resisting what was inevitable and just adopted the change, then all would be right in the "corporate" world. And I use the term "corporate" as a catch-all. These challenges and my project work spanned industries and organizations, from non-profit and government to privately owned and publicly traded enterprises.
The challenge is and always will be people. People will make or break the success of any change a company wants to make. So my job was part data analysis, part coaching, part writing, part training and part shrink. Get into the heads of the people to figure out what they wanted and find a way to make this change something they want. Or better yet – need. Call it marketing. Call it change management. Call it what you want. No matter how you slice and dice it, or whatever you call it, I was doing it wrong. And so are you.
If we apply the "Ask, Listen and Do" mindset to this problem, we as change management professionals can increase our effectiveness while enabling organizations to actually realize the ROI of their big dollar investments.
Let's look at 2 different change management models to see the difference and similarities: Lewin's Change Management Model and Prosci's ADKAR Model and 3-Phase Process.
Offered Free by: POPin
a d v e r t i s e m e n t
post continues from above
And employees courting new employers…
If something does not measure up to your ethics, either challenge the situation and/or go someplace else where they are equal to your ethics.
But don't be a hypocrite about it either — you are only setting yourself up to be totally unhappy with yourself at a later time.
No one likes a self-inflicted regret party.
Everything we do, everyone we meet or have any form of conversation of relationship will call upon our ethics at one, several or many levels.
We are also creatures of comfort and what we become comfortable doing in one area of our life, we will inevitably incorporate into another area of life.
Those that have mastered the art of separating their feelings from their actions have only stock-piled their feelings and emotions that will inevitably become heavy baggage.
It is very common to see such a person invalidate everything around them in order to validate their own self-worth, a self-worth which has basically become as valuable as junk bonds.
Are You Permitting Yourself Become Smaller Than Your Circumstances?
Birds of the same feather will flock together… hanging around with like-minded.
If you are unhappy with your station in life, are you blaming your circumstances?
Has not the history of any country, of any great challenge, proven that it is the person that is bigger than the circumstance and not the other way around?
We either submit to our circumstances or we choose to take a stand against them — only one will result in a positive change.
This mindset applies to projects and project management: what you do, who you are is very evident — not when everything is going smoothly but when there are problems and delays.
At all times, let your yes be yes, and your no be no — least you discover those that you thought were your friends are trusting your enemies.
When you waiver on the value of your word, then everything about you waivers, your value included.
Even great men have made mistakes – and it is not the mistakes that made them great, what made them great was…
what they did to be accountable and responsible for their word
what they did when they got back up

with their actions
with their intentions
in their public life
as well as in their private life
They knew that nothing is over, nothing fails as long as they get back up — the fall isn't what is important, what is important is the bounce from that fall.
These are the things that made them great.
They had emotions and feelings about what they did, the same emotions and feelings we all have.
They just decided their ethics were more valuable than their circumstances…
That the circumstances will change but their ethics should remain intact…
The Last Word
We can never change what we tolerate, not matter how much we realize what is wrong and needs to be changed… Acceptance of what we are tolerating allows it to live, deciding to no longer accept what we are tolerating will cause change, a new birth – and a birth of anything is always accompanied by pain… Some values are worth preserving, others need to be regained – while others we need to be let go. Being true to yourself first will permit the birth of a set of ethics you can live with – not to mention those you come into contact with…
What about you?
What do you have to add to all this?
Or even have to challenge this?
Discover More From Our Transformational Leadership Series
Discover More of Our Posts on Leadership
Our Social Media Presence
Where to Follow Us!
Twitter

More than 20 magazines and smart magazines to follow - check them out now!
LinkedIn
Minds.com
Open Group | Free Minds membership required
Google +
---
(Visited 2 times in the last 4 wks, 2 visits today)
The following two tabs change content below.
Garrett is the publisher, editor, writer forThe HRIS World Research Group, which includes The HRIS World, The HRIS World Research, The HRIS World Jobs, The HRIS World News, and The HRIS World Videos
With more than 20 years in roles as a client executive sponsor (#thwCES), project manager as well as functional / technical lead, Garrett is sought for his expertise for project insights, thought leadership, and team management globally.
He has been involved in large-scale and complex implementations since 1991 and has recently moved his operations to be with his wife in Brazil.
Garrett has had the pleasure of working with some of the greatest talents in the industry, and constantly shares his experiences and knowledge through content and webinars.
He maintains his fluency in Portuguese, German, French, and English with his various endeavors and contacts..
When not working, you will have to be adventurous to stay up with him as Garrett loves motorcycling, gunnery, boating, sailing, flying, and sports fishing -- and accompanying his wife on her various likes
About The HRIS World Research Group
The HRIS World blog, which is read by more than 50,000 from more than 160 countries monthly, manages to have more than 550,000 pages viewed monthly. 40%+ of the audience are decision-makers in their organization (and about half of that being C-levels!).
As CEO for CGServices USA Inc, he focuses on multi-provider, multi-line implementations consultation for HRIS systems
Council and Education Member of Gerson Lehrman Group Council, helping institutions of the world leaders meet, engage and manage experts across a wide range of sectors and disciplines.
Your Invite to Contribute to The HRIS World blog
If you'd like to provide a post, a series of posts, or even be a regular contributor to any of The HRIS World blogs, click the blue contact us button on the bottom right of your screen to send us a message or reach us through our social media for details...
You can always contact Garrett via email, social media, or by leaving a comment below...
Latest posts by Garrett O'Brien (see all)