Use our LinkedIn Login to download this post to PDF or save it to MyLibrary!
p r e f e r r e d - v e n d o r
The economy has everyone scrambling to figure out their long term life plans.
If you're not worried about your financial future, then you're wondering about the state of your current career path.
With businesses cutting back on employees and tightening their belts, it's only logical that you'd take a step back and assess your future as a professional.
But how exactly do you manage your career amid such uncertain times?
How wise would it be to change jobs or to alter the trajectory of your career path
in a market where jobs are so scarce?
Let's take a look at your options…
Assess the Pros AND Cons of Your Current Position
First it's critical that you fully understand where you are in your career path. This kind of self-evaluation will vary widely depending on your age, your current job, your education and your experience.
Someone who has recently graduated from college with a Liberal Arts degree might not have the same kind of professional mobility as a seasoned HR professional with over 15 years of experience in the industry.
This isn't to say that the recent college grad is in a more enviable position than the HR professional or vice versa, it's just that they have vastly different goals as they continue their careers.
Let's continue the example contrasting the college grad and the HR professional as they manage expectations for their respective careers.
The College Grad…
The college grad has the following cons to consider…
they have limited job experience which limits them to entry level positions
they're fighting for jobs with millions of other college graduates and
they probably don't have a fully formed idea of what they want in a career
However, there are pros to their position…
they have the freedom to choose an entry level job in a variety of trades
they're more desirable to employers looking for new talent and
they have an eagerness to perform and prove their worth
The Seasoned Professional
On the other side of the spectrum, the HR professional has the following cons to consider…
post continues after these free offers
a d v e r t i s e m e n t s
Today's Featured Free Offer
You're Doing it Wrong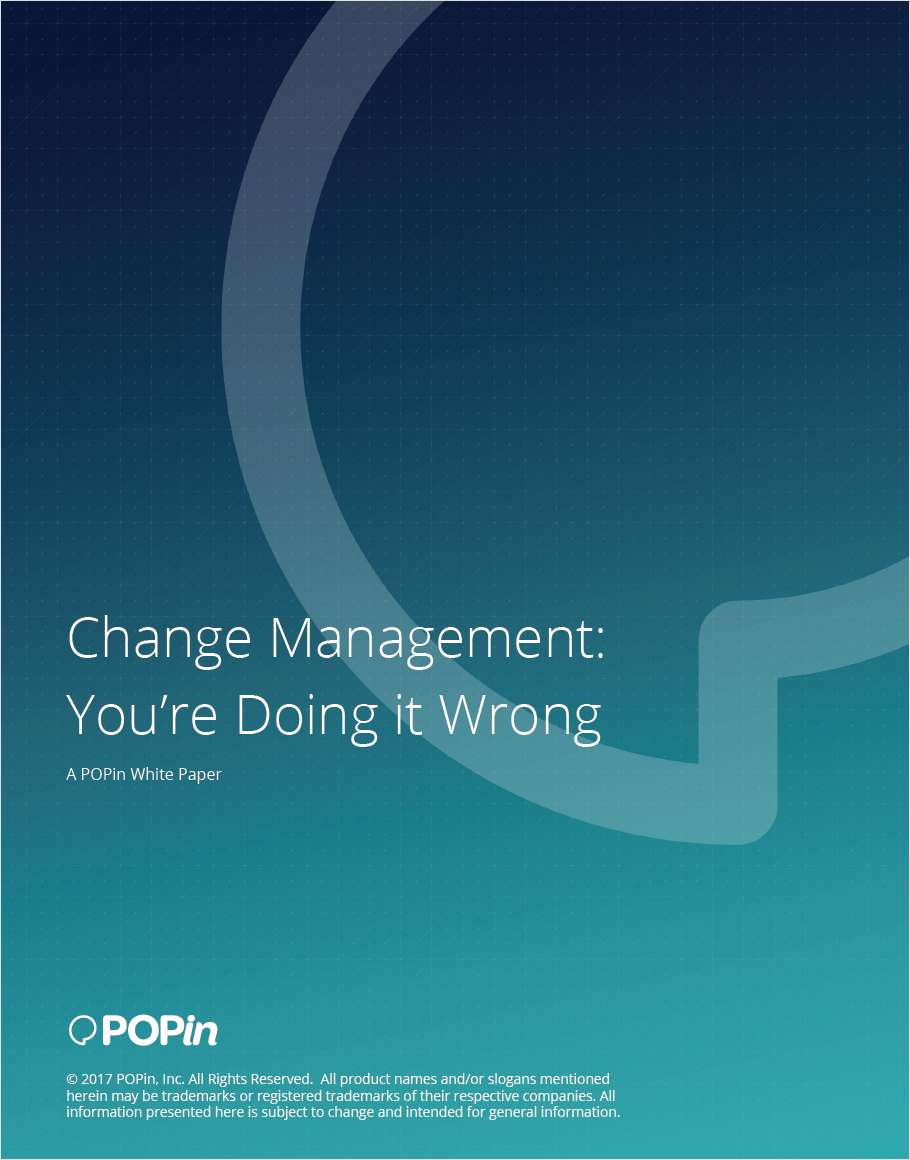 Change Management for Your Organization
I am a recovering change management consultant. Over the last 20 years or so, I've focused my career primarily in the people change management space. My job was to help companies realize the ROI of their multi-million dollar investments – whether they be investments in organizational redesign, new systems or large scale business transformations – by mitigating resistance, creating buy-in and driving adoption. The way to do that was to get the people on-board with what was happening. If they stopped resisting what was inevitable and just adopted the change, then all would be right in the "corporate" world. And I use the term "corporate" as a catch-all. These challenges and my project work spanned industries and organizations, from non-profit and government to privately owned and publicly traded enterprises.
The challenge is and always will be people. People will make or break the success of any change a company wants to make. So my job was part data analysis, part coaching, part writing, part training and part shrink. Get into the heads of the people to figure out what they wanted and find a way to make this change something they want. Or better yet – need. Call it marketing. Call it change management. Call it what you want. No matter how you slice and dice it, or whatever you call it, I was doing it wrong. And so are you.
If we apply the "Ask, Listen and Do" mindset to this problem, we as change management professionals can increase our effectiveness while enabling organizations to actually realize the ROI of their big dollar investments.
Let's look at 2 different change management models to see the difference and similarities: Lewin's Change Management Model and Prosci's ADKAR Model and 3-Phase Process.
Offered Free by: POPin
a d v e r t i s e m e n t
post continues from above
they're pigeonholed by their resume into one profession
they might lack certain skills desired by start-ups who want younger employees who understand the latest trends
they might overvalue their skills and miss out on job opportunities from employers that offer less than they're willing to work for
But the HR professional might have a stellar resume combined with their considerable experience, and they'll certainly know much more about the nuances of their industry than someone fresh out of college.
Assessment is Crucial
Familiarizing yourself with your pros and cons as a professional will make it much easier for you to assess your opportunities in an uncertain job market.
If you know your strengths, you can play to them and make yourself that much more marketable to potential employees.
Knowing your weaknesses will be equally important and that knowledge provides you a starting point for personal improvement.
Where do you want to be?
The big question looming over all career management strategies is this…
Where do you want to be?
In 1 year, 5 years, at retirement…
Where do you see yourself?
Where do you want to be in your career?
If you set clear goals for every few years in your career, you'll provide yourself with a convenience framework with which you can build a solid life/career plan.
This is just as important for industry veterans as it is for green college graduates.
Even if your career plan reads like a fantasy book, it still gives you some frame of reference from which you can plan the next phase of your career.
The job market may be uncertain, but that doesn't mean that you have to remain uncertain about your ambitions for your career.
Take responsibility of your career path by being proactive about its future, and you'll start to feel more in control of your position in life.
Our Social Media Presence
Where to Follow Us!
Twitter

More than 20 magazines and smart magazines to follow - check them out now!
LinkedIn
Minds.com
Open Group | Free Minds membership required
Google +
---
(Visited 1 times in the last 4 wks, 1 visits today)
The following two tabs change content below.
Lauren Bailey
Lauren Bailey is a freelance blogger who loves writing about education, new technology, lifestyle and health. As an education writer, she works to research and provide sound online education advice (see bestcollegesonline [dot] com). You can reach Lauren by leaving a comment below or via email...
Latest posts by Lauren Bailey (see all)