Use our LinkedIn Login to download this post to PDF or save it to MyLibrary!
p r e f e r r e d - v e n d o r
25th and 26th October
Palais des Congrès, Paris
Lumesse stand 130 – Level 2
20 minutes product demo ETWeb empower
Day 2 (October 26th) at 12:50-13:10
Paris – Lumesse, a global leader in talent solutions, is proud to be a Platinum sponsor of the upcoming HR Tech World Congress in Paris.
Recognized globally as the leading event on the future of work, addressing innovations and technologies in Human Resources, #HRTechWorld represents the ideal venue for Lumesse to showcase its new ETWeb empower talent management suite.



This year's Congress, which is expected to welcome some 4,000 HR experts from over 120 countries, will offer the HR community a comprehensive overview of the working world of tomorrow and the latest technological innovations.
Several workshops, conferences and networking sessions will be organized throughout the event for greater conviviality and to facilitate exchange.
Live Demo of Lumesse's ETWeb empower
In SaaS and private cloud mode, Lumesse's ETWeb empower is an integrated end-to-end and people-centric talent management suite, designed to place employees at the heart of HR decisions.
The various management bundles – Performance, Rewards, Succession, Learning, and Core HR – all share a common user interface and a common integrated data repository.
This will also be the opportunity for industry leaders and professionals to discover and discuss the latest major additions to the Lumesse range of talent solutions.
Lumesse will be present throughout the two-day Congress, our international team on hand to share their expertise and address all issues related to talent acquisition, management and development.
Come and meet us at HR Tech World (stand 130, Level 2) on Tuesday 25th and Wednesday 26th October 2016 – Palais des Congrès, 2 place de la Porte Maillot, Paris.
More information on the HR Tech World website: http://www.hrtechcongress.com/

About
The HRIS World Vendor Spotlight™ #thwVS #NextGenVendors
For vendor insights, we provide The HRIS World Content Series: Next Gen Vendor™ to promote their companies, products, services, and visions -- the Next Gen Vendor™ insights consists of 3 series...
The HRIS World Vendor Spotlight™ focuses on the different aspects of the SMB / SME vendor, their services and software
Our 2nd series,
The HRIS World Vendor Interview Series™ focuses on the SMB and Enterprise vendor's decision makers alike, their thoughts for the future of work as well as their own company, and what they see as the challenges coming up in the industry
The 3rd series,
The HRIS World Enterprise Software Options™ focuses on the different aspects of the Enterprise vendor, their services and software
All 3 series can be found through the second menu at the top of any page under The HRIS World Content Series™
The Vendor Interview Series is provided in email, podcast and video interview format while the other two series are provided in a mix of the three to supplement the content.
You will find various aspects of a vendors business as well as any announcement of webinars, group demos, and conferences a vendor may be conducting.
If you are a vendor wanting to contribute to either series via a post or interview, feel free to click the blue contact us button on the lower right of your screen to let us know how we can assist -- or if you are reading this by our newsletter, then hit the reply button to get back to us!
---
post continues after these free offers
a d v e r t i s e m e n t s
Today's Featured Free Offer
Communication is more than just a monthly newsletter.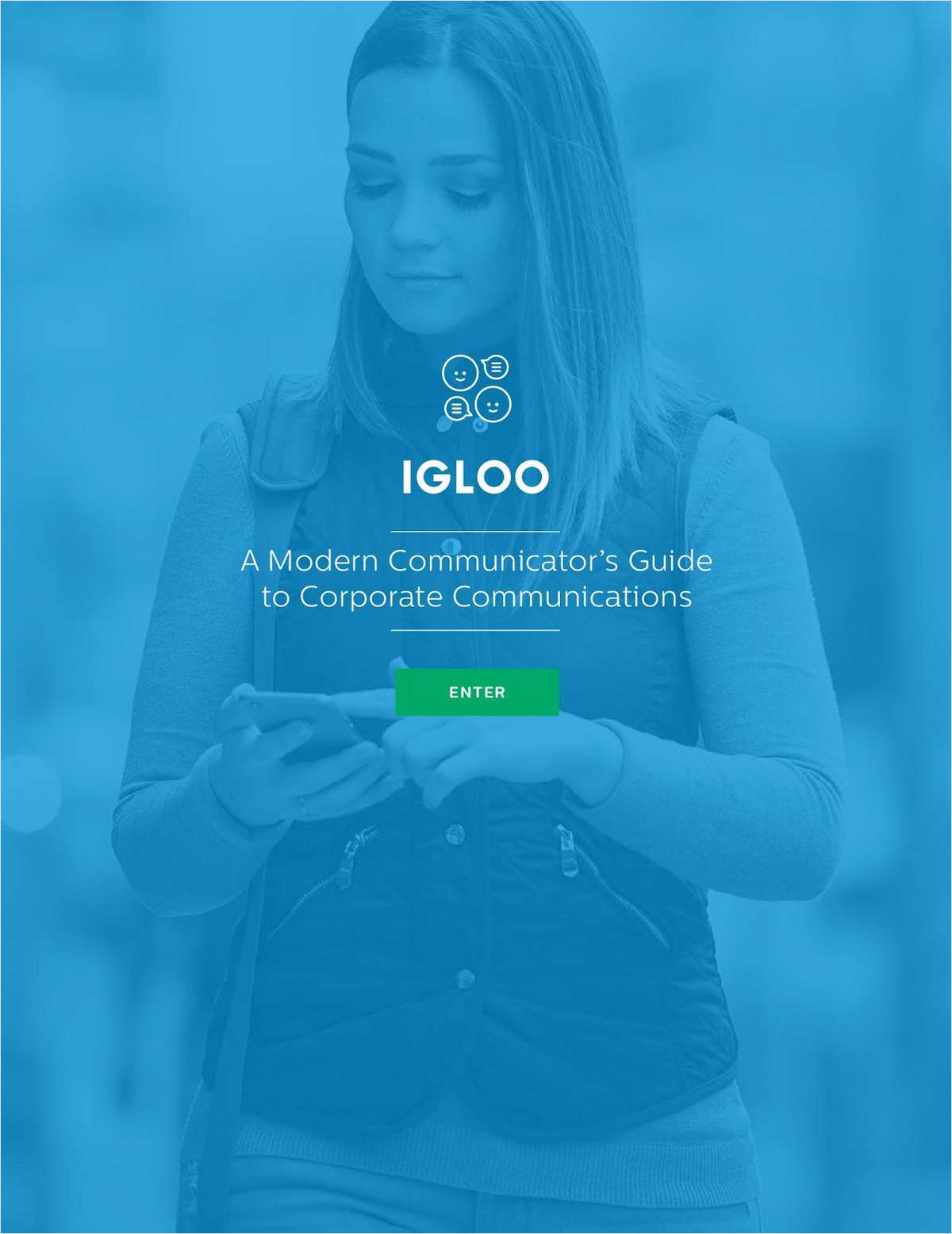 A Modern Communicator's Guide to Corporate Communications
This 6-page guide is full of tips and tricks to help you create compelling stories and enable meaningful conversations inside your organization with the help of a modern intranet solution.
Offered Free by: Igloo Software
a d v e r t i s e m e n t
post continues from above
About Lumesse
Lumesse provides Talent Solutions to more than 2,400 organizations in over 70 countries enabling them to engage and nurture the best talent in an ever changing and demanding global environment.
With our unique and highly adaptable Talent Solutions our customers are well prepared to capitalize on the fast evolution of new technologies and disruptive business conditions, while meeting all business needs locally and globally.
For further information visit www.lumesse.com/fr and http://etwebempower.com/
LinkedIn: http://linkd.in/Xgr7t5 – Blog : http://blog.lumesse.com/ – Twitter : https://twitter.com/lumesse
Press Contacts
For further information, interview, screenshots…
Bureau de presse URBAN RP
Coralie Voigt – Tel. +33 (0)1 42 88 16 61
E-mail : presseurbanrp@gmail.com
URBAN RP – Relations Presse et Conseil
Paris – France
Mobile : + 33 6 16 11 08 86 – Tél. : + 33 1 42 88 16 61 – Mail : presseurbanrp@gmail.com
Twitter : https://twitter.com/URBANRP_Paris
Skype : URBANRP_PARIS
Discover More Content About Lumesse
Discover More From Our Vendor Spotlight Series
Our Social Media Presence
Where to Follow Us!
Twitter

More than 20 magazines and smart magazines to follow - check them out now!
LinkedIn
Minds.com
Open Group | Free Minds membership required
Google +
---
(Visited 1 times in the last 4 wks, 1 visits today)
The following two tabs change content below.
Garrett is the publisher, editor, writer forThe HRIS World Research Group, which includes The HRIS World, The HRIS World Research, The HRIS World Jobs, The HRIS World News, and The HRIS World Videos
With more than 20 years in roles as a client executive sponsor (#thwCES), project manager as well as functional / technical lead, Garrett is sought for his expertise for project insights, thought leadership, and team management globally.
He has been involved in large-scale and complex implementations since 1991 and has recently moved his operations to be with his wife in Brazil.
Garrett has had the pleasure of working with some of the greatest talents in the industry, and constantly shares his experiences and knowledge through content and webinars.
He maintains his fluency in Portuguese, German, French, and English with his various endeavors and contacts..
When not working, you will have to be adventurous to stay up with him as Garrett loves motorcycling, gunnery, boating, sailing, flying, and sports fishing -- and accompanying his wife on her various likes
About The HRIS World Research Group
The HRIS World blog, which is read by more than 50,000 from more than 160 countries monthly, manages to have more than 550,000 pages viewed monthly. 40%+ of the audience are decision-makers in their organization (and about half of that being C-levels!).
As CEO for CGServices USA Inc, he focuses on multi-provider, multi-line implementations consultation for HRIS systems
Council and Education Member of Gerson Lehrman Group Council, helping institutions of the world leaders meet, engage and manage experts across a wide range of sectors and disciplines.
Your Invite to Contribute to The HRIS World blog
If you'd like to provide a post, a series of posts, or even be a regular contributor to any of The HRIS World blogs, click the blue contact us button on the bottom right of your screen to send us a message or reach us through our social media for details...
You can always contact Garrett via email, social media, or by leaving a comment below...
Latest posts by Garrett O'Brien (see all)