Use our LinkedIn Login to download this post to PDF or save it to MyLibrary!
p r e f e r r e d - v e n d o r
What Are Yours and How Do You Tackle Them?
The days when the basic function of an HR professional focused purely on core HR matters of recruitment and payroll are long gone.
'It was a simpler time', current HR managers might sigh.
But times have indeed changed.
Today HR professionals are often working for international organisations, with technology instantly connecting them with their colleagues around the world.
But, a one size fits all approach can be too simplistic and it fails to consider the regional subtleties of culture, working practices and legislation.
European HR decision-makers in particular, have to tackle a unique set of challenges that are explored in the research conducted by independent HR analyst Fosway Group in association with HRN the organizers of HR Tech World.
Internally, HR has evolved beyond transactional responsibilities into a strategically important business function that can define and pinpoint what makes an organisation a success or a failure.
Ask any HR leader about key business challenges and it is almost certain they will mention
increasing their organisation's performance and profitability (92%),
reducing costs (89%), and
improving customer satisfaction (86%).
The good news is that these are measurable goals.
The bigger challenge is defining what practical actions HR can take to positively impact them.
Business Agility is One of the Most Significant HR Challenges
One of the top challenges identified by European HR professionals is delivering business agility (82%), a measure fundamentally different to performance, profitability and the like.
'It refers to distinct qualities that allow organisations to respond rapidly to changes in the internal and external environment without losing momentum or vision. Adaptability, flexibility and balance are three qualities essential to long-term business agility' (HRZone).
It is a complex concept, and one that will vary according to the circumstances of each individual organisation.
But, just because it is challenging to measure, doesn't mean you can't assess the readiness of HR and your HR technology to deliver business agility; however, what you don't want is your architecture and systems to stand in the way of achieving it.
post continues after these free offers
a d v e r t i s e m e n t s
Today's Featured Free Offer
You're Doing it Wrong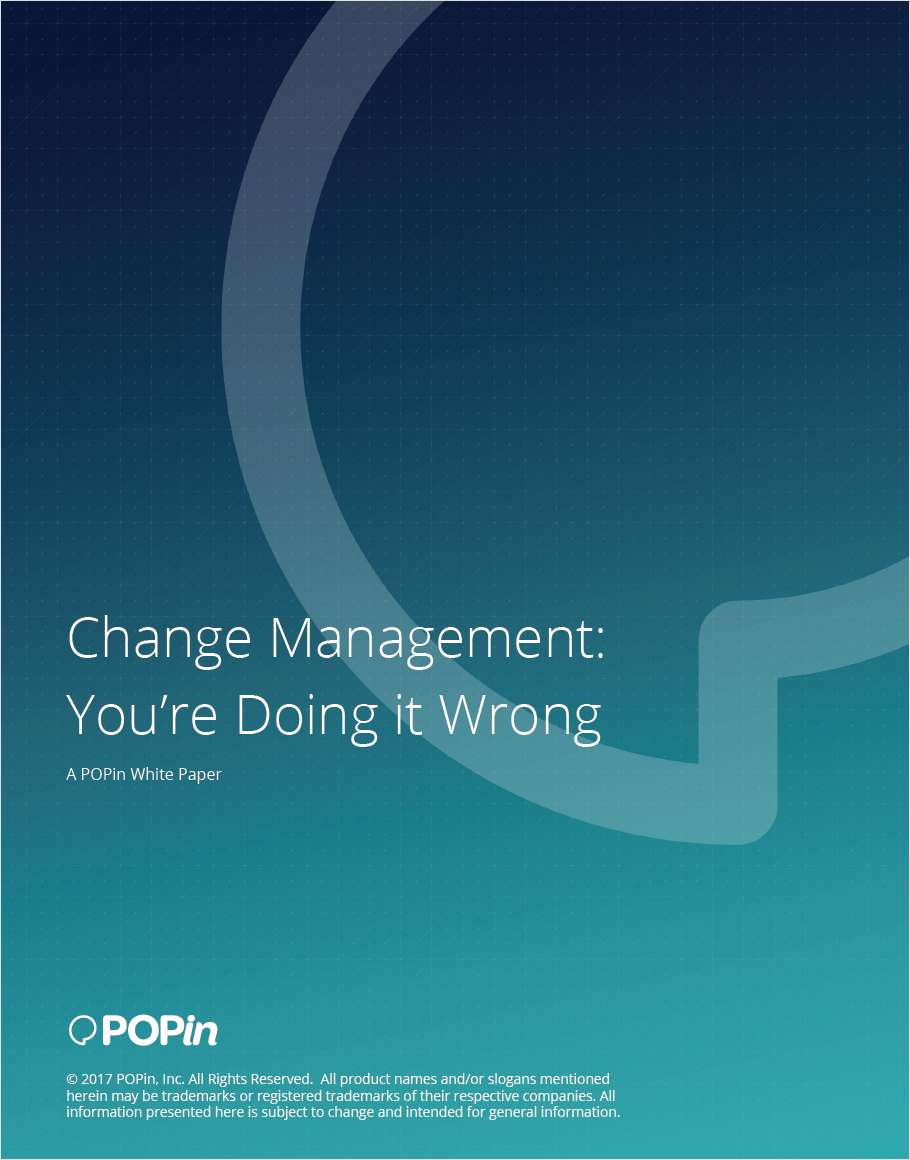 Change Management for Your Organization
I am a recovering change management consultant. Over the last 20 years or so, I've focused my career primarily in the people change management space. My job was to help companies realize the ROI of their multi-million dollar investments – whether they be investments in organizational redesign, new systems or large scale business transformations – by mitigating resistance, creating buy-in and driving adoption. The way to do that was to get the people on-board with what was happening. If they stopped resisting what was inevitable and just adopted the change, then all would be right in the "corporate" world. And I use the term "corporate" as a catch-all. These challenges and my project work spanned industries and organizations, from non-profit and government to privately owned and publicly traded enterprises.
The challenge is and always will be people. People will make or break the success of any change a company wants to make. So my job was part data analysis, part coaching, part writing, part training and part shrink. Get into the heads of the people to figure out what they wanted and find a way to make this change something they want. Or better yet – need. Call it marketing. Call it change management. Call it what you want. No matter how you slice and dice it, or whatever you call it, I was doing it wrong. And so are you.
If we apply the "Ask, Listen and Do" mindset to this problem, we as change management professionals can increase our effectiveness while enabling organizations to actually realize the ROI of their big dollar investments.
Let's look at 2 different change management models to see the difference and similarities: Lewin's Change Management Model and Prosci's ADKAR Model and 3-Phase Process.
Offered Free by: POPin
a d v e r t i s e m e n t
post continues from above
Any organisation can strive to be more agile, whether large, medium or small, but HR must examine both its operations and its systems against the three key elements of customer satisfaction, organisational energy, and dynamic architecture in order to begin achieving it.
Creating an agile, entrepreneurial, digitally savvy and future facing organization is critical to business survival in the C21st.

What we are seeing is that many organisations are now realizing that the challenge it's more than just hiring the right talent, it's also about looking in the mirror and facing up to the reality that a deep cultural and structural change and re-invention is essential.
The desire to deliver increased performance and profitability whilst reducing costs and improving customer satisfaction and increasing business agility certainly puts a lot on the shoulders of HR professionals.
But, by continuing to develop HR into a more strategic business partner, a top priority in the research for 53% of respondents, HR professionals can work to deliver these goals.
One of the keys to success is access to the right data and insights, whilst ensuring HR systems are acting as an enabler, not a barrier.
80% identified a lack of data integration across HR silos as a major challenge for them.
Which is potentially why more than half of the survey participants envisage changing their existing core HR, learning succession and workforce planning solutions within the next 3 years.
This nods to the importance of getting the right HR technology in place, ensuring adoption and interpreting the organisation's data using analytics to generate valuable business insights.
Looking beyond the technology…
The research also demonstrates that change should not be limited just to HR technology.
As the role of HR constantly evolves, so do the metrics of organisational success. Fosway's statistics highlight that participants believe HR's future success is dependent on
upskilling HR teams (72%),
new or enhanced processes (69%) and re-
organisation to create a better business alignment (54%)
All of the above ought to be considered together as a package: if you adopt new ways of working, you need new operating structures to bring them to life and maximize the opportunities they offer.
The new insights you gain by implementing them can bring you closer to dealing with those challenges HR professionals have to successfully tackle both now and in the future.
To Discover More
Be sure to save the date to invest your time and efforts into discovering new operating structure options as well as conversing with others who are facing your same challenges by attending the HR Tech Congress 2016 Paris this fall, 25-26 October 2016 at The Palais des Congrès de Paris.
For group discounts, please contact us directly by clicking here; for more information, click the image below…
Our Social Media Presence
Where to Follow Us!
Twitter

More than 20 magazines and smart magazines to follow - check them out now!
LinkedIn
Minds.com
Open Group | Free Minds membership required
Google +
---
(Visited 8 times in the last 4 wks, 8 visits today)
The following two tabs change content below.
Garrett is the publisher, editor, writer forThe HRIS World Research Group, which includes The HRIS World, The HRIS World Research, The HRIS World Jobs, The HRIS World News, and The HRIS World Videos
With more than 20 years in roles as a client executive sponsor (#thwCES), project manager as well as functional / technical lead, Garrett is sought for his expertise for project insights, thought leadership, and team management globally.
He has been involved in large-scale and complex implementations since 1991 and has recently moved his operations to be with his wife in Brazil.
Garrett has had the pleasure of working with some of the greatest talents in the industry, and constantly shares his experiences and knowledge through content and webinars.
He maintains his fluency in Portuguese, German, French, and English with his various endeavors and contacts..
When not working, you will have to be adventurous to stay up with him as Garrett loves motorcycling, gunnery, boating, sailing, flying, and sports fishing -- and accompanying his wife on her various likes
About The HRIS World Research Group
The HRIS World blog, which is read by more than 50,000 from more than 160 countries monthly, manages to have more than 550,000 pages viewed monthly. 40%+ of the audience are decision-makers in their organization (and about half of that being C-levels!).
As CEO for CGServices USA Inc, he focuses on multi-provider, multi-line implementations consultation for HRIS systems
Council and Education Member of Gerson Lehrman Group Council, helping institutions of the world leaders meet, engage and manage experts across a wide range of sectors and disciplines.
Your Invite to Contribute to The HRIS World blog
If you'd like to provide a post, a series of posts, or even be a regular contributor to any of The HRIS World blogs, click the blue contact us button on the bottom right of your screen to send us a message or reach us through our social media for details...
You can always contact Garrett via email, social media, or by leaving a comment below...
Latest posts by Garrett O'Brien (see all)