Use our LinkedIn Login to download this post to PDF or save it to MyLibrary!
p r e f e r r e d - v e n d o r
Dawn Altnam is a regular contributor to The HRIS World.
---
Is IT Really Easy Now?
There's an interesting sentiment or idea that is going around that somehow IT is magically easier now.
This is largely fueled by the advent and rise of cloud computing and virtualization.
Sure, issues can be isolated and automated faster than ever before, but let's not forget the age we live in.
Data is bigger than it ever was, and with the constant stream of data needed to stay competitive in today's information market, IT processes are now more complex than they ever were.
Again, these complex IT processes are streamlined and require less legwork, but IT is by no means easy.
The cloud isn't magic and virtualization isn't a miracle.
The legwork involved with managing data on the IT level hasn't become easier; it's just changed drastically.
Technology that Fuels the "IT is easy" Sentiment
Virtualization
The "easy" revolution is almost primarily driven by the fact that nearly anything in the IT or data management process can be virtualized.
This includes everything from server virtualization to network virtualization to application virtualization.
Sure, it's incredibly easy to manage these components every day.
In fact, through companies like Scale Computing, these infrastructural resources are easier to scale than at any time in the history of server level computing.
But when it comes to actually building, testing and deploying virtualized components, that is an entirely different story altogether.
Cloud Computing
Cloud computing tells a similar story.
Since much of the cloud is powered by virtualization, there's often talk that all an IT department needs is a sophisticated web portal to manage and deploy data throughout a company's infrastructure.
The problem is that sometimes the computing resources aren't there to power the cloud-based systems that boast making IT processes easier than ever.
A Cloud Portal Isn't the Answer
So what happens when a cloud or other virtualized server goes down?
Who handles the problems, or rebuilds the virtualized environment when something really goes wrong?
This takes an IT ninja to step in and take over the reins of the server.
By no means is this an easy process.
It takes some real talent to be able to turn things around quickly and efficiently to ensure that the system is both highly functional and high performing.
But some of today's IT professionals have gotten cocky with their overconfidence in these new tools that have "transformed" the way we handle IT disasters.
Others, of course, have gotten frustrated as their managers claim that their jobs are way easier than they actually are.
The Last Word
To be clear, we're not decrying the technology that has made life easier.
The cloud has made it so IT professionals can manage data from virtually anywhere in the world.
And virtualization is now more powerful than ever in the way it helps server administrators handle problems and increase computing power across the entire datacenter.
The point is that managing IT resources hasn't really gotten any easier.
It's just changed drastically.
As data management has become increasingly complex, IT processes have shifted to meet the dynamic needs of big data in the enterprise computing environment.
---
What Are Your Thoughts??
✔   You've probably heard the phrase, "The grass is always greener on the other side of the hill…" What recent events have you had with IT that supports Dawn's points?
✔   What other points can you add to her post?
post continues after these free offers
a d v e r t i s e m e n t s
Today's Featured Free Offer
You're Doing it Wrong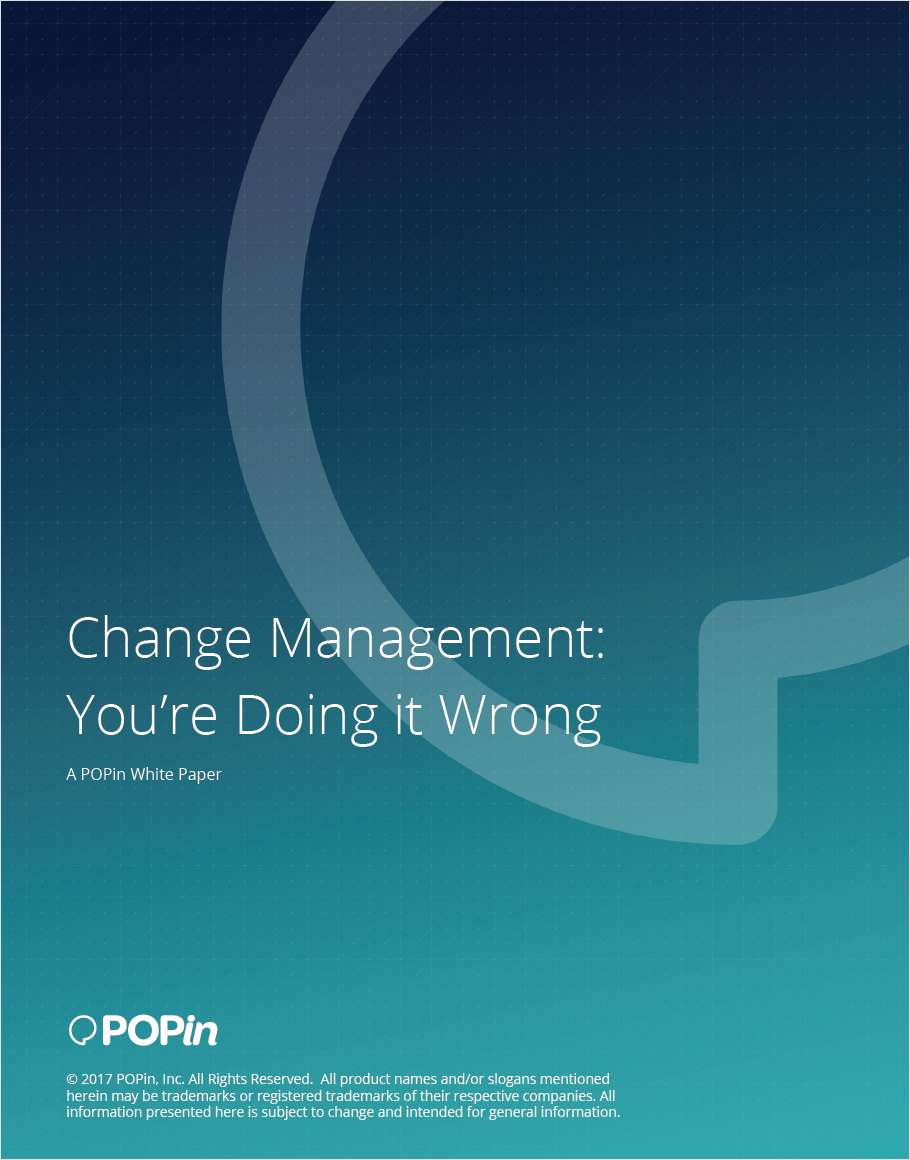 Change Management for Your Organization
I am a recovering change management consultant. Over the last 20 years or so, I've focused my career primarily in the people change management space. My job was to help companies realize the ROI of their multi-million dollar investments – whether they be investments in organizational redesign, new systems or large scale business transformations – by mitigating resistance, creating buy-in and driving adoption. The way to do that was to get the people on-board with what was happening. If they stopped resisting what was inevitable and just adopted the change, then all would be right in the "corporate" world. And I use the term "corporate" as a catch-all. These challenges and my project work spanned industries and organizations, from non-profit and government to privately owned and publicly traded enterprises.
The challenge is and always will be people. People will make or break the success of any change a company wants to make. So my job was part data analysis, part coaching, part writing, part training and part shrink. Get into the heads of the people to figure out what they wanted and find a way to make this change something they want. Or better yet – need. Call it marketing. Call it change management. Call it what you want. No matter how you slice and dice it, or whatever you call it, I was doing it wrong. And so are you.
If we apply the "Ask, Listen and Do" mindset to this problem, we as change management professionals can increase our effectiveness while enabling organizations to actually realize the ROI of their big dollar investments.
Let's look at 2 different change management models to see the difference and similarities: Lewin's Change Management Model and Prosci's ADKAR Model and 3-Phase Process.
Offered Free by: POPin
a d v e r t i s e m e n t
post continues from above
✔   There are always going to be geeks that can understand many things about computers… And there are going to be those who can't figure out how to use a smartphone… In reality, do you see a day coming when technology will NOT need someone to provide some level of support? Remember, the VHR (if you know what one is) was never championed by too many people…
Please share your thoughts with our audience in the comments section below!
More on This Topic
'Why is everything so complicated for us? All this can be done in an easier way'.
Phone calls like these from the CEO are no longer to be expected after having read `Eine Million oder ein Jahr (One Million or One Year)' — CIO Magazine, September 2006
It is definitely a clear and exceedingly practical signpost which should not be missing in IT interested people's library. — Journal, July 2006
Top European CIO's book translated to English
Favourite read of European CIOs has been translated to provide an insight into IT industry. One of the most popular books amongst European CIOs is now available in English. IT's Hidden Face, written by Claude Roeltgen the CIO of one of Luxembourg's top banks has been a top read amongst CEOs, CIOs and government ministers across the continent. — CIO UK, June 22, 2009
I came away realizing it might be the first time I read a book that talks comprehensively about management process and procedures of IT in a no-nonsense manner… A jungle of any sort is a challenging environment to map out, but Roeltgen does an excellent job of diagramming the IT shop — Chris Curran, CIODashboard.com, Dec 2, 2009 
His book tackles the communications gulf between IT … and the rest of the world. — ITKnowledgeexchangetechtarget.com, Nov 2, 2009
Favourite read of European CIOs has been translated to provide an insight into IT industry. One of the most popular books amongst European CIOs is now available in English. IT's Hidden Face, written by Claude Roeltgen the CIO of one of Luxembourg's top banks has been a top read amongst CEOs, CIOs and government ministers across the continent. —Top European CIO's book translated to English CIO Magazine UK, June 22, 2009 
…provides a detailed overview of a variety of compelling IT topics including management, security, software instability and the day-to-day responsibilities of IT professionals. — CBR Magazine UK, Sep 2009
While the book is must reading for everyone in IT, it should be required reading for all C-Level executives and probably End Users as well. It might not be a bad idea for your significant other to read too so he or she can get an idea what you have to deal with everyday. This books strips away the myths and misconceptions of what goes on "behind the curtain" and explains in detail the challenges people in IT have to face each day. — Becker's IT Training Blog Jan 31, 2010
Other Recommendations from Our Store
Discover More About Cloud Computing
Our Social Media Presence
Where to Follow Us!
Twitter

More than 20 magazines and smart magazines to follow - check them out now!
LinkedIn
Minds.com
Open Group | Free Minds membership required
Google +
---
(Visited 3 times in the last 4 wks, 3 visits today)
The following two tabs change content below.
Dawn Altnam
Dawn Altnam is a regular contributor to The HRIS World, be sure to see her other articles listed just below.
Dawn lives & works in the midwest and loves following the business tech world.
After furthering her education, she now spends her time researching her interests and blogging her discoveries quite often.
You can reach Dawn via email, social media or by leaving a comment below...
Latest posts by Dawn Altnam (see all)