Use our LinkedIn Login to download this post to PDF or save it to MyLibrary!
p r e f e r r e d - v e n d o r
img credit : Microsoft images
Ever Try Building a Business Without Building Your People?
Investing in your people doesn't guarantee your returns but it does give you better returns than not
As a business owner or decision-maker of your company, one of the key challenges that you face is the successful distribution of your capital.
This is critically important if you are to achieve long success, while maximising profitability and laying solid commercial foundations.
There are a large number of investment options for those who own a commercial venture, and selecting the right ones will ensure that your business can move forward as effectively as possible.
With consumer confidence currently at a peak in the UK and businesses increasingly keen to spend their capital, there is a unique opportunity for you to expand your venture accordingly.
Making Sound Investment Decisions: Investing in People
While it always tempting to invest money in procuring cutting edge technology and equipment for your business, however, this means little if you do not employ a productive and motivated team of staff.
Consider the following investment options and how they will help you to create a purposeful workforce…
Adopt a Personalised Approach to Training and Development
If you are looking to cultivate a forward thinking outlook among your employees, it is crucial that you offer them the opportunity to advance and develop their personal skills. While this can be done through a uniform approach, however, you should remember that each staff member is different and therefore likely to have a different set of goals and ambitions. With this in mind, you must adopt a flexible approach to training and development, which will enable your employees to broaden their range of skills and fully realise their potential.
Invest in Performance Related Rewards
Once you have established a flexible and multi-skilled workforce, the next step is to ensure that they are motivated to achieve their individual goals. While contemporary employees are motivated by a more diverse range of factors than their predecessors, however, it is still important to invest in performance related rewards that fully reflect the value offered by each individual employee. The rewards or bonuses in question do not necessarily need to be made in the form of cash, so be creative and use your capital to purchase experiences and gift items that suit each recipient.
Identifying Savings to Invest in People
If you intend to invest heavily in the empowerment and development of employee performance, there may well be a need to identify alternative business savings.
This can be achieved through several methods, but a good starting point is to pinpoint non-strategic and operational costs that can easily be reduced without compromising on the performance of your business.
Why not consider spending less on technology, for example, as reconditioned, used desktops can be sourced cost-effectively from suppliers such as Specialist Computer Holdings PLC.
post continues after these free offers
a d v e r t i s e m e n t s
Today's Featured Free Offer
You're Doing it Wrong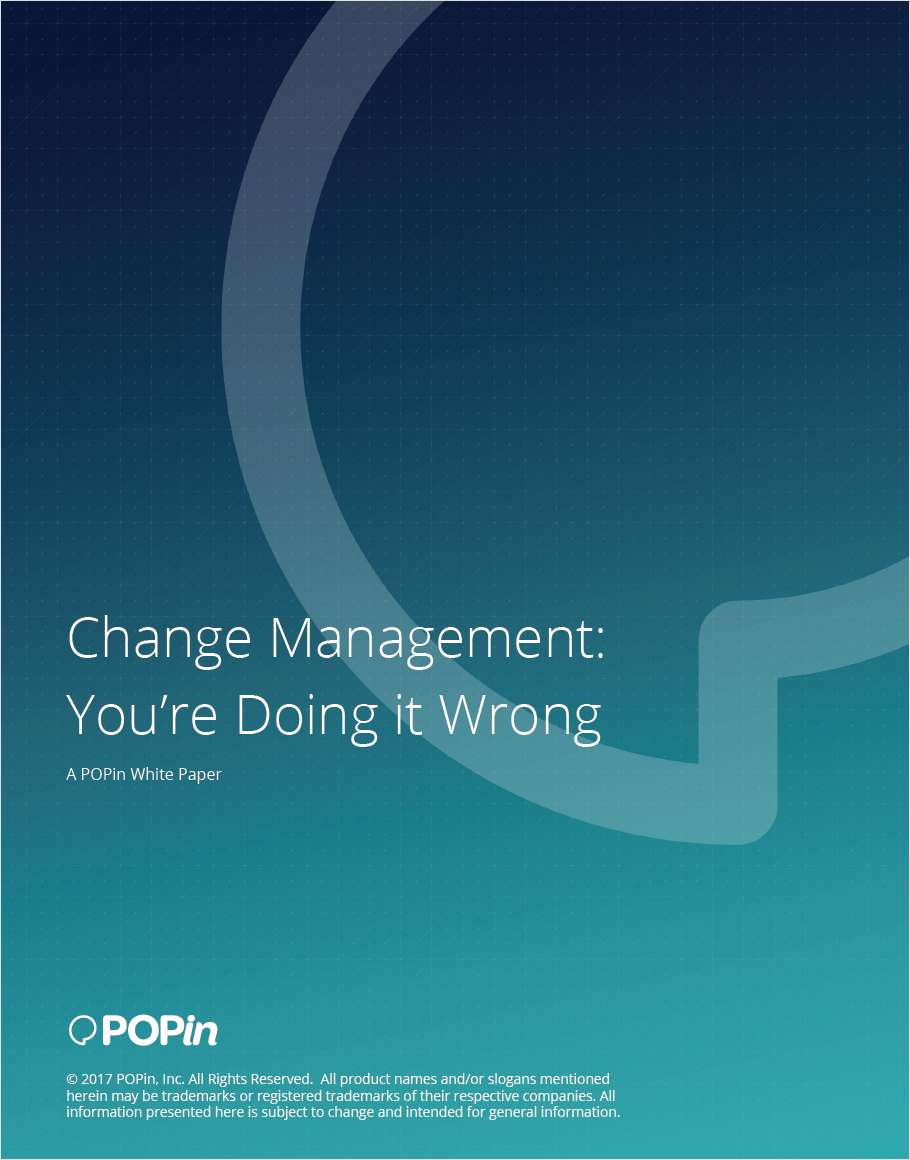 Change Management for Your Organization
I am a recovering change management consultant. Over the last 20 years or so, I've focused my career primarily in the people change management space. My job was to help companies realize the ROI of their multi-million dollar investments – whether they be investments in organizational redesign, new systems or large scale business transformations – by mitigating resistance, creating buy-in and driving adoption. The way to do that was to get the people on-board with what was happening. If they stopped resisting what was inevitable and just adopted the change, then all would be right in the "corporate" world. And I use the term "corporate" as a catch-all. These challenges and my project work spanned industries and organizations, from non-profit and government to privately owned and publicly traded enterprises.
The challenge is and always will be people. People will make or break the success of any change a company wants to make. So my job was part data analysis, part coaching, part writing, part training and part shrink. Get into the heads of the people to figure out what they wanted and find a way to make this change something they want. Or better yet – need. Call it marketing. Call it change management. Call it what you want. No matter how you slice and dice it, or whatever you call it, I was doing it wrong. And so are you.
If we apply the "Ask, Listen and Do" mindset to this problem, we as change management professionals can increase our effectiveness while enabling organizations to actually realize the ROI of their big dollar investments.
Let's look at 2 different change management models to see the difference and similarities: Lewin's Change Management Model and Prosci's ADKAR Model and 3-Phase Process.
Offered Free by: POPin
a d v e r t i s e m e n t
post continues from above
While this allows you to make savings, it will not disturb the day to day running of your firm.
Recommendations from Our Store
The Last Word
Investment in people may be a broad business term, but it also represents an opportunity to drive your venture forward.
By equipping your employees with viable workplace tools and empowering them to achieve all of the targets that they have been set, it is possible to improve performance and boost your bottom line profit as a result.
From Our Building Employee Relationships Playlist on Our YouTube Channel
Discover More About Employee Incentives
Discover More About Employee Motivation
Discover More About Employee Retention
Our Social Media Presence
Where to Follow Us!
Twitter

More than 20 magazines and smart magazines to follow - check them out now!
LinkedIn
Minds.com
Open Group | Free Minds membership required
Google +
---
(Visited 1 times in the last 4 wks, 1 visits today)
The following two tabs change content below.
Lewis Humphries is a writer, researcher, and business consultant based in the UK.
He currently works on behalf of Chillisauce, which remains one of the UK's most innovative team building and event planning companies.
You can always reach Lewis via email, social media, or by leaving a comment below...
Latest posts by Lewis R Humphries (see all)