Use our LinkedIn Login to download this post to PDF or save it to MyLibrary!
p r e f e r r e d - v e n d o r
Daycare From the Perspective of A Business Owner
Offering employees the convenience of an in-office daycare should be approached with care
Offering daycare to your employees is an amenity that few parents expect and virtually all appreciate – even if they don't plan to use it.
It can increase the quality of the candidates you attract, boost morale, and solidify your reputation as a concerned employer.
But it also comes with drawbacks that not every business can tolerate.
Follow this guide to deciding whether offering daycare is right for you…

img credit : Photos.com/Stockbyte
Pros
Recruit Above Your Weight
For parents, parting with their children to leave them in the care of strangers is emotionally trying and adds even more anxiety to the already stressful job of parenting.
Financially, it can be backbreaking.
Raising children is expensive anyway; from school clothes to car seat boosters, it's hard for a parent to keep the money they make.
But with the average parent spending $972 a month on childcare, leaving your child to go to work is not just a mental stress, but an economic burden that can last for years.
Offering childcare is an irresistible perk that very few employers offer.
By adding it to your recruitment package, you will be able to draw candidates who are qualified and experienced well beyond the salary you may be able to offer.
Make a Statement
By offering childcare to your employees, you're making a statement not only to the parents who work for you, but to every single employee that you care about their needs and will try to work to accommodate them.
post continues after these free offers
a d v e r t i s e m e n t s
Today's Featured Free Offer
You're Doing it Wrong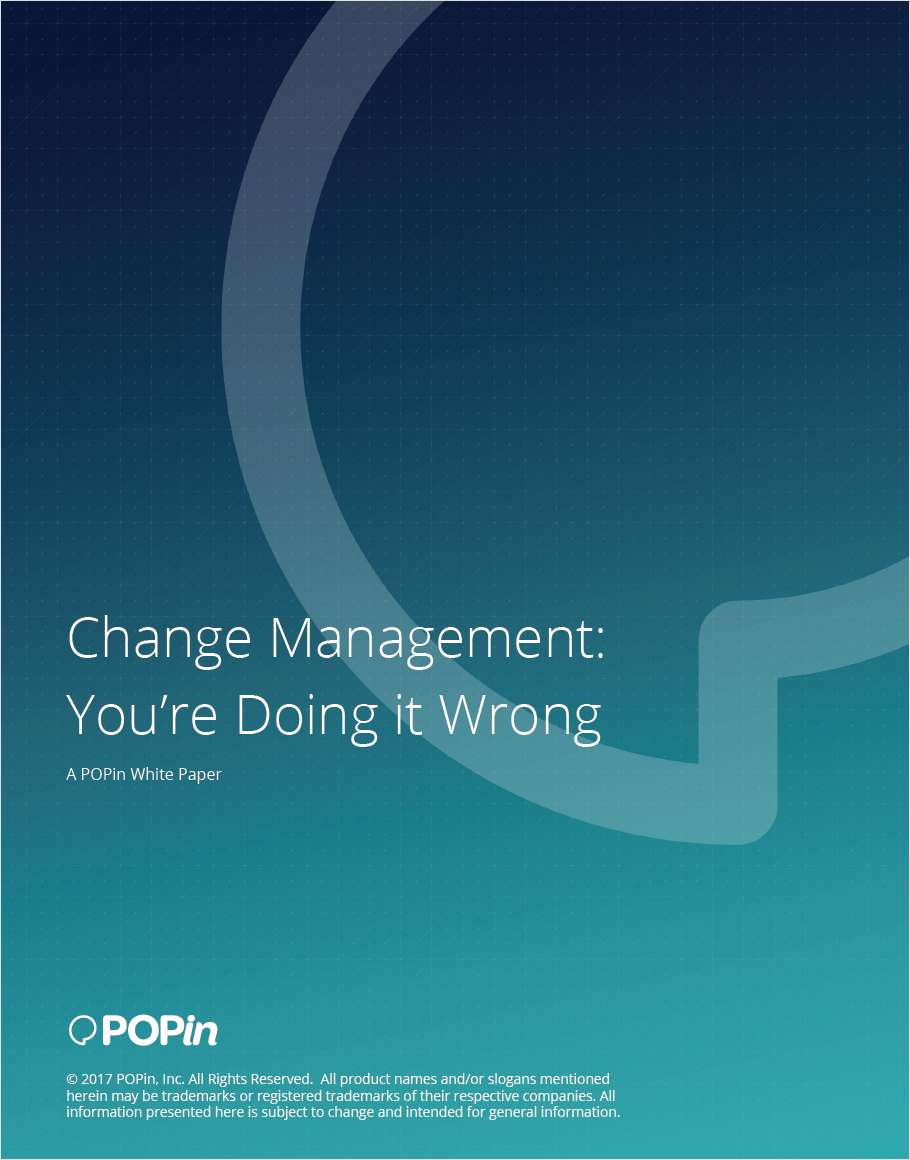 Change Management for Your Organization
I am a recovering change management consultant. Over the last 20 years or so, I've focused my career primarily in the people change management space. My job was to help companies realize the ROI of their multi-million dollar investments – whether they be investments in organizational redesign, new systems or large scale business transformations – by mitigating resistance, creating buy-in and driving adoption. The way to do that was to get the people on-board with what was happening. If they stopped resisting what was inevitable and just adopted the change, then all would be right in the "corporate" world. And I use the term "corporate" as a catch-all. These challenges and my project work spanned industries and organizations, from non-profit and government to privately owned and publicly traded enterprises.
The challenge is and always will be people. People will make or break the success of any change a company wants to make. So my job was part data analysis, part coaching, part writing, part training and part shrink. Get into the heads of the people to figure out what they wanted and find a way to make this change something they want. Or better yet – need. Call it marketing. Call it change management. Call it what you want. No matter how you slice and dice it, or whatever you call it, I was doing it wrong. And so are you.
If we apply the "Ask, Listen and Do" mindset to this problem, we as change management professionals can increase our effectiveness while enabling organizations to actually realize the ROI of their big dollar investments.
Let's look at 2 different change management models to see the difference and similarities: Lewin's Change Management Model and Prosci's ADKAR Model and 3-Phase Process.
Offered Free by: POPin
a d v e r t i s e m e n t
post continues from above
You will get a reputation as a compassionate, modern employer who understands that his or her employees' private lives are complicated and must be taken into consideration.
Encourage Loyalty
By being relieved of the stress of finding and paying for outside childcare, your employees are much less likely to stray.
Although everyone is always keen for greener pastures, the unique and rare service of offering daycare is something that will not only help you draw great candidates, but keep them.
Cons
Cost
Hiring experts and employees to run and staff the daycare – as well as training, security, and perhaps bringing your building up to code – are all expenses that will fall directly on you.
Although some of this can be recouped by nominal fees you charge to the employees who use the daycare service, giving away daycare is always appreciated, but rarely cheap.
Regulations
Because of the sensitive nature of the business, operating a childcare service is regulated differently and more heavily than other enterprises.
Regulations are strict and can vary widely from state to state.
Plan for coding and building upgrade requests and governmental inspections to become part of your regular routine.
Daycare Isn't Parenting
Even if you take the extraordinary burden of childcare off a working parent, kids still need to go to the doctor.
They still get sick; they still have teachers to meet with and sports events, plays, and dance recitals.
Parents are busy because raising children is hard.
You're never going to be able to help them 100 percent.
The Last Word
In-house childcare is a rare and coveted amenity.
Know what you're getting into before you take the plunge, but if you're able to offer it, it is almost certain to be noticed by candidates who you otherwise may not be able to afford.
Discover More About Employee Benefits
Our Social Media Presence
Where to Follow Us!
Twitter

More than 20 magazines and smart magazines to follow - check them out now!
LinkedIn
Minds.com
Open Group | Free Minds membership required
Google +
---
(Visited 4 times in the last 4 wks, 4 visits today)
The following two tabs change content below.
Andrew was brought to our attention by Katrina Robinson of Media Shower who can be reached by email by clicking here.
---
Andrew Lisa is a freelance writer living in Los Angeles.
He writes about small business issues, international markets, global enterprise, online reputation management, and has served as a business editor and writer at major publications for nearly a decade and has served as the editor of the business section at amNewYork, the most widely distributed newspaper in Manhattan.
You can reach Andrew via email, social media, or by leaving a comment below...
Latest posts by Andrew Lisa (see all)