Use our LinkedIn Login to download this post to PDF or save it to MyLibrary!
p r e f e r r e d - v e n d o r
About
The HRIS World Vendor Spotlight™ #thwVS #NextGenVendors
For vendor insights, we provide The HRIS World Content Series: Next Gen Vendor™ to promote their companies, products, services, and visions -- the Next Gen Vendor™ insights consists of 3 series...
The HRIS World Vendor Spotlight™ focuses on the different aspects of the SMB / SME vendor, their services and software
Our 2nd series,
The HRIS World Vendor Interview Series™ focuses on the SMB and Enterprise vendor's decision makers alike, their thoughts for the future of work as well as their own company, and what they see as the challenges coming up in the industry
The 3rd series,
The HRIS World Enterprise Software Options™ focuses on the different aspects of the Enterprise vendor, their services and software
All 3 series can be found through the second menu at the top of any page under The HRIS World Content Series™
The Vendor Interview Series is provided in email, podcast and video interview format while the other two series are provided in a mix of the three to supplement the content.
You will find various aspects of a vendors business as well as any announcement of webinars, group demos, and conferences a vendor may be conducting.
If you are a vendor wanting to contribute to either series via a post or interview, feel free to click the blue contact us button on the lower right of your screen to let us know how we can assist -- or if you are reading this by our newsletter, then hit the reply button to get back to us!
---
This article on project management is from guest blogger Erica Bell, writer — her post reviews available types of software
---
As a Human Resources (HR) professional, time management is key to performing your job well.
With the constant stream of tasks from hiring to figuring out payroll services, things can sometimes become overwhelming.
Time and attendance software can help you save time and money.
There are a number of options currently available to match the needs of your company, whether you work with a small business or large corporation.
Here are 3 common types of software systems to take into account as you consider time and attendance software for your office…
Web-Based Time Clock Systems
Web-based time clock systems have benefits and pitfalls.
If your employees travel often, but work at a monitored rate, a web-based system allows them to clock in from wherever they can access the internet…
You can save the company money by keeping to-the-minute time records
Employees can clock in and out from offsite locations; this is a great tool for companies who employees work remotely. However, time theft can occur more easily — a few minutes here and there can quickly add up
Pricing for web-based systems are usually monthly. Small business owners may able to budget for this more easily than paying a lump sum up front
Some web-based time and attendance systems allow for the integration of payroll software
If you want to reduce the number of programs used in your office, a web-based system may be the way to go.
Onsite Systems
With high-tech time and attendance solutions you can easily and accurately collect data on hours worked, track vacation time, sick time and even break time…
On-site time and attendance systems also allow to-the-minute time records
Depending on the size of your offices and the number of employees, you may have to invest in more than one on-site system, increasing the overall cost
Some automated timekeeping systems integrate easily with popular finance and payroll programs, saving you time and money
PC-Based Systems
If you have a small business or office, such as a small retail boutique, a PC-based time system may work the best. Employees can log in using the same computer and different accounts…
post continues after these free offers
a d v e r t i s e m e n t s
Today's Featured Free Offer
You're Doing it Wrong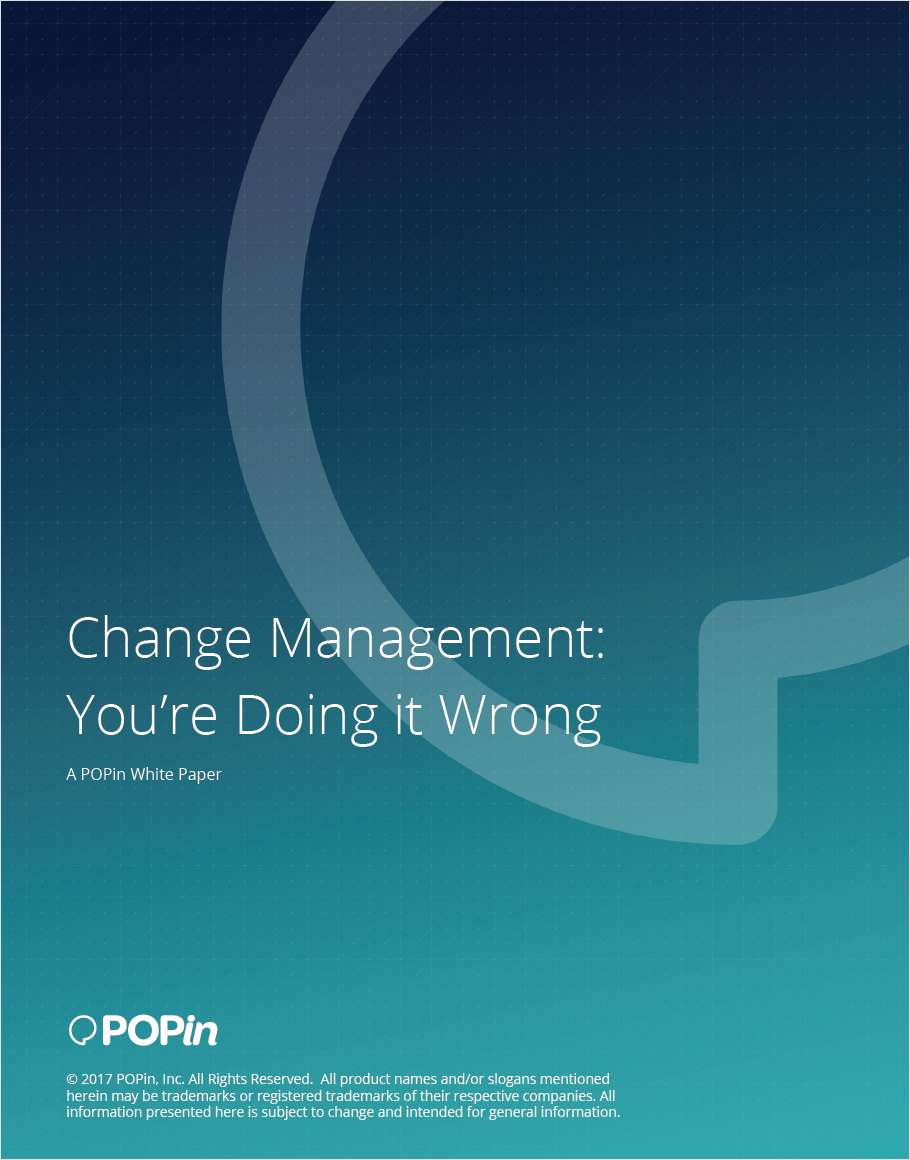 Change Management for Your Organization
I am a recovering change management consultant. Over the last 20 years or so, I've focused my career primarily in the people change management space. My job was to help companies realize the ROI of their multi-million dollar investments – whether they be investments in organizational redesign, new systems or large scale business transformations – by mitigating resistance, creating buy-in and driving adoption. The way to do that was to get the people on-board with what was happening. If they stopped resisting what was inevitable and just adopted the change, then all would be right in the "corporate" world. And I use the term "corporate" as a catch-all. These challenges and my project work spanned industries and organizations, from non-profit and government to privately owned and publicly traded enterprises.
The challenge is and always will be people. People will make or break the success of any change a company wants to make. So my job was part data analysis, part coaching, part writing, part training and part shrink. Get into the heads of the people to figure out what they wanted and find a way to make this change something they want. Or better yet – need. Call it marketing. Call it change management. Call it what you want. No matter how you slice and dice it, or whatever you call it, I was doing it wrong. And so are you.
If we apply the "Ask, Listen and Do" mindset to this problem, we as change management professionals can increase our effectiveness while enabling organizations to actually realize the ROI of their big dollar investments.
Let's look at 2 different change management models to see the difference and similarities: Lewin's Change Management Model and Prosci's ADKAR Model and 3-Phase Process.
Offered Free by: POPin
a d v e r t i s e m e n t
post continues from above
You may not need an internet connection, depending on the software, which can come in handy if your business is in a remote location
Depending on the software, you can manage all reports from the same computer where employees log in; you won't need additional software or hardware
Employee time theft or inflation is less likely to occur than with a web-based systems as employees must be present to clock in
Time and attendance software can control employee absenteeism by keeping better and more accurate records. It can also reduce employee time theft and employ the latest time and attendance technology to your benefit.
You can make payroll easier by automatically integrating time and attendance records with your payroll software or system.
Do the research about which system works best for your company and you can find the software that benefits your company most… and makes your job in HR much easier.
---

Click the image to start your newsletters now!
---
Discover More From Our Vendor Spotlight Series
Our Social Media Presence
Where to Follow Us!
Twitter

More than 20 magazines and smart magazines to follow - check them out now!
LinkedIn
Minds.com
Open Group | Free Minds membership required
Google +
---
About Our Guest Blogger
Erica Bell is a Sr. Community Manager for Rational Interactions.
She is also a web content writer at a website for business research.
(Visited 480 times in the last 4 wks, 1 visits today)
The following two tabs change content below.
Our Audience
Contributors from Our Audience are professionals in the area of expertise and the bio was used in a different platform - with WordPress, each author now has their own dedicated profile.
The author's post(s) are entirely his or her own and may not always reflect the views of The HRIS World publications.
You can always reach any of our authors by leaving a comment or using anyone one of the social links provided in their bio - feel free to contact them, they love the feedback and recognition!
---
If you'd like to contribute an article for The HRIS World, contact us through our social media or our contact page for details about how you can share your tips with our audience...
Latest posts by Our Audience (see all)