Use our LinkedIn Login to download this post to PDF or save it to MyLibrary!
p r e f e r r e d - v e n d o r
If you don't have an account with LinkedIn, I have only one thing to ask…
Why not?
Not only is LinkedIn finally "coming of age" as a recruiting tool (and some people will contest this!), but it is also recognized as a marketing tool.
Meaning, without it, you are waisting a powerful, free resource in your marketing plans.
Keyword being FREE.
Recently, LinkedIn recognized those that were first at some level — my profile came in the top 1%…
Now, 1% of 200 million is still a lot (2 million) — but 200 million is also a lot potential contacts as well.
Some scoffed at the 1% because, for them, it was not all that exclusive — and to a point they are correct.
But for me I have learned never scoff at the view from a mountain top, even if it is crowded… Least you find yourself looking up from a valley again.
That said, if you're in a valley, how many contacs are going to favor me — or you — if you are not higher up in the ranks?
How to Get to The Top
OK, for those that have a LinkedIn account, many wonder why they aren't listed near the top of searches, wonder why they are needing to be labor intensive to gain resources… while others seem to have people knocking down the door to gain their connection.
Well, there's this new tool on the internet — great mechanism!
Works wonders when you have questions like this, or need to do a little research.
They call it Google…
For those that haven't used Google before, here's a token for a free search… Honestly! It's free!
OK, enough of the jokes, let's get to work on getting you — correction, assisting you — in getting a better profile…
Your Headline
This is the most attraction item leading to your LinkedIn profile.
It's at the top of your profile — meaning it has prime real estate to your profile.
It holds the most value because it's the first thing people see when they do any type of search on LinkedIn, so you need to have web marketing within your headline.
You could say, "I'm a web marketing strategist that helps small businesses do X,Y and Z."
Or you could share your latest writings, book(s), presentations, other accomplishments — just remember it's your headline, not the history of your entire life.
Use it to promote you!
BUT…
Be sure you are using keywords that will work well with the search engines — do some research with your keywords on Google, Yahoo, Bing, Ask… See what comes up.
If you are really serious about keywords, then use Google's keyword analytics tool to sort things out.
Current Work Experience
This is the 2nd most relevant thing because it's what you're currently doing in business.
This means LinkedIn puts more emphasis on this section than anywhere else besides the headline, so you need to have web marketing in the description of your current work experience.
Again, keywords are important — don't be afraid to use the same keywords from your headline as well as derivations thereof…
Along with being the 2nd more relevant piece of real estate in your profile, it is also used by the search engines during their queries…
If you're needing some visuals, here's an excellent video on using this tool — and fair warning, research is boring (you know this already), but it has high dividends.
The producer of the video was creating this for website keyword searches — however, search engines could careless if you are building a website, or building a profile.
However, the principles are the same, capiche?
Past Work Experience
You have to have your keyword in your past work experience — as this will determine where you will be placed in the search results.
Look at this way, if you just changed careers, then some, many, if not all, of your work skills are transferable to your new job.
Without the keywords in both your past and present work experiences, you will slide down the rankings of the search results.
Why? Logically speaking from the queries 'perspective', no work experiences carried forward means new work experiences being gained.
You have value in your skills — be sure that is transferred into your past as well as present in your profile.
Your Profile Summary
Throughout your summary, obviously, you want to formulate and update it in a way that you're talking about your goals, who you help, how you help them, and how people can get in contact with you.
You are, after all, fulfilling a need in exchange for being paid for your ideas.
Here as well, add your keywords, peppering them throughout your summary.
If you performed a keyword analysis in for your headline, you will want to be sure the top rated (not necessarily highest rated) keywords are used.
There are some keywords that hold value as they are on the top of a smaller "pile" of keywords as opposed to being in the middle of a larger "pile" of keywords…
Which means you will come out on top when others are searching the small pile and not on the other…
Keep researching your keywords until you see those that are on TOP of the pile…
post continues after these free offers
a d v e r t i s e m e n t s
Today's Featured Free Offer
You're Doing it Wrong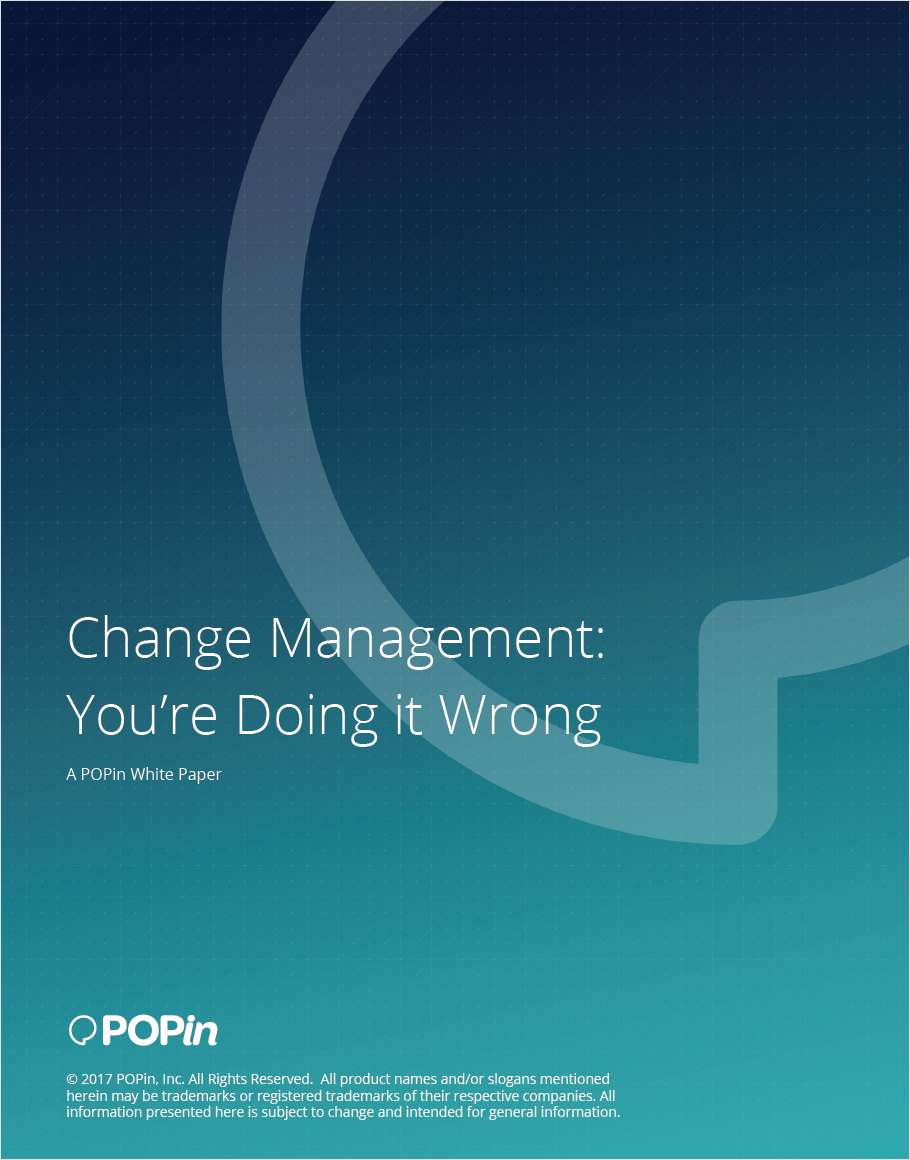 Change Management for Your Organization
I am a recovering change management consultant. Over the last 20 years or so, I've focused my career primarily in the people change management space. My job was to help companies realize the ROI of their multi-million dollar investments – whether they be investments in organizational redesign, new systems or large scale business transformations – by mitigating resistance, creating buy-in and driving adoption. The way to do that was to get the people on-board with what was happening. If they stopped resisting what was inevitable and just adopted the change, then all would be right in the "corporate" world. And I use the term "corporate" as a catch-all. These challenges and my project work spanned industries and organizations, from non-profit and government to privately owned and publicly traded enterprises.
The challenge is and always will be people. People will make or break the success of any change a company wants to make. So my job was part data analysis, part coaching, part writing, part training and part shrink. Get into the heads of the people to figure out what they wanted and find a way to make this change something they want. Or better yet – need. Call it marketing. Call it change management. Call it what you want. No matter how you slice and dice it, or whatever you call it, I was doing it wrong. And so are you.
If we apply the "Ask, Listen and Do" mindset to this problem, we as change management professionals can increase our effectiveness while enabling organizations to actually realize the ROI of their big dollar investments.
Let's look at 2 different change management models to see the difference and similarities: Lewin's Change Management Model and Prosci's ADKAR Model and 3-Phase Process.
Offered Free by: POPin
a d v e r t i s e m e n t
post continues from above
Specialties
Here, you want to liven-up your keywords a bit with some description.
Web marketing? or Web marketing strategist? Or even small business web marketing coach?
Whatever you do, keep your keywords in there a couple of times.
Just in case you forgot, here's another one…
Summary
As you build your profile, perform a search on yourself on those keywords and see where you rank.
Visit some of the top ranked and see what they are doing — but NEVER plagerize by copying and replacing the nouns and keywords!
This is YOUR profile — not a clone of someone else.
This is, after all, an exercise in being — and developing — yourself…
Everyone else is already accounted for – account for yourself.
What Are Your Thoughts??
✔   Getting to the top is the easy part (really!) — what you do with your career to keep it there is another. Be sure to keep it updated — have you been doing this on a regular basis?
✔   Every thing you do for a place of employment of for a client is a skill being traded for payment — and payment is an agreement for work accomplished to their overall satisfaction. What skills, presentations, accomplishments are NOT on your profile yet?
✔   Are there other points we missed? Is there something we can help you with, when it comes to your profile?
Please share your thoughts with us and our audience in the comments section below! Or you can reach us directly from our contact page.
Discover More About LinkedIn from Our Contributors
Wee Shi Chen
Breaking the Myths of Networking
Are You Linking in Properly on LinkedIn?
Garrett O'Brien
How to Get Some ATTENTION to your Discussion on LinkedIn
More on This Topic
Are you getting the results that you want from your LinkedIn profile?
If not, or you are but want more, then this book is for you.
Every single employer or client who considers hiring you will Google you, click on your LinkedIn profile, and assess it. Whether you are a job seeker, company owner or other professional, your profile must impress your audience if you want results from this social media treasure chest.
In this best-selling e-book, Brenda Bernstein provides 18 detailed strategies and writing tips — plus 7 Bonus tips — that will help you get found on LinkedIn, and keep people reading after they find you.
By following the advice in How to Write a KILLER LinkedIn Profile, you will avoid the most common errors on LinkedIn and create a frequently visited AND highly effective profile.
Use this book to create a POWERFUL profile – and show your target audience you're serious about your online presence. The results?
A new job…
An unexpected partnership…
A lucrative account…
YOU get to choose.
About the Author of the Book
Writing a book about LinkedIn is a constantly evolving process. As LinkedIn changes its game, I am constantly being called on to change mine. If you read the book and find there is something not updated to the current version of LinkedIn, rest assured that a new edition is in the works!
I wish there could be a print version of this book, but with the frequency of updates to LinkedIn any version is only valid for a couple of months. If the changes ever slow down I promise I'll go to print.
Credit to Lewis Howes for the LinkedIn tips
Discover More About Networking
Our Social Media Presence
Where to Follow Us!
Twitter

More than 20 magazines and smart magazines to follow - check them out now!
LinkedIn
Minds.com
Open Group | Free Minds membership required
Google +
---
(Visited 2 times in the last 4 wks, 2 visits today)
The following two tabs change content below.
Garrett is the publisher, editor, writer forThe HRIS World Research Group, which includes The HRIS World, The HRIS World Research, The HRIS World Jobs, The HRIS World News, and The HRIS World Videos
With more than 20 years in roles as a client executive sponsor (#thwCES), project manager as well as functional / technical lead, Garrett is sought for his expertise for project insights, thought leadership, and team management globally.
He has been involved in large-scale and complex implementations since 1991 and has recently moved his operations to be with his wife in Brazil.
Garrett has had the pleasure of working with some of the greatest talents in the industry, and constantly shares his experiences and knowledge through content and webinars.
He maintains his fluency in Portuguese, German, French, and English with his various endeavors and contacts..
When not working, you will have to be adventurous to stay up with him as Garrett loves motorcycling, gunnery, boating, sailing, flying, and sports fishing -- and accompanying his wife on her various likes
About The HRIS World Research Group
The HRIS World blog, which is read by more than 50,000 from more than 160 countries monthly, manages to have more than 550,000 pages viewed monthly. 40%+ of the audience are decision-makers in their organization (and about half of that being C-levels!).
As CEO for CGServices USA Inc, he focuses on multi-provider, multi-line implementations consultation for HRIS systems
Council and Education Member of Gerson Lehrman Group Council, helping institutions of the world leaders meet, engage and manage experts across a wide range of sectors and disciplines.
Your Invite to Contribute to The HRIS World blog
If you'd like to provide a post, a series of posts, or even be a regular contributor to any of The HRIS World blogs, click the blue contact us button on the bottom right of your screen to send us a message or reach us through our social media for details...
You can always contact Garrett via email, social media, or by leaving a comment below...
Latest posts by Garrett O'Brien (see all)