Use our LinkedIn Login to download this post to PDF or save it to MyLibrary!
p r e f e r r e d - v e n d o r
Although your job hunt should never solely focus on job boards, using a targeted niche job board can prove to be very helpful.
These boards are usually much smaller than the major ones, but they do hold some job gems.
You'll also stand a much higher chance of being hired, as potential employers who use them usually have a smaller pool of candidates to choose from.
If you apply via a targeted board, you'll also earn 'respect points', as high quality job seekers usually use a niche board.
Use a Board with Endorsements
There are loads of niche boards out there, but some are definitely better than others.
According to NicheBoards.com, you should keep a look out for 'success stories' on the job board site.
Do companies in your industry have good things to say about the board?
Have a look at the banner ads: Are they from well-known organisations?
Does the job board have a good reputation within your specific industry?
Another thing to look out for is links.
If reputable trade publications or organisations have a link to the niche board on their websites, it means that they endorse it.
NicheBoards.com also recommends that you start with the most popular niche boards, as sites that get the most traffic will be a good bet.
More Likely to Find a Job If You Niche
According to Money.USNews.com, the large boards often don't aggregate all the job listings, and the smaller niche boards usually have jobs that don't show up on the major sites.
Sometimes the smaller boards even display hiring managers' contact info, which is an added bonus as you can contact them directly.
You'll also compete with fewer candidates on a niche board, and hiring managers will have fewer applicants to sift through.
By applying through a niche board, it will also show potential employers that you know the industry and that you're a high quality candidate, as niche applicants tend to have more specialised skills.
Watch Out for Spam Sites
According to Money.USNews.com, some job boards exist only for traffic reasons, with the owners making money off Google Ads.
You should generally avoid these types of sites, as they won't be very helpful.
Be wary if the board has a lot of unrelated job ads.
A reputable niche board will have relevant and targeted job postings, and will feature well-known companies.
They'll also often have a quality blog, or useful links and industry-related articles.
NicheBoards.com also advises that a reputable board will have good customer service; for example, they answer emails promptly and they know their products.
post continues after these free offers
a d v e r t i s e m e n t s
Today's Featured Free Offer
You're Doing it Wrong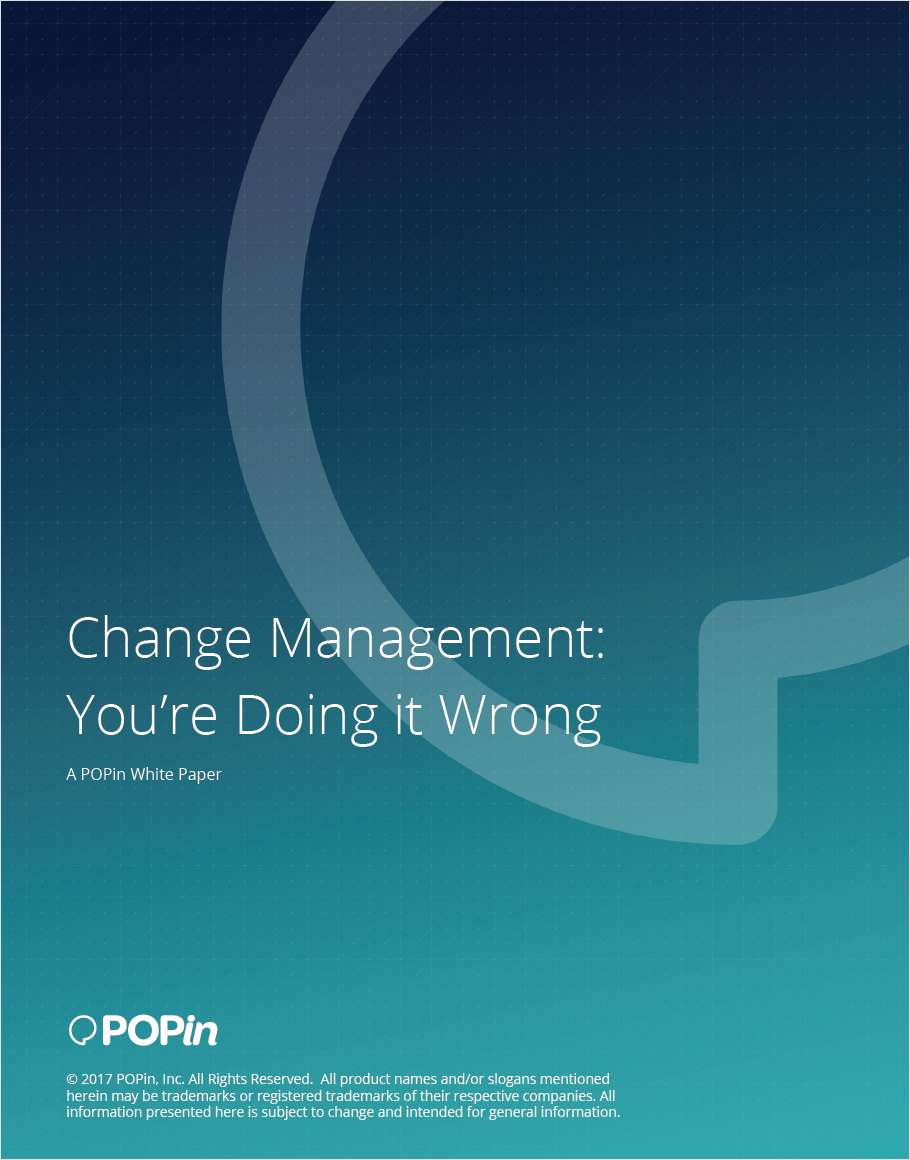 Change Management for Your Organization
I am a recovering change management consultant. Over the last 20 years or so, I've focused my career primarily in the people change management space. My job was to help companies realize the ROI of their multi-million dollar investments – whether they be investments in organizational redesign, new systems or large scale business transformations – by mitigating resistance, creating buy-in and driving adoption. The way to do that was to get the people on-board with what was happening. If they stopped resisting what was inevitable and just adopted the change, then all would be right in the "corporate" world. And I use the term "corporate" as a catch-all. These challenges and my project work spanned industries and organizations, from non-profit and government to privately owned and publicly traded enterprises.
The challenge is and always will be people. People will make or break the success of any change a company wants to make. So my job was part data analysis, part coaching, part writing, part training and part shrink. Get into the heads of the people to figure out what they wanted and find a way to make this change something they want. Or better yet – need. Call it marketing. Call it change management. Call it what you want. No matter how you slice and dice it, or whatever you call it, I was doing it wrong. And so are you.
If we apply the "Ask, Listen and Do" mindset to this problem, we as change management professionals can increase our effectiveness while enabling organizations to actually realize the ROI of their big dollar investments.
Let's look at 2 different change management models to see the difference and similarities: Lewin's Change Management Model and Prosci's ADKAR Model and 3-Phase Process.
Offered Free by: POPin
a d v e r t i s e m e n t
post continues from above
Biggest Advantages of a Niche Job Board
Using a niche job board in your job search can be a great tool, as it can point you in the right direction (and potentially get you hired).
Even if you don't nab a job directly through the board, it's still an excellent way to get a good feel for your industry, to see who the reputable players are, and to get your foot in the door.
---

Click the image to start your newsletters now!
---
Discover More On Jobs
Discover More Content on Jobs by Opening This Box
Discover More On Recruiting
Our Social Media Presence
Where to Follow Us!
Twitter

More than 20 magazines and smart magazines to follow - check them out now!
LinkedIn
Minds.com
Open Group | Free Minds membership required
Google +
---
(Visited 32 times in the last 4 wks, 30 visits today)
The following two tabs change content below.
Our Audience
Contributors from Our Audience are professionals in the area of expertise and the bio was used in a different platform - with WordPress, each author now has their own dedicated profile.
The author's post(s) are entirely his or her own and may not always reflect the views of The HRIS World publications.
You can always reach any of our authors by leaving a comment or using anyone one of the social links provided in their bio - feel free to contact them, they love the feedback and recognition!
---
If you'd like to contribute an article for The HRIS World, contact us through our social media or our contact page for details about how you can share your tips with our audience...
Latest posts by Our Audience (see all)