Use our LinkedIn Login to download this post to PDF or save it to MyLibrary!
p r e f e r r e d - v e n d o r
To consolidate bookmarks for internet users with multiple browsers can be accomplished with various 3rd-party applications. If you are like most PC internet users, you have Internet Explorer (IE) and most likely a favored browser as well. Or if you are an Apple user, you have Safari, and maybe a favored browser as well.
With multiple browsers comes multiple sets of bookmarks — and never are the two the same. Usually ending up in some very messy and hard to use library of bookmarks. We are going to focus on one application that not only consolidates them for you, but your bookmarks will be available on any browser you use.
Centralizes and Consolidates
First the consolidation — no matter what browser you use, you can keep them centralized and consolidated with your favorite browser. The entire hierarchy structure will be imported to this application to a folder labeled for the bookmark's browser.
No limit to the number of browsers, no limit to the number of bookmarks — they will all be imported as they are to this application.

Portable
The limitation most applications have with consolidating and centralizing your book marks? It's on your machine — whether an Apple, PC, or laptop. In other words, if you can't keep your machine with you then going to another machine is basically inconvenient.
With this application, you will have access to all your bookmarks — and your log-in credentials — wherever you access the internet… including your smartphone!

What About Your Contacts?
If you are like most road warriors, salesmen, or frequent travelers, you have a contact management system — and still have to feed other machines to keep them in-sync, whether electronically or other wise. With this application, any machine with internet access, and you have your contacts available as well. Nothing else to set up, nothing else to sync, just this one application.
What is this application?
A while ago, we discussed why you need to be aware of keystroke logging — a technique used by unfriendly hackers where your keystrokes are unknowingly being recorded by one or more various means. RoboForm not only provides protection against keystroke logging by maintaining your log-in credentials in a secured environment, it will also do the same for your bookmarks from all your browsers as well as all your contacts.
post continues after these free offers
a d v e r t i s e m e n t s
Today's Featured Free Offer
Ask these questions to understand your new employees better and make sure everything is on the right track.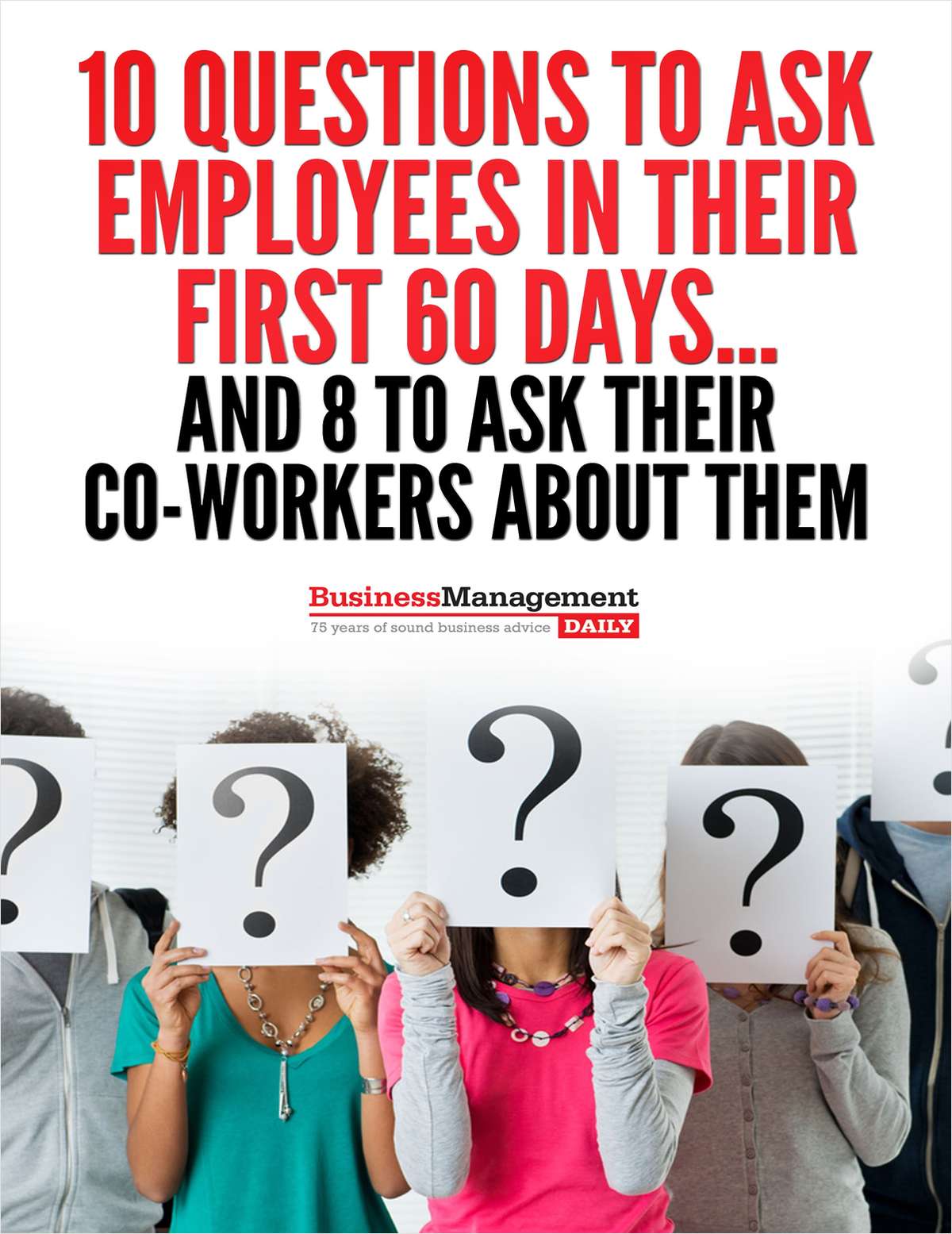 10 Questions to Ask Employees in Their First 60 Days... and 8 to Ask Their Co-Workers About Them
You can't possibly know what's going on in your new hire's mind. These 10 question will provide a comfortable atmosphere to talk about what's going great and what could be worked on. Additionally, asking their co-workers questions helps in understanding the full picture. Plus, you'll learn tips and tricks on how to liven up your onboarding process.
Offered Free by: Business Management Daily
a d v e r t i s e m e n t
post continues from above
Everything is available right from the toolbar — and RoboForm can be used on any browser with their RoboForm Everywhere. Always one click away, with RoboForm Everywhere, you can easily and securely access your RoboForm Logins, Bookmarks, Contacts, and much more from anywhere in the world.
Here's a quick promo for RoboForm…
mobile viewers click here
And another quick promo providing more details about RoboForm Everywhere…
mobile viewers click here
To check out more features, just click the logo — and let us know what you think about RoboForm!
---
The following two tabs change content below.
Garrett is the publisher, editor, writer forThe HRIS World Research Group, which includes The HRIS World, The HRIS World Research, The HRIS World Jobs, The HRIS World News, and The HRIS World Videos
With more than 20 years in roles as a client executive sponsor (#thwCES), project manager as well as functional / technical lead, Garrett is sought for his expertise for project insights, thought leadership, and team management globally.
He has been involved in large-scale and complex implementations since 1991 and has recently moved his operations to be with his wife in Brazil.
Garrett has had the pleasure of working with some of the greatest talents in the industry, and constantly shares his experiences and knowledge through content and webinars.
He maintains his fluency in Portuguese, German, French, and English with his various endeavors and contacts..
When not working, you will have to be adventurous to stay up with him as Garrett loves motorcycling, gunnery, boating, sailing, flying, and sports fishing -- and accompanying his wife on her various likes
About The HRIS World Research Group
The HRIS World blog, which is read by more than 50,000 from more than 160 countries monthly, manages to have more than 550,000 pages viewed monthly. 40%+ of the audience are decision-makers in their organization (and about half of that being C-levels!).
As CEO for CGServices USA Inc, he focuses on multi-provider, multi-line implementations consultation for HRIS systems
Council and Education Member of Gerson Lehrman Group Council, helping institutions of the world leaders meet, engage and manage experts across a wide range of sectors and disciplines.
Your Invite to Contribute to The HRIS World blog
If you'd like to provide a post, a series of posts, or even be a regular contributor to any of The HRIS World blogs, click the blue contact us button on the bottom right of your screen to send us a message or reach us through our social media for details...
You can always contact Garrett via email, social media, or by leaving a comment below...
Latest posts by Garrett O'Brien (see all)