Use our LinkedIn Login to download this post to PDF or save it to MyLibrary!
HR Software Solutions, Inc. is a The HRIS World preferred-vendor
Click on the image to discover more
About
The HRIS World Vendor Spotlight™ #thwVS #NextGenVendors
For vendor insights, we provide The HRIS World Content Series: Next Gen Vendor™ to promote their companies, products, services, and visions -- the Next Gen Vendor™ insights consists of 3 series...
The HRIS World Vendor Spotlight™ focuses on the different aspects of the SMB / SME vendor, their services and software
Our 2nd series,
The HRIS World Vendor Interview Series™ focuses on the SMB and Enterprise vendor's decision makers alike, their thoughts for the future of work as well as their own company, and what they see as the challenges coming up in the industry
The 3rd series,
The HRIS World Enterprise Software Options™ focuses on the different aspects of the Enterprise vendor, their services and software
All 3 series can be found through the second menu at the top of any page under The HRIS World Content Series™
The Vendor Interview Series is provided in email, podcast and video interview format while the other two series are provided in a mix of the three to supplement the content.
You will find various aspects of a vendors business as well as any announcement of webinars, group demos, and conferences a vendor may be conducting.
If you are a vendor wanting to contribute to either series via a post or interview, feel free to click the blue contact us button on the lower right of your screen to let us know how we can assist -- or if you are reading this by our newsletter, then hit the reply button to get back to us!
---
For our parent company CGServices USA Inc, most of their clientele are the Fortune 100, 500 and 1000 companies.
Yet it is the small company makes up nearly 80% of the U.S. economy.
To this end, we include small businesses as well enterprises in our promotions and articles.
A small business is usually considered to be any company with few than 50 employees.
Where does the number 50 come from?
No clue — what does matter is that any small business usually has a full-deck of things to do to maintain and/or establish growth without being burdened by systems they do not need.
In today's economy this is ESPECIALLY true.
Fast rising fuel costs, inflation, government regulation heavily burdening the overhead, national healthcare costs to be factored in, not to mention the threat of higher taxes.
As a small business owner, you definitely feel the economy and the government is conspiring against you.
post continues after this free offer
Featured Free Offer
Leading-edge neuromarketing techniques to influence anyone.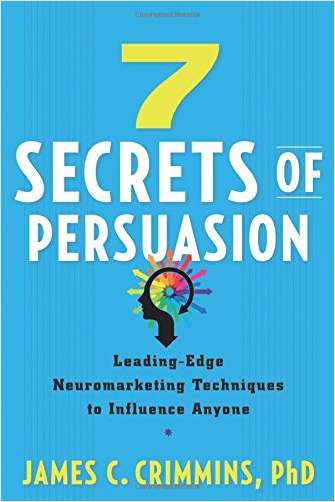 7 Secrets of Persuasion - Book Summary
To understand the art of persuasion, you can turn to cognitive science for guidance in dealing with the unconscious "lizard" mind.
Advertising strategist James C. Crimmins investigates the cognitive science behind motivation to show you how to persuade others more effectively.
The "automatic" part of the human mind – the lizard brain – affects many decisions.
To persuade the lizard to cooperate, learn its language.
To be persuasive, help it fulfill its desires.
Crimmins explains how to unearth the lizard's drives and change its expectations so they match the consumer's experience of your message.
Note that the way you convey a message may matter more than the message itself.
getAbstract recommends this fascinating overview to marketing professionals and anyone seeking insight into how people think and what motivates them to act.
In this summary, you will learn:
How the "conscious" and the "nonconscious" parts of the mind interact,
What crucial functions the nonconscious or "lizard" mind performs, and
How to become more persuasive through understanding the lizard mind's language and preferences.
Offered free by:


a d v e r t i s e m e n t s
a d v e r t i s e m e n t
post continues from above
With their small business budget, there usually is not much that can be sacrificed, especially when rising business costs threaten to shrink the small business profit to zilch, nah-dah, zippo, gone-zho.
But there is one area where they may actually find some savings, especially when looking at the cost of their business processes, like how much they are paying to process payroll for their employees.
In today's economy, it just doesn't make sense to pay big-business prices for payroll processing and delivery, especially when there are more affordable payroll options designed for the size of a small business.
There are payroll alternatives designed exclusively for small business owners, as opposed to payroll experts and huge corporations.
Why would anyone pay for services they don't need?
Surprisingly, managing a small business payroll can also be convenient, particularly with a cloud-based software that allows them to run payroll anytime, anywhere — giving the small business owner a leverage AWAY from the desk or place of work.
This means with an online payroll software, a small business can pay their employees from anywhere there is a good internet connection.
A small business doesn't have to wait for their paychecks to be delivered from their payroll service.
Instead they can print them out themselves or go completely paperless, and opt for direct deposit or online bill pay through their bank.
They can even run payroll from a smart phone.
Who would have thought that payroll could actually be a budget item where you can spend less instead of more?
Now they just need to decide what to do with the money they'll save…

---

Click the image to start your newsletters now!
---
Discover More From Our Vendor Spotlight Series
Our Social Media Presence
Where to Follow Us!
Twitter

More than 20 magazines and smart magazines to follow - check them out now!
LinkedIn
Google +
Minds.com
Open Group | Free Minds membership required
---
(Visited 3 times in the last 4 wks, 1 visits today)
The following two tabs change content below.
Garrett is the publisher, editor, writer forThe HRIS World Research Group, which includes The HRIS World, The HRIS World Research, The HRIS World Jobs, The HRIS World News, and The HRIS World Videos
With more than 20 years in roles as a client executive sponsor (#thwCES), project manager as well as functional / technical lead, Garrett is sought for his expertise for project insights, thought leadership, and team management globally.
He has been involved in large-scale and complex implementations since 1991 and has recently moved his operations to be with his wife in Brazil.
Garrett has had the pleasure of working with some of the greatest talents in the industry, and constantly shares his experiences and knowledge through content and webinars.
He maintains his fluency in Portuguese, German, French, and English with his various endeavors and contacts..
When not working, you will have to be adventurous to stay up with him as Garrett loves motorcycling, gunnery, boating, sailing, flying, and sports fishing -- and accompanying his wife on her various likes
About The HRIS World Research Group
The HRIS World blog, which is read by more than 50,000 from more than 160 countries monthly, manages to have more than 550,000 pages viewed monthly. 40%+ of the audience are decision-makers in their organization (and about half of that being C-levels!).
As CEO for CGServices USA Inc, he focuses on multi-provider, multi-line implementations consultation for HRIS systems
Council and Education Member of Gerson Lehrman Group Council, helping institutions of the world leaders meet, engage and manage experts across a wide range of sectors and disciplines.
Your Invite to Contribute to The HRIS World blog
If you'd like to provide a post, a series of posts, or even be a regular contributor to any of The HRIS World blogs, click the blue contact us button on the bottom right of your screen to send us a message or reach us through our social media for details...
You can always contact Garrett via email, social media, or by leaving a comment below...
Latest posts by Garrett O'Brien (see all)
Posted in
applicant tracking module
,
employee self-service module
,
HR management module
,
hris modules
,
Patriot Software
,
payroll module
,
tax service module
,
The HRIS World Content Series: Next Gen Vendors™
,
The HRIS World Content Series™
,
The HRIS World Research
,
The HRIS World Vendor Spotlight™
,
time & attendance module
and tagged
Applicant Tracking System
,
ATS
,
cloud computing for small businesses
,
Employee Payroll Taxes
,
Employee Self-Serve
,
HR
,
HR management module
,
Patriot Software
,
Payroll
,
The HRIS World Vendor Spotlight Series
,
Time and Attendance
.