Use our LinkedIn Login to download this post to PDF or save it to MyLibrary!
p r e f e r r e d - v e n d o r
While we deal with some persistent backend issues with our site, we will be republishing some of our older articles — you know, let them see the sun, get some fresh air… and see how things have — and have yet — to change. This post was originally published on 8-Aug-2009 — and given the recent security issues with NSA, it becomes even more interesting…
Found this posted in one of the user groups in LinkedIn… it is from Horacio Fialho Moreira, Partner and Marketing Director of Firm IT…
Google has an HR software built on as to "map" the online life of the person from the moment they become interested in the company, overseeing and follows as they work there, and surprisingly, still watching after they leave the company.
Does this sound like HR effort Big Brother? Yes, but consider how much you know about your former co-workers. That knowledge is usually just lost. Google wants to codify it, learn about interactions and see how to make its processes better.
This is a good point and a test of the liberties we are entitled to whether in work or not… My response follows…
One of our founding fathers of our country had said that the lack of a larger government to provide all that also implied that the government can take everything … the larger the government, less freedom …
In my experience, and perhaps his own, I think the same is true for the volume of information retained in the general population, as well as … is like the golden egg that was left by the goose … its greatest value is before opening, once opened is of much value as before? My thoughts are, in most cases not, in some cases, perhaps, in very rare cases, yes …
post continues after these free offers
a d v e r t i s e m e n t s
Today's Featured Free Offer
You're Doing it Wrong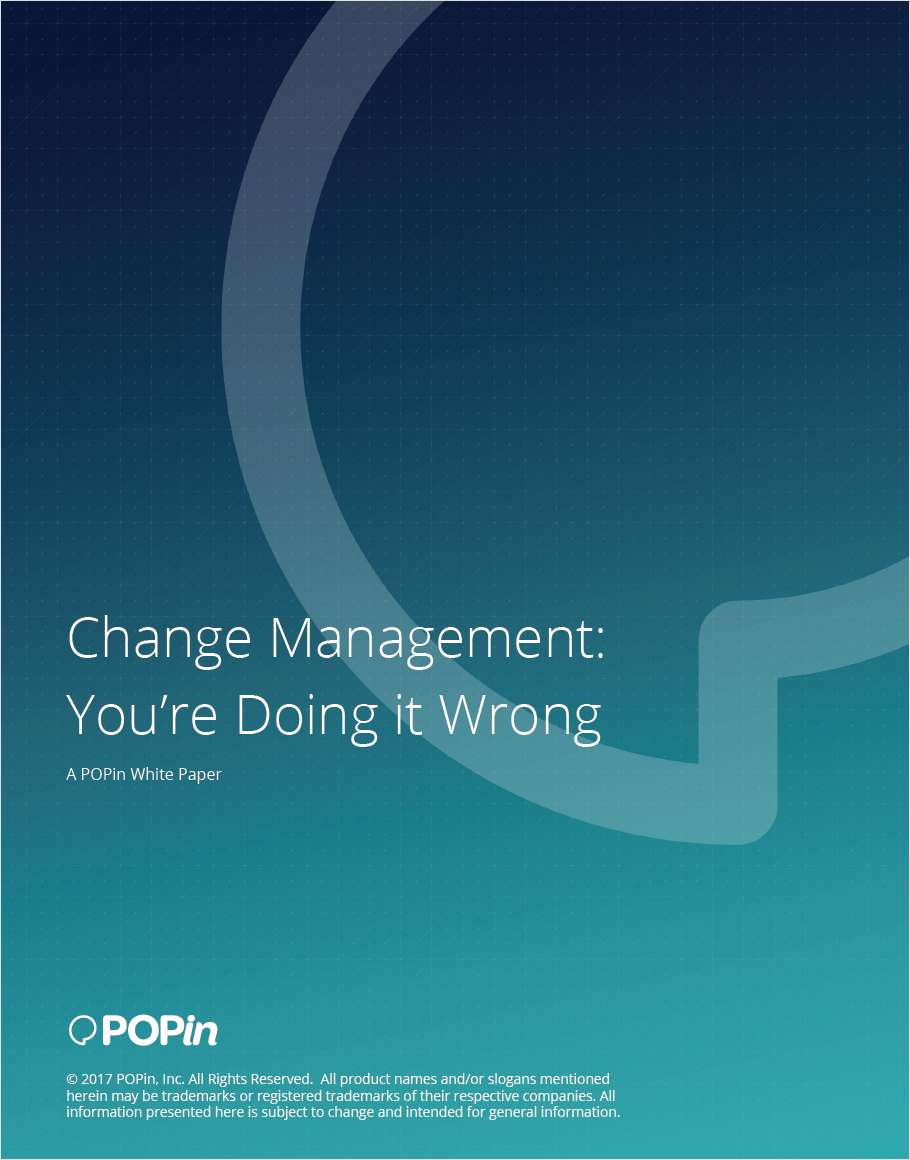 Change Management for Your Organization
I am a recovering change management consultant. Over the last 20 years or so, I've focused my career primarily in the people change management space. My job was to help companies realize the ROI of their multi-million dollar investments – whether they be investments in organizational redesign, new systems or large scale business transformations – by mitigating resistance, creating buy-in and driving adoption. The way to do that was to get the people on-board with what was happening. If they stopped resisting what was inevitable and just adopted the change, then all would be right in the "corporate" world. And I use the term "corporate" as a catch-all. These challenges and my project work spanned industries and organizations, from non-profit and government to privately owned and publicly traded enterprises.
The challenge is and always will be people. People will make or break the success of any change a company wants to make. So my job was part data analysis, part coaching, part writing, part training and part shrink. Get into the heads of the people to figure out what they wanted and find a way to make this change something they want. Or better yet – need. Call it marketing. Call it change management. Call it what you want. No matter how you slice and dice it, or whatever you call it, I was doing it wrong. And so are you.
If we apply the "Ask, Listen and Do" mindset to this problem, we as change management professionals can increase our effectiveness while enabling organizations to actually realize the ROI of their big dollar investments.
Let's look at 2 different change management models to see the difference and similarities: Lewin's Change Management Model and Prosci's ADKAR Model and 3-Phase Process.
Offered Free by: POPin
a d v e r t i s e m e n t
post continues from above
To maintain control of information that is reflected in the employment of a company is one thing – keep track of the information which appears in the deployment of one life is quite another …
And, as with people, there is a relationship with information – is the result of actions taken by various reasons and various …. who will oversee the relationships that created the information will remain intact and true? …
Then there is the reason for the lack of information and the need – the lack of faith? need for national security? are the economy of such records really justified by any savings? I do not believe to have a tool like all this information will require intervention, legalization, regulation and more …
There is a law in economics called the law of diminishing returns … the value of the first for all the information that will cause its value to increase … at a certain point, where all reality is to collect, store, protect, decrypt, regular, fulfilling this information becomes a burden? and what we do next, since we have all this information?
Google is good intellect, but they tend to lack depth of wisdom to deal with something that is loose …
But maybe I should be careful because they are collecting the information on this post? LOL!!!
Your comments are welcome here as well…
Our Social Media Presence
Where to Follow Us!
Twitter

More than 20 magazines and smart magazines to follow - check them out now!
LinkedIn
Minds.com
Open Group | Free Minds membership required
Google +
---
(Visited 35 times in the last 4 wks, 31 visits today)
The following two tabs change content below.
Garrett is the publisher, editor, writer forThe HRIS World Research Group, which includes The HRIS World, The HRIS World Research, The HRIS World Jobs, The HRIS World News, and The HRIS World Videos
With more than 20 years in roles as a client executive sponsor (#thwCES), project manager as well as functional / technical lead, Garrett is sought for his expertise for project insights, thought leadership, and team management globally.
He has been involved in large-scale and complex implementations since 1991 and has recently moved his operations to be with his wife in Brazil.
Garrett has had the pleasure of working with some of the greatest talents in the industry, and constantly shares his experiences and knowledge through content and webinars.
He maintains his fluency in Portuguese, German, French, and English with his various endeavors and contacts..
When not working, you will have to be adventurous to stay up with him as Garrett loves motorcycling, gunnery, boating, sailing, flying, and sports fishing -- and accompanying his wife on her various likes
About The HRIS World Research Group
The HRIS World blog, which is read by more than 50,000 from more than 160 countries monthly, manages to have more than 550,000 pages viewed monthly. 40%+ of the audience are decision-makers in their organization (and about half of that being C-levels!).
As CEO for CGServices USA Inc, he focuses on multi-provider, multi-line implementations consultation for HRIS systems
Council and Education Member of Gerson Lehrman Group Council, helping institutions of the world leaders meet, engage and manage experts across a wide range of sectors and disciplines.
Your Invite to Contribute to The HRIS World blog
If you'd like to provide a post, a series of posts, or even be a regular contributor to any of The HRIS World blogs, click the blue contact us button on the bottom right of your screen to send us a message or reach us through our social media for details...
You can always contact Garrett via email, social media, or by leaving a comment below...
Latest posts by Garrett O'Brien (see all)