Use our LinkedIn Login to download this post to PDF or save it to MyLibrary!
p r e f e r r e d - v e n d o r
About
The HRIS World Vendor Spotlight™ #thwVS #NextGenVendors
For vendor insights, we provide The HRIS World Content Series: Next Gen Vendor™ to promote their companies, products, services, and visions -- the Next Gen Vendor™ insights consists of 3 series...
The HRIS World Vendor Spotlight™ focuses on the different aspects of the SMB / SME vendor, their services and software
Our 2nd series,
The HRIS World Vendor Interview Series™ focuses on the SMB and Enterprise vendor's decision makers alike, their thoughts for the future of work as well as their own company, and what they see as the challenges coming up in the industry
The 3rd series,
The HRIS World Enterprise Software Options™ focuses on the different aspects of the Enterprise vendor, their services and software
All 3 series can be found through the second menu at the top of any page under The HRIS World Content Series™
The Vendor Interview Series is provided in email, podcast and video interview format while the other two series are provided in a mix of the three to supplement the content.
You will find various aspects of a vendors business as well as any announcement of webinars, group demos, and conferences a vendor may be conducting.
If you are a vendor wanting to contribute to either series via a post or interview, feel free to click the blue contact us button on the lower right of your screen to let us know how we can assist -- or if you are reading this by our newsletter, then hit the reply button to get back to us!
---
Just like an external website, IT administrators for a SharePoint site can view reporting metrics for an intranet or external website.
Metrics provide the administrator with usage, unique visitors and referrers to the website.
These metrics help administrators determine deprecated and outdated pages that can be removed, areas of the site which can be improved and user link navigation habits.
Aside from the obvious "page view" statistics, reporting metrics also help software developers improve provide users with better website experiences.
Obtaining Metrics for a SharePoint Server
At the top of the main
SharePoint
administration screen, click the "Reports" button to view the main dashboard.
SharePoint gives the administrator an overview graphical pie chart of page views, referrers and other user metrics.
For users familiar with other reporting services such as Google Analytics, the interface is intuitive.
The overview gives the administrator the ability to drill down to more granular metrics.

These metrics are the meat of the statistics, and these reports will help SharePoint administrators and developers tweak pages for a better user experience.
User experience is key to a successful site because it keeps users coming back to the website, and it facilitates "word-of-mouth" backlinks, which are paramount to the highest ranking in a search engine.

Examples: Bounce rate, Referrers
For instance, the page view and bounce rates are indicators of user interaction with the SharePoint website.
Bounce rate
is a good indicator of engagement for new users.
When users do not find pages easy-to-use or interesting, they "bounce" from the page.
A "bounce" is an unsuccessful sale or "draw" on the user.
A high bounce rate is especially important because developers and site administrators must figure out what is causing users to leave the site without engaging the content and navigating to another page.
Typically, a 30% or less bounce rate is very good.
Poor bounce rates can reach up to 90%,
which signals users are not engaging in the content or page navigation, requiring further investigation.
Referrers and queries are other integral metrics to watch.
Referrers are the websites and external locations from which users find the SharePoint site.
For instance, if one user emails another user about the site, the email location is logged, and the SharePoint statistics show it as a referrer.
Other websites that include a link to the SharePoint site in the content also show up as referrers.
Referrers do not mean organic traffic or search engine rank is high, but it does mean that other websites have taken notice of the company's SharePoint site.

Other examples
Other minor reports include browsers, storage usage and failed query results.
These can be used to monitor user behavior and as a way to report any errors on the site.
post continues after these free offers
a d v e r t i s e m e n t s
Today's Featured Free Offer
You're Doing it Wrong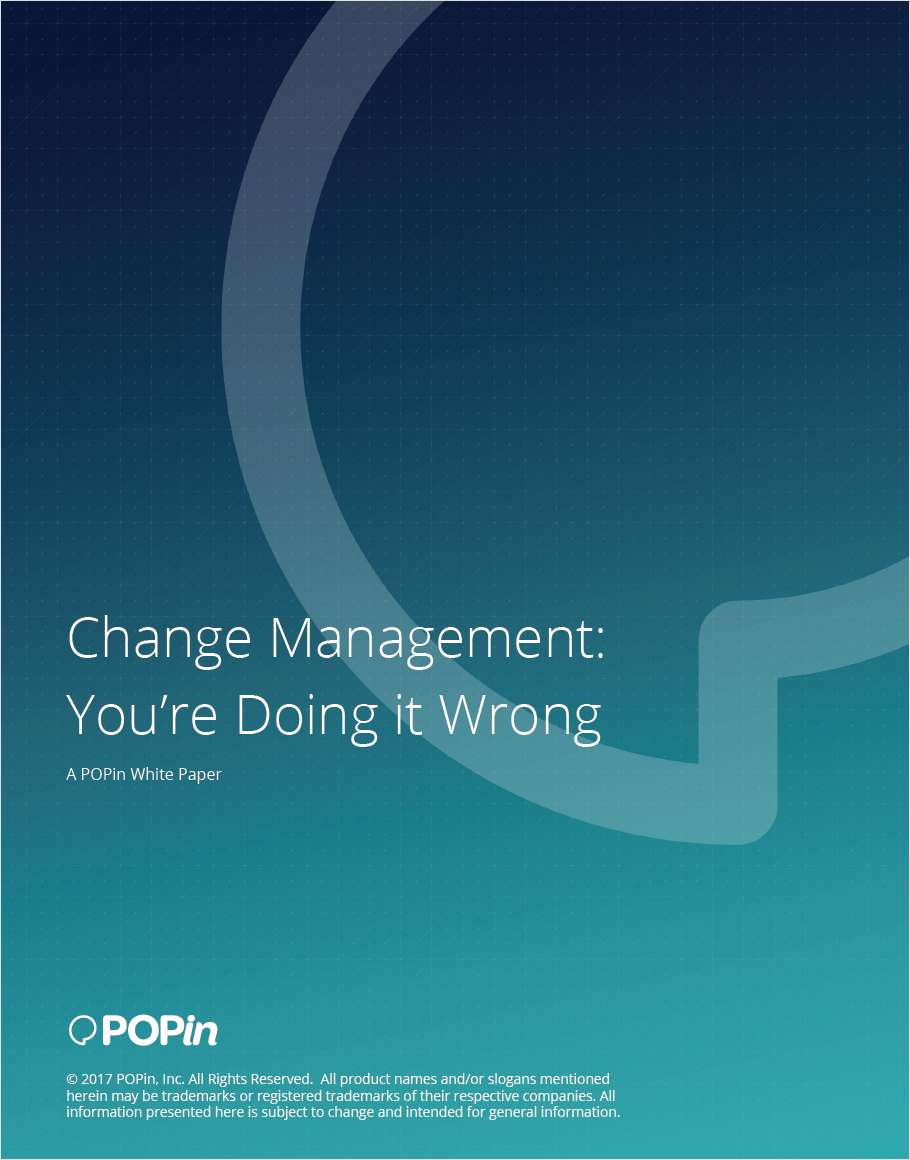 Change Management for Your Organization
I am a recovering change management consultant. Over the last 20 years or so, I've focused my career primarily in the people change management space. My job was to help companies realize the ROI of their multi-million dollar investments – whether they be investments in organizational redesign, new systems or large scale business transformations – by mitigating resistance, creating buy-in and driving adoption. The way to do that was to get the people on-board with what was happening. If they stopped resisting what was inevitable and just adopted the change, then all would be right in the "corporate" world. And I use the term "corporate" as a catch-all. These challenges and my project work spanned industries and organizations, from non-profit and government to privately owned and publicly traded enterprises.
The challenge is and always will be people. People will make or break the success of any change a company wants to make. So my job was part data analysis, part coaching, part writing, part training and part shrink. Get into the heads of the people to figure out what they wanted and find a way to make this change something they want. Or better yet – need. Call it marketing. Call it change management. Call it what you want. No matter how you slice and dice it, or whatever you call it, I was doing it wrong. And so are you.
If we apply the "Ask, Listen and Do" mindset to this problem, we as change management professionals can increase our effectiveness while enabling organizations to actually realize the ROI of their big dollar investments.
Let's look at 2 different change management models to see the difference and similarities: Lewin's Change Management Model and Prosci's ADKAR Model and 3-Phase Process.
Offered Free by: POPin
a d v e r t i s e m e n t
post continues from above
For instance, if a failed query result occurs from a user using the Chrome browser, then it might indicate an incompatibility with the Chrome browser.
Reports can be sent to main administrators and managers to facilitate monitoring of these errors, so they can be handled — and fixed.
---
What Are Your Thoughts??
✔ As this is only one is a series of articles on SharePoint that Jennifer Marsh has provided, what questions do you have about SharePoint?
✔ Perhaps you have something that needs to be resolved?
✔ Or perhaps you have something that has been a thought for a while but haven't gotten around to asking (until now)?
✔ Let us help you, how can we help??
Please share your thoughts with our audience in the comments section below!
Discover More From Our Vendor Spotlight Series
Our Social Media Presence
Where to Follow Us!
Twitter

More than 20 magazines and smart magazines to follow - check them out now!
LinkedIn
Minds.com
Open Group | Free Minds membership required
Google +
---
(Visited 2 times in the last 4 wks, 2 visits today)
The following two tabs change content below.
Latest posts by Jennifer Marsh (see all)