Use our LinkedIn Login to download this post to PDF or save it to MyLibrary!
p r e f e r r e d - v e n d o r
About
The HRIS World Project Insights Series™ #thwCES
This series is focused on approaching HRIS Project Management from outside of the box as experienced and documented by Garrett O'Brien of CGServicesUSA Inc as well as Lauren Gander of HR Software Solutions, Inc.
Let's be clear right up front that we are not ditching any of the methodologies of Project Management. Instead, we are taking a look at just why some projects go so well while most others do not from our own experiences as well as those documented elsewhere. From there we are focusing on the successful elements that seem to be missing from most Project Management methodologies. The projects that do not go so well happen more frequent than not and it seems most Project Managers just give in to timeline extensions and over budget occurrences as being part of the learning curve to gain for the next project as well as being part of the job.
Garrett did as well until his 5th project and decided there was more to making a project come in on-time and within budget than just luck and more likely the cause of missing skills as well as incorrect perceptions. If some Project Managers could run most if not all their projects on time and within budget while most others could not, then we sought out to find out why some could consistently do so well.
We look into what contributed to those consistent successes in our entire content series The HRIS World Project Insights Series™ with the first 6 posts sharing the professional experiences of Garrett O'Brien. These 1st 6 posts are the foundation of most of this series and it is highly suggested you give them a good read. They are easily found with the short URLs j.mp/thwCESintro1 to /thwCESintro6 as well as in the listing of related content in the toggle box at the end of all posts related to this series.
All other content arrives from contributors like you as well as the sharing of experiences from Lauren Gander's company. Feel free to reach out to us if you wish to contribute some your thoughts via a post by clicking the contact us button on the lower right of any page.
Feedback, debates, discussion, collaboration and conversation are always encouraged in the comments section below... For more information about this series, use the blue contact us button on the lower right of your screen to contact us -- or if you are reading this by our newsletter, then hit the reply button to get back to us!
---
In spite of mounting evidence that the use of Big Data allows human resources professionals to contribute to the efficiency and effectiveness of their organizations in a number of forward-looking ways, many HR departments are failing to take full advantage of this relatively new technology.
"Big Data might seem like an HR buzzword,
but it is one that will not go away —
and one that HR should not ignore"
writes former HR trade journalist Karen Higginbottom (Karen is also a current Forbes contributor, you can view her original post here).

img cr: Bersin by Deloitte | Slideshare March 2012

For those who are new to the concept, Big Data refers to a large and intricate body of data that is collected from various sources and often requires specialized software to process.
In a human resources context, it can be used to identify skill gaps in an organization's employee population and track the progress of individuals.
Though many human resources professionals are currently working with Big Data, experts in the field say their application of the technology is limited to the present, where it should be preparing business and organizations for growth in the future.
post continues after these free offers
a d v e r t i s e m e n t s
Today's Featured Free Offer
You're Doing it Wrong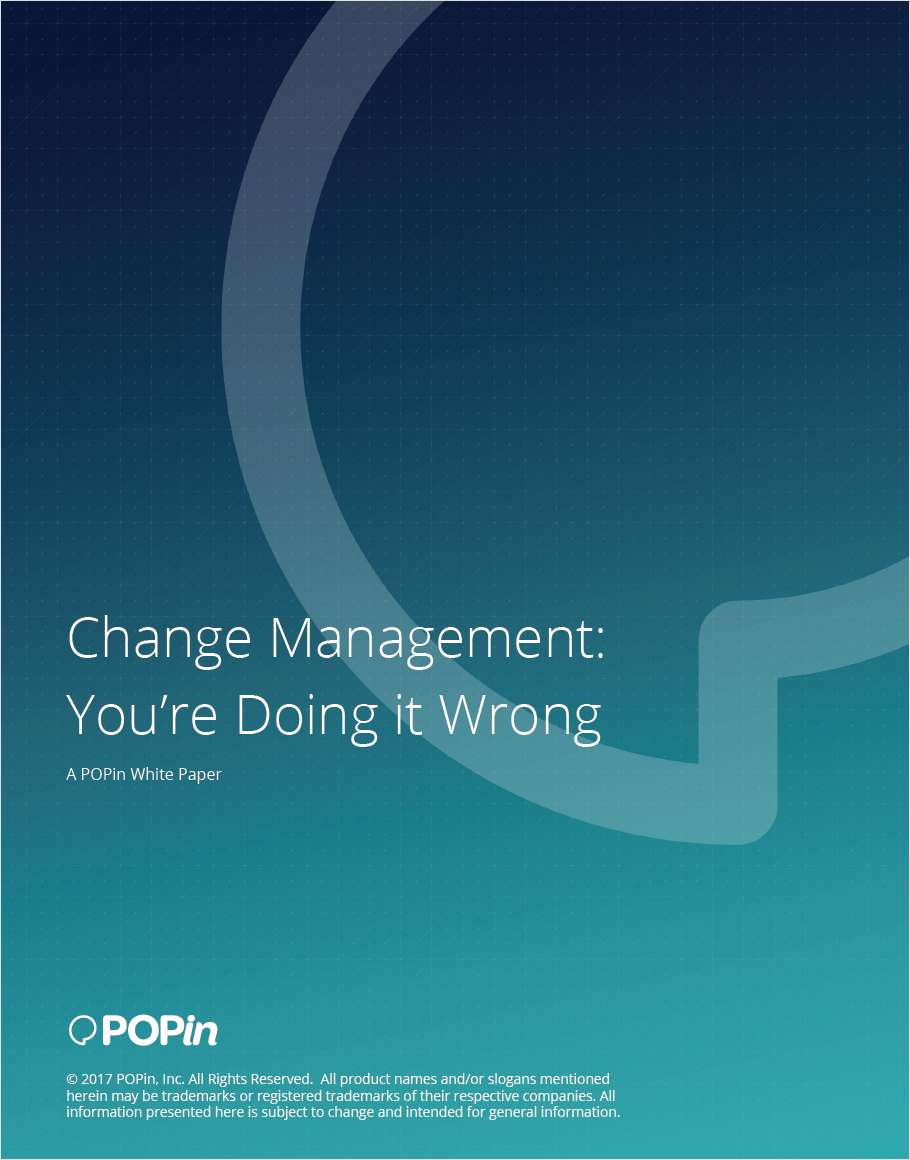 Change Management for Your Organization
I am a recovering change management consultant. Over the last 20 years or so, I've focused my career primarily in the people change management space. My job was to help companies realize the ROI of their multi-million dollar investments – whether they be investments in organizational redesign, new systems or large scale business transformations – by mitigating resistance, creating buy-in and driving adoption. The way to do that was to get the people on-board with what was happening. If they stopped resisting what was inevitable and just adopted the change, then all would be right in the "corporate" world. And I use the term "corporate" as a catch-all. These challenges and my project work spanned industries and organizations, from non-profit and government to privately owned and publicly traded enterprises.
The challenge is and always will be people. People will make or break the success of any change a company wants to make. So my job was part data analysis, part coaching, part writing, part training and part shrink. Get into the heads of the people to figure out what they wanted and find a way to make this change something they want. Or better yet – need. Call it marketing. Call it change management. Call it what you want. No matter how you slice and dice it, or whatever you call it, I was doing it wrong. And so are you.
If we apply the "Ask, Listen and Do" mindset to this problem, we as change management professionals can increase our effectiveness while enabling organizations to actually realize the ROI of their big dollar investments.
Let's look at 2 different change management models to see the difference and similarities: Lewin's Change Management Model and Prosci's ADKAR Model and 3-Phase Process.
Offered Free by: POPin
a d v e r t i s e m e n t
post continues from above
Nick Holley, co-director of the center for HR excellence at the Henley School of Management, recommends that recruiters focus on hiring HR professionals who have an aptitude for collecting, understanding and synthesizing data.
He reiterates that without such professionals, a business or organization may fall behind and miss significant opportunities for growth.
It is already well-documented that implementing the right HR software can improve an organization's ability to collect and analyze any and all data that is relevant to their particular institution's growth.
To sidestep the arduous, sometimes intimidating process of assessing which applications may benefit your organization's recruiting, performance measurement and skills gap identification efforts, contact an HR consulting business.
Discover More About Client Executive Sponsor
Discover More From Our Project Insights Series
Our Social Media Presence
Where to Follow Us!
Twitter

More than 20 magazines and smart magazines to follow - check them out now!
LinkedIn
Minds.com
Open Group | Free Minds membership required
Google +
---
(Visited 2 times in the last 4 wks, 2 visits today)
The following two tabs change content below.
Lauren's company, HR Software Solutions, Inc is a Preferred Vendor with The HRIS World.
---
Lauren is the President of HR Software Solutions, Inc which is located in the greater New York City area.
Prior to starting HRSS, she worked with sanofi-aventis, SilkRoad technology, and HRchitect.
Educated at Stevens Institute of Technology, Lauren's specialties include HRIS, Compensation, Talent Management, Succession Planning Software, and Professional Services Implementations.
When relaxing, you will find her four-wheeling on the trails with her husband.
You can reach Lauren via email, social media, or by leaving a comment below...
Latest posts by Lauren Gander (see all)