Use our LinkedIn Login to download this post to PDF or save it to MyLibrary!
p r e f e r r e d - v e n d o r
Please note some of this software is free, others do have a minimal cost.
---
The internet has made it possible for any freelancer to work from his/her own home and make money.
They seek employment over the internet through freelancing.
They become virtual employees of an employer who's perhaps halfway across the world.
Many are catching up to the idea, and a lot of web designers and web developers are taking advantage of this great opportunity to get work.
One of the key tools required for a virtual freelancer is a time tracking software.
The requirement is to fulfill the need of keeping track of the time of the work you do for your clients.
When freelancing, it is both a matter of the effort you put in, as well as the amount of business hours you spend working for clients and then billing them for it.
Since most freelancers don't make much money, they rely on free time tracking software, software that will keep definite track of the time of their efforts put in and perhaps even more.
Some software even helps you manage time better.
Here are my 3 recommendations…
Apptivo is a web-based software that is targeted as business assistance software for small businessmen and freelancers.
Based in California, Apptivo has development teams in India. They provide both free and paid services for users.
The app features support all functions of a business for proper time tracking. It also includes several project management functions, Customer Relation management and Marketing Management.
Although the time tracking app is for free, to take advantage of all 40+ apps, you will be required to subscribe to a package. As part of this paid subscription you also get 24 hours support and maintenance.
dotProject is a free web based software available in multiple languages.
Developed and maintained by volunteer programmers, dotProject is a multi-user software. The application is available completely for free and is an excellent Project Management Application.
post continues after these free offers
a d v e r t i s e m e n t s
Today's Featured Free Offer
You're Doing it Wrong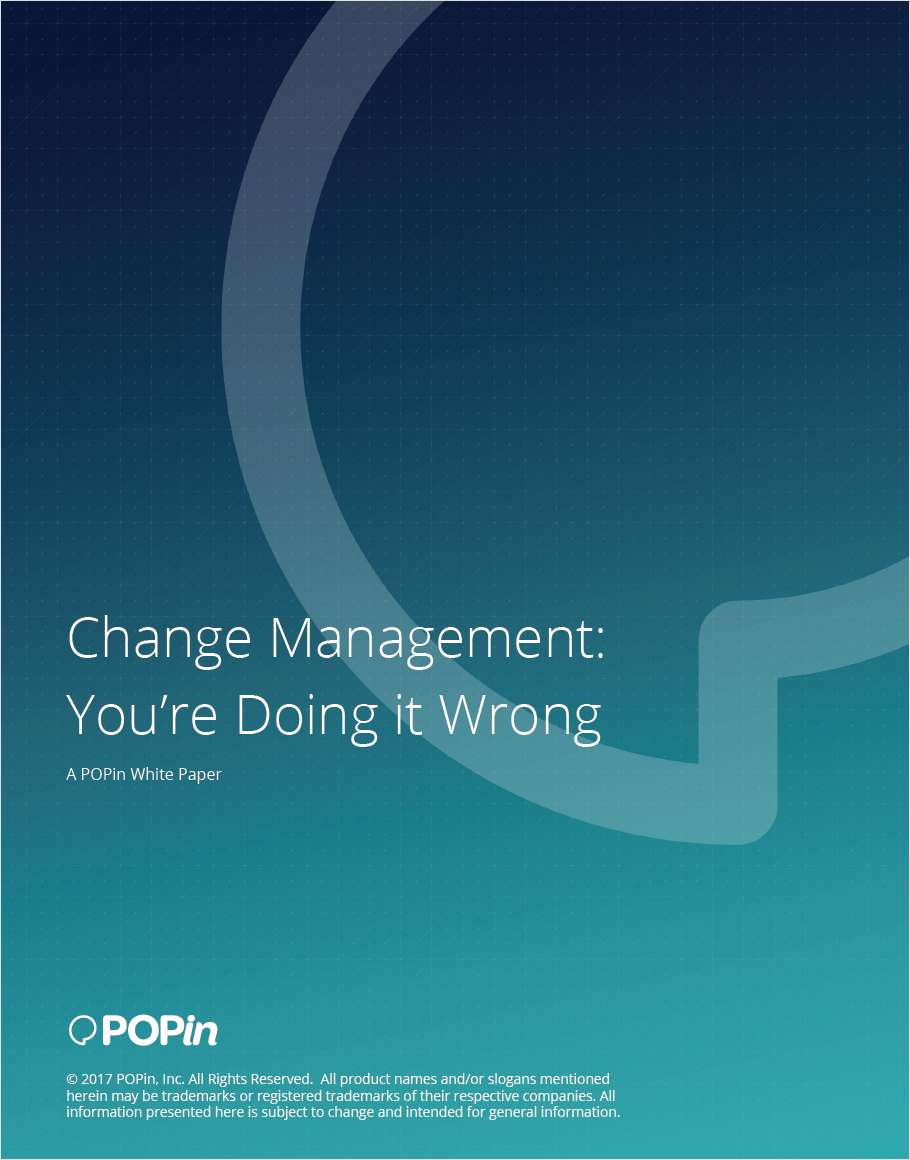 Change Management for Your Organization
I am a recovering change management consultant. Over the last 20 years or so, I've focused my career primarily in the people change management space. My job was to help companies realize the ROI of their multi-million dollar investments – whether they be investments in organizational redesign, new systems or large scale business transformations – by mitigating resistance, creating buy-in and driving adoption. The way to do that was to get the people on-board with what was happening. If they stopped resisting what was inevitable and just adopted the change, then all would be right in the "corporate" world. And I use the term "corporate" as a catch-all. These challenges and my project work spanned industries and organizations, from non-profit and government to privately owned and publicly traded enterprises.
The challenge is and always will be people. People will make or break the success of any change a company wants to make. So my job was part data analysis, part coaching, part writing, part training and part shrink. Get into the heads of the people to figure out what they wanted and find a way to make this change something they want. Or better yet – need. Call it marketing. Call it change management. Call it what you want. No matter how you slice and dice it, or whatever you call it, I was doing it wrong. And so are you.
If we apply the "Ask, Listen and Do" mindset to this problem, we as change management professionals can increase our effectiveness while enabling organizations to actually realize the ROI of their big dollar investments.
Let's look at 2 different change management models to see the difference and similarities: Lewin's Change Management Model and Prosci's ADKAR Model and 3-Phase Process.
Offered Free by: POPin
a d v e r t i s e m e n t
post continues from above
Operating now for nearly a decade, and originally developed by Dotmarketing Inc., dotProject was targeted to be a replacement for Microsoft Project, save it included a project management function.
Paymo is another time tracking and billing app offered on the internet.
One of the distinctive advantages of using Paymo is that it has the function of storing start and end times of projects and is integratable with your smart phones (mainly iphones).
You can download tools of the software to keep track of your time when you are working offline. It has an online account you can sign in to that allows you to keep track of time online as well.
Paymo also includes apps that maintain your client list and allows you to use easy reporting functions.
Do You Have Other Suggestions?
Please leave a comment below and we'll look into them!
About Our Guest Blogger
Christine Jones, writer, is an established virtual professional who has experienced being a virtual employee and employer.
She currently writes about driving safely and you can reach Christine via email.
If you have something to share with our audience, click the blue Contact Us button at the lower right of the page to discover how YOU can share your thoughts with our community.
Discover More About Our Vendor Spotlight Series
Our Social Media Presence
Where to Follow Us!
Twitter

More than 20 magazines and smart magazines to follow - check them out now!
LinkedIn
Minds.com
Open Group | Free Minds membership required
Google +
---
(Visited 1 times in the last 4 wks, 1 visits today)
The following two tabs change content below.
Our Audience
Contributors from Our Audience are professionals in the area of expertise and the bio was used in a different platform - with WordPress, each author now has their own dedicated profile.
The author's post(s) are entirely his or her own and may not always reflect the views of The HRIS World publications.
You can always reach any of our authors by leaving a comment or using anyone one of the social links provided in their bio - feel free to contact them, they love the feedback and recognition!
---
If you'd like to contribute an article for The HRIS World, contact us through our social media or our contact page for details about how you can share your tips with our audience...
Latest posts by Our Audience (see all)