Use our LinkedIn Login to download this post to PDF or save it to MyLibrary!
p r e f e r r e d - v e n d o r
About
The HRIS World Vendor Spotlight™ #thwVS #NextGenVendors
For vendor insights, we provide The HRIS World Content Series: Next Gen Vendor™ to promote their companies, products, services, and visions -- the Next Gen Vendor™ insights consists of 3 series...
The HRIS World Vendor Spotlight™ focuses on the different aspects of the SMB / SME vendor, their services and software
Our 2nd series,
The HRIS World Vendor Interview Series™ focuses on the SMB and Enterprise vendor's decision makers alike, their thoughts for the future of work as well as their own company, and what they see as the challenges coming up in the industry
The 3rd series,
The HRIS World Enterprise Software Options™ focuses on the different aspects of the Enterprise vendor, their services and software
All 3 series can be found through the second menu at the top of any page under The HRIS World Content Series™
The Vendor Interview Series is provided in email, podcast and video interview format while the other two series are provided in a mix of the three to supplement the content.
You will find various aspects of a vendors business as well as any announcement of webinars, group demos, and conferences a vendor may be conducting.
If you are a vendor wanting to contribute to either series via a post or interview, feel free to click the blue contact us button on the lower right of your screen to let us know how we can assist -- or if you are reading this by our newsletter, then hit the reply button to get back to us!
---
Talent has different meanings to different organizations – and whatever that meaning, does managing your talent have to be strenuous?
A hi-tech industry will refer to as talented to someone who understands the latest developments in technological world and brings about the changes to the organization accordingly.
However such a talented hi-tech expert will be invaluable to a fashion industry.
Therefore in my opinion the first step is to define the talent is…
related to and needed by you, particularly for your kind of industry
being sought by your competitors and should be hired by you
From the Get-Go
Mostly the human resource management cycle starts with Job Descriptions (JD).
The JD has to be created even if it's a new job being introduced in the organization.
Besides the technical aspects of the job, personality traits cannot be let passed.
To get the most compliant job applicant you must look for:
Technical expertise (Employee's basic qualification)
Soft skills (Make your employees adjust successfully in working environment and bring you more productivity)
Once you have identified the proficiency level in an applicant, do not overlook the need for the match between the applicant's talent and the organization's need that is critical to the benefits that can be gained from the hired personnel.
Employees and Organization's Objectives Should Be Brought Into Line
Once hired, the understanding of the organizations over all goals is essential.
The chances of deviation from goals or working for personal interests rather than the organization's, can be mitigated at this early stage.
Mismanagement at this very point can create hassle later on as the chances are that the employee and management start working in conflicting directions and are dissatisfied with each other.
Consequently the overall organization's goals will be compromised.
To help avoid this conflict…
Your employees must know organization's strategic objectives
Have an idea how to achieve those objectives
You must communicate with your employees effectively so that your employees know what you are expecting out of them
Give them room to discuss their ambiguities
Give your employee proper guidance about the tasks and responsibilities to be performed.
It will help the newly employed to have a grasp on the areas where his/her talent is needed.
Refine Their Skills
Although the hired personnel are talented enough for your organization, yet there are ways by which their competencies can be made extra ordinary.
The better they get, the more satisfied is the employee as well as the management.
You have to work on few areas before making any training decisions for your employees', i.e…
Know your employee's core competencies
Assign them tasks accordingly to maximize their productivity
Ripen their Professional as well as people's skills by providing trainings and consultancies
Normally encouraging a positive output and guiding when the results are not satisfactory can be helpful however a better solution is the training and development programs by the organizations.
This will not only enhance the talent of the hired, but it will increase the output of the organization, overall.
post continues after these free offers
a d v e r t i s e m e n t s
Today's Featured Free Offer
Ask these questions to understand your new employees better and make sure everything is on the right track.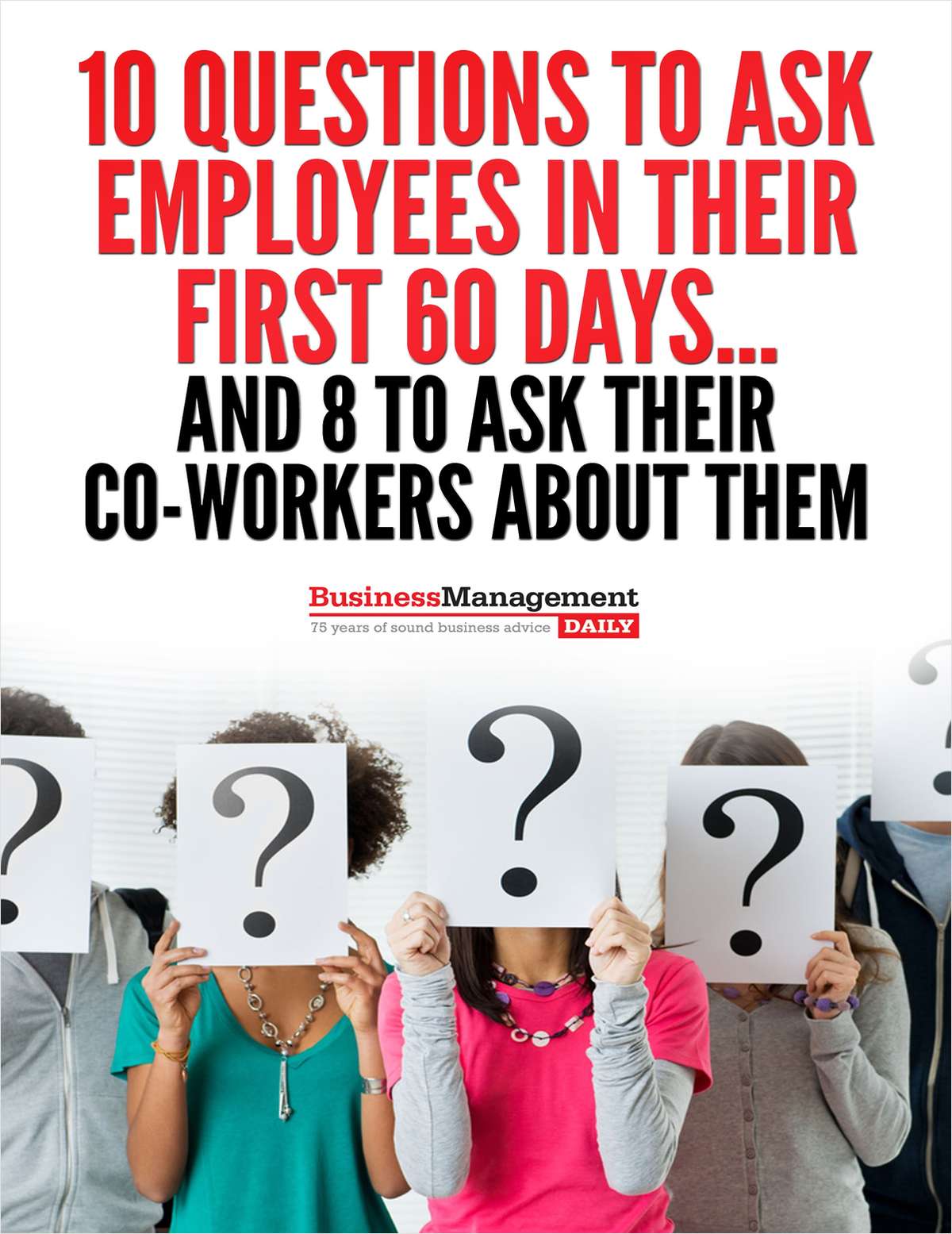 10 Questions to Ask Employees in Their First 60 Days... and 8 to Ask Their Co-Workers About Them
You can't possibly know what's going on in your new hire's mind. These 10 question will provide a comfortable atmosphere to talk about what's going great and what could be worked on. Additionally, asking their co-workers questions helps in understanding the full picture. Plus, you'll learn tips and tricks on how to liven up your onboarding process.
Offered Free by: Business Management Daily
a d v e r t i s e m e n t
post continues from above
Retain Your Employees
The fear of the turnover of such trained, talented, competent employees takes over the management.
During the course of the job, motivation remains a vital factor throughout. A highly motivated employee will give his/her best in performing the roles and responsibilities.
Similarly an unsatisfied employee will only become a burden, as the output will be lower and might even switch to the competitor.
The team spirit should be encouraged and employee should have space to openly discuss his/her mistakes and learn from them.
The ideas and the talent of the employee should not be ignored; in fact they should be given a say in the important matters…
Develop intimacy with your employees
Know their intrinsic as well as extrinsic values to reward them (Remember! Money is not always the source of motivation)
Do not forget to recognize them formally and informally
Give your employees space to openly discuss their mistakes and learn from them
Every employee is in some way or the other benefiting the organization.
The overall goal of the organizations is usually profitability through increasing revenues.
We cannot deny the huge impact of the performance of the employees on these revenues.
Only a formal annual review system can make you understand the talent you have around you.
Employers have to diligently examine each and every aspect of their employees.
You should encourage your employees openly on daily basis so that they know how much they are being esteemed by their organization.
---
Stay Updated!
To stay updated conveniently with what is going on with our content by subscribing to our newsletter.
We keep all your information confidential – we never buy nor sell lists.
You control what you receive as well – both when you subscribe as well as afterwards through a link in the footer of the newsletters.
Make Us Convenient For You
Subscribe to any 1 or more
of our Newsletters NOW!
---
Discover More About Talent Management
Discover More From Our Vendor Spotlight Series
Our Social Media Presence
Follow Us!
Twitter
LinkedIn
Minds
Open Group | Free Minds membership required
Google +
paper.li
---
The following two tabs change content below.
Hafsah Nazir, HR Analyst - WorkforceGrowth
Hafsah Nazir is a human resource analyst at
WorkforceGrowth
and is working on barriers to
talent management
and their solutions.
Latest posts by Hafsah Nazir (see all)