Use our LinkedIn Login to download this post to PDF or save it to MyLibrary!
p r e f e r r e d - v e n d o r
About
The HRIS World Enterprise Software Options™ #thwESO #NextGenVendors
For vendor insights, we provide The HRIS World Content Series: Next Gen Vendor™ to promote their companies, products, services, and visions -- the Next Gen Vendor™ insights consists of 3 series...
The HRIS World Vendor Spotlight™ focuses on the different aspects of the SMB / SME vendor, their services and software
The HRIS World Vendor Interview Series™ focuses on the SMB and Enterprise vendor's decision makers alike, their thoughts for the future of work as well as their own company, and what they see as the challenges coming up in the industry
The HRIS World Enterprise Software Options™ focuses on the different aspects of the Enterprise vendor, their services and software
All 3 series can be found through the second menu at the top of any page under The HRIS World Content Series™
The Vendor Interview Series is provided in email, podcast and video interview format while the other two series are provided in a mix of the three to supplement the content.
You will find various aspects of a vendors business as well as any announcement of webinars, group demos, and conferences a vendor may be conducting.
If you are a vendor wanting to contribute to either series via a post or interview, feel free to click the blue contact us button on the lower right of your screen to let us know how we can assist -- or if you are reading this by our newsletter, then hit the reply button to get back to us!
---
How Does Compliance Management reduce the strain on HR?
Non-Compliance Can Result In Surprise Penalties and Fees, Dominoing into an Increased Strain on HR
One of the more difficult aspects associated with running a business is the constant threat of non-compliance.
Generally, these rules are made to ensure the safety and success of a business and their staff, but with changes so often implemented to legislation, it is not uncommon for businesses to be fined for not complying with a regulation they weren't even aware of.
In fact, the term 'HR' in itself can encompass anything under the umbrella of administration and anyone who works in this area will know there is more to it than paperwork.
But, what if the different components of HR aren't communicating with one another?
Payroll, Recruitment, Company policy, etc.
If these aren't connected in some manner, mismanagement can exacerbate lost time and money.
Software that helps coordinate all of these areas is the ideal solution.
Not a new concept, but certainly an improvement on past systems, compliance software is becoming ever more essential for a strong HR system.

---

Click the image to start your newsletters now!
---
4 Reasons to Add Software Compliance to HR
Adapts to Your Specific Needs
What may be an off-putting aspect to new software for many is customisation. However, with new compliance software, it has been made simple to adapt to the unique requirements of the company.
Instead of doing this through any form of programming, easy tailoring is available to make sure you remain compliant in areas relevant to your administration.
Fitting in with data protection and security checks, these software packages can accommodate all budgets and all levels of management and business size.
Simplicity Through Automation
In order to make the software viable in the long-run, they are commonly made simple with easy-to-use interfaces.
This ensures that complicated tasks can be simplified, enabling updates to be made in-house without a fuss.
Scheduling and reminder tools can help staff remain organised as well as compliant and the improved usability allows for minimal management, with a great return on managing data securely and clearly.
Saves Time, and Therefore Money
What may have taken staff hours or days to achieve, software can speed up, reducing administration time, and helping to spread resources more effectively.
This can be done through automated tasks and scheduled updates reducing the risk of human error and allowing for a quicker turnaround when it comes to documenting management and reporting.
post continues after these free offers
a d v e r t i s e m e n t s
Today's Featured Free Offer
You're Doing it Wrong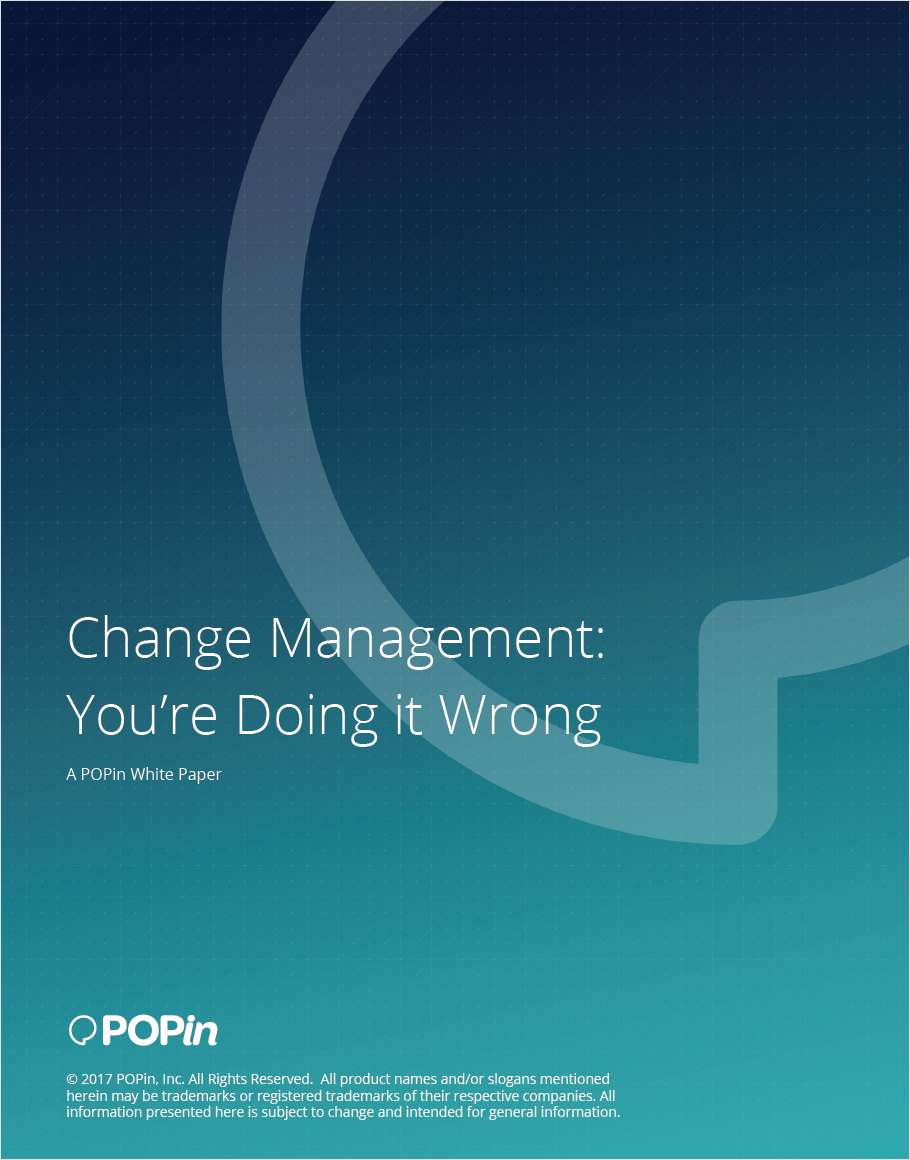 Change Management for Your Organization
I am a recovering change management consultant. Over the last 20 years or so, I've focused my career primarily in the people change management space. My job was to help companies realize the ROI of their multi-million dollar investments – whether they be investments in organizational redesign, new systems or large scale business transformations – by mitigating resistance, creating buy-in and driving adoption. The way to do that was to get the people on-board with what was happening. If they stopped resisting what was inevitable and just adopted the change, then all would be right in the "corporate" world. And I use the term "corporate" as a catch-all. These challenges and my project work spanned industries and organizations, from non-profit and government to privately owned and publicly traded enterprises.
The challenge is and always will be people. People will make or break the success of any change a company wants to make. So my job was part data analysis, part coaching, part writing, part training and part shrink. Get into the heads of the people to figure out what they wanted and find a way to make this change something they want. Or better yet – need. Call it marketing. Call it change management. Call it what you want. No matter how you slice and dice it, or whatever you call it, I was doing it wrong. And so are you.
If we apply the "Ask, Listen and Do" mindset to this problem, we as change management professionals can increase our effectiveness while enabling organizations to actually realize the ROI of their big dollar investments.
Let's look at 2 different change management models to see the difference and similarities: Lewin's Change Management Model and Prosci's ADKAR Model and 3-Phase Process.
Offered Free by: POPin
a d v e r t i s e m e n t
post continues from above
Tracking Goals and Staff
Set yourself goals and you will be handed reminders.
You can also categorise documentation within these goals to track progress and monitor employee's personal objectives.
Not only is this a great way in which to track an employee's entire history with the company for the likes of references or promotion purposes, but it can also enhance staffing policies and procedures.
If certain tasks aren't met by their deadline, are there changes that could be implemented to alter this?
It's a way of reflecting upon management.
Manage Risk More Effectively
In terms of recruitment, compliance software can ensure that employees have the right to work.
In fact, it can ensure background checking is undertaken, and can also ensure that new staff are fully trained.
This could be through documentation of what training they have already undertaken and when they should update their skills.
This can really maximise compliance administration and help recruit to the best of your company's potential.
For a listing of possible compliance software solutions for your company, see SelectHub's Headerboard on Risk Management & Compliance
Discover More From Our Enterprise Software Options Series
Our Social Media Presence
Where to Follow Us!
Twitter

More than 20 magazines and smart magazines to follow - check them out now!
LinkedIn
Minds.com
Open Group | Free Minds membership required
Google +
---
(Visited 211 times in the last 4 wks, 19 visits today)
The following two tabs change content below.
A product of the 80's, Ben still owns a 1984 Apple Macintosh testifying to his claim to being an original Geeky Kid. His academic background is in business strategy focused around Open Source and software development methodologies.
Ben spent 10 years in purchasing and supply chain management (including as a director of Media Tools PLC) and lists his "Likes" as tech, entrepreneurship and innovation, writing, positive 'can-do' people and anything that goes fast, bang or risks life and limb (among other things, he has been an enthusiastic skydiver).
You can reach Ben via email, social media, or by leaving a comment below...
Latest posts by Ben Stoneham (see all)