Use our LinkedIn Login to download this post to PDF or save it to MyLibrary!
p r e f e r r e d - v e n d o r
Technology investments are necessary for any business wanting to keep up with today's mobile world
However, in a struggling economy, few businesses are able to provide their employees with the latest technology.
This problem has become even more prevalent in recent years, as the speed of innovation has forced companies to replace hardware at a staggering rate.
Thus, business leaders must make an unfortunate choice between spending limited funding on new technology or running the risk of becoming obsolete.
Every Cloud Has a Silver Lining
The good news is there's a middle ground solution making waves: bring your own device, or BYOD as it is more commonly known.
With BYOD, employees are allowed to work with their own devices, including laptops, tablets, as well as smartphones.
This system is ideal for companies seeking to establish a hybrid workplace that promotes a continuous flow of ideas.
What Are the Advantages of BYOD?
The main advantage of BYOD is its financial implications.
If employees are allowed to use their own devices in the workplace, the technology budget can quickly be slashed.
An oft-overlooked benefit of BYOD is the creativity and productivity that can flow from having a variety of devices in one room.
Many employees prefer working on their own devices instead of being forced to adapt to systems with which they are unfamiliar.
This increased level of technological comfort could translate to better productivity on the part of your employees.
Are There Concerns for BYODs?
BYOD definitely presents some excellent benefits, but there are a few downsides as well.
Compatibility could be an issue for any company wishing to have all its employees integrated into the same system.
post continues after these free offers
a d v e r t i s e m e n t s
Today's Featured Free Offer
You're Doing it Wrong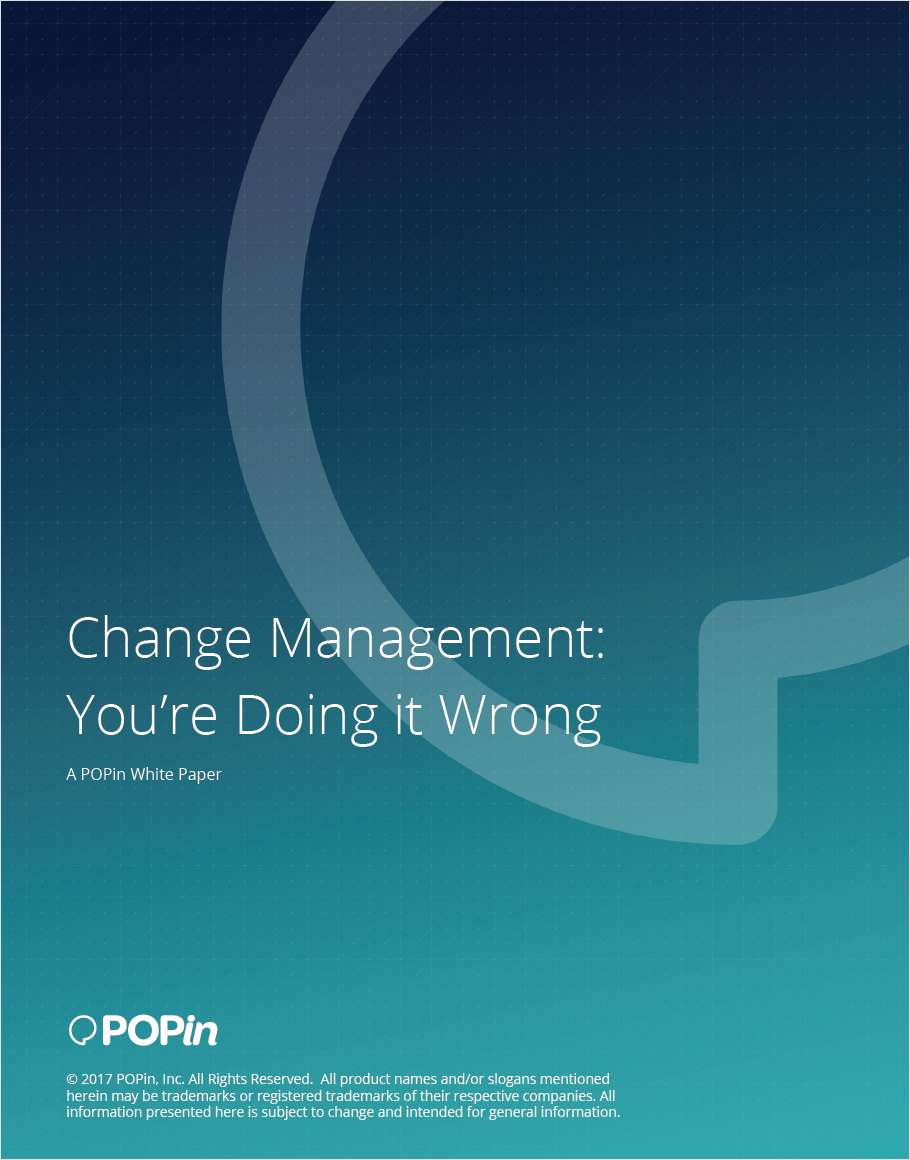 Change Management for Your Organization
I am a recovering change management consultant. Over the last 20 years or so, I've focused my career primarily in the people change management space. My job was to help companies realize the ROI of their multi-million dollar investments – whether they be investments in organizational redesign, new systems or large scale business transformations – by mitigating resistance, creating buy-in and driving adoption. The way to do that was to get the people on-board with what was happening. If they stopped resisting what was inevitable and just adopted the change, then all would be right in the "corporate" world. And I use the term "corporate" as a catch-all. These challenges and my project work spanned industries and organizations, from non-profit and government to privately owned and publicly traded enterprises.
The challenge is and always will be people. People will make or break the success of any change a company wants to make. So my job was part data analysis, part coaching, part writing, part training and part shrink. Get into the heads of the people to figure out what they wanted and find a way to make this change something they want. Or better yet – need. Call it marketing. Call it change management. Call it what you want. No matter how you slice and dice it, or whatever you call it, I was doing it wrong. And so are you.
If we apply the "Ask, Listen and Do" mindset to this problem, we as change management professionals can increase our effectiveness while enabling organizations to actually realize the ROI of their big dollar investments.
Let's look at 2 different change management models to see the difference and similarities: Lewin's Change Management Model and Prosci's ADKAR Model and 3-Phase Process.
Offered Free by: POPin
a d v e r t i s e m e n t
post continues from above
Security is another major concern — if employees are allowed to bring their work devices home with them, there's more potential for a security breach.
Issues like security and compatibility must be addressed before any business decides to go the BYOD route.
But, if a clear device policy is established then the problems associated with BYOD can be kept to a minimum.
What is the Best Way to Implement BYOD?
As mentioned above, implementing BYOD will require the development of a thorough technology policy.
Employees need to know which kinds of devices they can bring to work, how much information can be taken home with them and whether they are allowed to access work documents from remote locations.
Security will need to be beefed up as well; with BYOD, the potential for security breaches can rise significantly.
Finally, employees may need some guidance as to how they can use such diverse devices cooperatively in the same environment.
This topic can be addressed at an in-service, during which you can examine rules and regulations for BYOD.
No Better Time Than Now
With many companies exploring the possibilities of the cloud, there's never been a better time for BYOD.
Whether you have an in-house hybrid solution or host everything in an off-site cloud center, it's a fairly simple task to allow myriad devices access to your information.
Most major smartphones and tablets support domain networks, letting you carefully set permissions for specific accounts and giving the users their choice of device.
Conclusion
There's a lot of potential with a bring your own device policy.
With hybridization taking over the workplace, those companies willing to try BYOD just might find themselves ahead of the curve when it comes to business technology.
Our Social Media Presence
Where to Follow Us!
Twitter

More than 20 magazines and smart magazines to follow - check them out now!
LinkedIn
Minds.com
Open Group | Free Minds membership required
Google +
---
(Visited 1 times in the last 4 wks, 1 visits today)
The following two tabs change content below.
Dawn Altnam
Dawn Altnam is a regular contributor to The HRIS World, be sure to see her other articles listed just below.
Dawn lives & works in the midwest and loves following the business tech world.
After furthering her education, she now spends her time researching her interests and blogging her discoveries quite often.
You can reach Dawn via email, social media or by leaving a comment below...
Latest posts by Dawn Altnam (see all)