Use our LinkedIn Login to download this post to PDF or save it to MyLibrary!
p r e f e r r e d - v e n d o r
Dawn Altnam is a regular contributor to The HRIS World.
---
The human resources department is a busy and productive place in almost all offices.
While, to outsiders, it often feels like the only thing that human resources does is hire new employees, the department actually handles many important tasks that improve things for the office as a whole.
Because of this, HR managers are always looking for new ways to improve the flow of information in and out of the department.
Find out how managers are using the concept of "big data" to learn more about the employees who work for them and streamline the entire human resources process…
Recruiting
When your company starts looking for new employees, the human resources department goes into overdrive.
Whether the recruiting process involves visiting career fairs, accepting open applications or actively headhunting, there are many tasks on which the HR staff is constantly working.
However, by utilizing "big data," the recruiting process is often simplified.
The main way big data is used in recruiting is using the concept of predictive analysis.
Essentially, in recent years, HR managers have collected information about all their employees, which is now a data miner's dream.
Analyzing the data on the best employees allows those working in HR to determine what type of person would make the best candidate for any open positions in the company.
That makes recruiting a breeze. Quite often companies already have this information available, it's just a matter of locating, combining, and analyzing it.
Retention
Just as important, if not more so, is the idea of retaining employees who are already with the company and doing a good job.
Big data also makes a big difference with this task. When big data is used in this way, there's often the misconception that the company is spying on their employees.
However, this is often far from the truth. The HR departments simply collect basic information about the employees, their satisfaction levels, training information and other details.
This information can be used to help determine ways to improve and retain the staff already in place for corporations of all sizes. Lowes, ARAMARK, UPS, and other large corporations are already using this data to improve the staff in place as well as in the hiring process.
Best Practices
Big data does not create itself, nor can companies properly utilize it without following a few basic best practices.
post continues after these free offers
a d v e r t i s e m e n t s
Today's Featured Free Offer
You're Doing it Wrong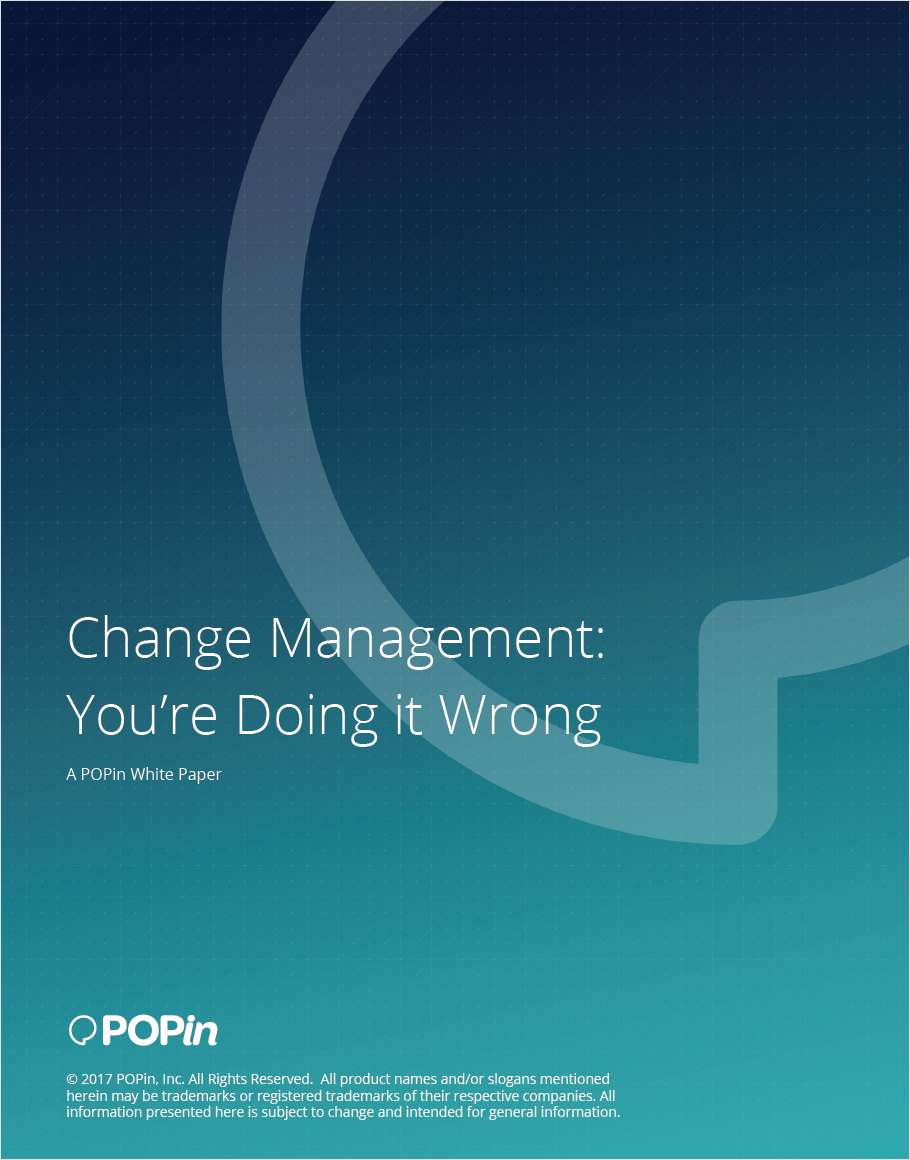 Change Management for Your Organization
I am a recovering change management consultant. Over the last 20 years or so, I've focused my career primarily in the people change management space. My job was to help companies realize the ROI of their multi-million dollar investments – whether they be investments in organizational redesign, new systems or large scale business transformations – by mitigating resistance, creating buy-in and driving adoption. The way to do that was to get the people on-board with what was happening. If they stopped resisting what was inevitable and just adopted the change, then all would be right in the "corporate" world. And I use the term "corporate" as a catch-all. These challenges and my project work spanned industries and organizations, from non-profit and government to privately owned and publicly traded enterprises.
The challenge is and always will be people. People will make or break the success of any change a company wants to make. So my job was part data analysis, part coaching, part writing, part training and part shrink. Get into the heads of the people to figure out what they wanted and find a way to make this change something they want. Or better yet – need. Call it marketing. Call it change management. Call it what you want. No matter how you slice and dice it, or whatever you call it, I was doing it wrong. And so are you.
If we apply the "Ask, Listen and Do" mindset to this problem, we as change management professionals can increase our effectiveness while enabling organizations to actually realize the ROI of their big dollar investments.
Let's look at 2 different change management models to see the difference and similarities: Lewin's Change Management Model and Prosci's ADKAR Model and 3-Phase Process.
Offered Free by: POPin
a d v e r t i s e m e n t
post continues from above
These include:
Aligning data with specific goals – This means that HR execs need to remember that it's not just about collecting as much data as possible, but instead, collecting the right data
Optimize data sharing – Often, the information is already in place in many big companies—the human resources staff just needs to learn the easiest way to find and utilize it
Plan ahead – The HR staff needs to work with management to determine the needs into the future, not just for today; these long-term plans are where big data shines
Protect data – Backing up data regularly is important so it doesn't become lost in the shuffle.
Additionally, this information should be protected since HR comes into contact with so much personal information.
A great way to accomplish both is by looking into backup software.
Discover More About Cloud Computing
Our Social Media Presence
Where to Follow Us!
Twitter

More than 20 magazines and smart magazines to follow - check them out now!
LinkedIn
Minds.com
Open Group | Free Minds membership required
Google +
---
(Visited 7 times in the last 4 wks, 7 visits today)
The following two tabs change content below.
Dawn Altnam
Dawn Altnam is a regular contributor to The HRIS World, be sure to see her other articles listed just below.
Dawn lives & works in the midwest and loves following the business tech world.
After furthering her education, she now spends her time researching her interests and blogging her discoveries quite often.
You can reach Dawn via email, social media or by leaving a comment below...
Latest posts by Dawn Altnam (see all)