Use our LinkedIn Login to download this post to PDF or save it to MyLibrary!
p r e f e r r e d - v e n d o r
Thomas Jones provides his perspective on recruiting in the U.K. — the practices are the same though any laws noted are for the U.K. Your country may have similar laws, please feel free to share what they are in the comments section below.
---
Recruitment is an area that can be a costly waste of time if not approached correctly and there are a number of factors to be taken into consideration when recruiting employees.
Recruitment has become a very arduous market and here we provide a useful guide to help you through the quagmire of recruitment.
Recruitment Channels
Decide which channels you will use to recruit your employee.
With a plethora of avenues for recruitment such as recruitment agencies and online social media, there are still benefits from advertising in trade magazines and other paper media vehicles.
Job Specification and CV Filtering
To avoid endless job applications from candidates who are totally unsuitable for the vacancy you're looking to fill, ensure the job specification fulfills all the requirements necessary.
Recruitment is time consuming and if you're looking to recruit quickly, then endless applications may well mean you miss out on a candidate who is ideal on paper for the vacancy.
Job specification is one of the most important aspects of recruitment and avoiding pitfalls such as hiring someone who may look good on paper yet be totally unsuitable in reality is paramount.
CVs and cover letters are your starting and reference points about a person. Make sure you're fully aware of the information provided by the candidate.
The CV filtering process is the starting point of selection.

Interviews
Interviews should be completed as soon as possible and time them wisely. Always conduct a face-to-face interview with prospective candidates.
Telephone interviews are suitable for first contact, but do not offer a position over the telehone.
Follow a pre-arranged selection process and if appropiate, discuss with your selection panel, your overall goal.
To find the right person for the job. Clear vision of what you're looking for from a candidate is needed to avoid potential mistakes.
Always have the CV and covering letter for reference at the interview stage.

Know The Law
Certain positions are exempt from the Rehabilitation of Offenders Act of 1974 and while there are current reforms under scrutiny, this act has remained unchanged for over 40 years.
However, the exceptions to the ROA has changed and increased over the last decade and it is important that your business knows the different levels of screening for perspective employees.
The law equally applies to employment and your obligations as an employer.
Know exactly the terms of employment, probation periods, holiday and sick pay and know your rights as an employer.
Don't be tempted to skimp on a contract, even during a probationary period.
A letter of engagement will suffice until a probationary period expires, but make sure that all information is correctly worded and you're clear on what the business offers and what you expect from your prospective employee.

References and Probationary Periods
Once you have selected your employee, make sure your business is well prepared for welcoming a new employee.
Update your existing staff and be clear to them about the position your new employee is responsible for. Keep your office tidy and encourage staff to do the same.
Welcoming your new employee is very important for the success of your business and a welcomed employee is far better than a disgruntled one.
Keeping your HR department up to speed on new employees is important for the smooth transistion of your new employee feeling as though they have also made the right decision.
The probationary period allows both parties to iron out any problems as they arise such as reference delays and other screening tools.

What Are Your Thoughts??
✔   If you are from the U.K., what other points can you add to Thomas's article?
✔   If you are not from the U.K., what laws does your recruitment need to be sensitive to?
post continues after these free offers
a d v e r t i s e m e n t s
Today's Featured Free Offer
Ask these questions to understand your new employees better and make sure everything is on the right track.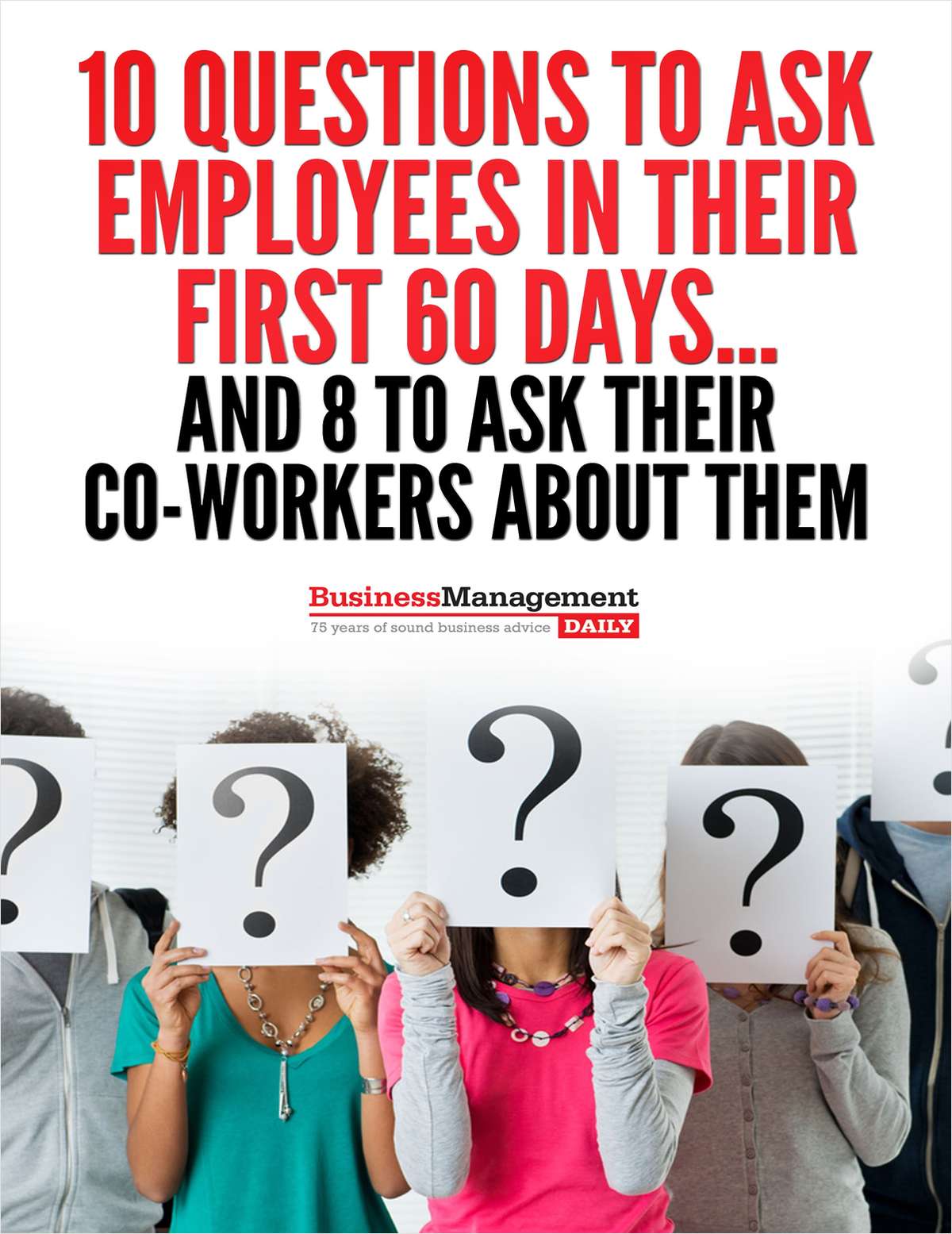 10 Questions to Ask Employees in Their First 60 Days... and 8 to Ask Their Co-Workers About Them
You can't possibly know what's going on in your new hire's mind. These 10 question will provide a comfortable atmosphere to talk about what's going great and what could be worked on. Additionally, asking their co-workers questions helps in understanding the full picture. Plus, you'll learn tips and tricks on how to liven up your onboarding process.
Offered Free by: Business Management Daily
a d v e r t i s e m e n t
post continues from above
✔   Recruitment is going mobile in many countries, especially in North America, Europe, and Africa — your thoughts?
Please share your thoughts with our audience in the comments section below!
More on This Topic
Leading the Global Workforce provides a handy guide for international organizations that must achieve results in managing and sustaining a global workforce.
The 14 illustrative cases outlined address the major concerns—recruiting and developing global leaders, global organizational learning, cross-cultural communication, outsourcing line functions, and managing global careers and transitions—from sixty of the world's best-practice global organizations.
Each case shows how the organization advanced a global business strategy with a new initiative in the areas of global leadership development, cultural change, career transition, succession planning, change management, outsourcing, and global performance.
In addition, Leading the Global Workforce also describes the overall strategy, planning, and implementation of the initiative; feedback from participants; and overall evaluation of results.
Many of the cases contain competency models, practical tools, instruments, and materials that were most effective.
[easyazon-block align="none" asin="B001AMP0L6″ locale="us"]
[easyazon-cta align="none" asin="B001AMP0L6″ height="28″ key="amazon-us-wide-orange" locale="us" width="176″]
About the Authors of the Book
Phil Harkins is president, CEO, and chairman of the Board of Directors of Linkage, Inc.
David Giber is senior vice president at Linkage, Inc.
Mark R. Sobol is the founding principal of Leadership Strategies International, Inc.
Madeline Tarquinio is a research analyst for Linkage, Inc.
Louis Carter is the founding president of the Best Practices Institute.
---
Other Recommendations from Our Store
[custom_author=PinterestTHWS]
[custom_author=PinterestTHCW]
---
The following two tabs change content below.
Thomas Jones is a business consultant that has a particular interest in specialised
corporate business practices
and how you work and develop over time. He also write business guides and articles at
BestPracticeHub.com
You can reach Thomas via email, through the social meida, or by leaving a comment below...
Latest posts by Thomas Jones (see all)