Use our LinkedIn Login to download this post to PDF or save it to MyLibrary!
p r e f e r r e d - v e n d o r
Operating a Non-Profit Hones Management Skills
A successful non-profit will always be have knowledgeable as well wise leadership
Non-profit organizations are faced with countless challenges not found in any other field.
Whether it is connecting with volunteers, or stretching each donation as far as possible, the most successful non-profits must be backed by innovative and driven teams.
Here is a look at some of the newest non-profits and how they are changing the world…

Kiva
Kiva has put the power of the internet into the hands of countless organizations and individuals.
The goal of the organization is to connect lenders with entrepreneurs that are typically living in extreme poverty.
The entrepreneurs are given resources to make a business plan and proposal that is then given to lenders.
The success-rate of the repayments and entrepreneurs is now over 97 percent.

Acumen
Much like Kiva, Acumen has been designed to allow investors to provide loans to struggling entrepreneurs.
Individual investors can also offer funds to Acumen itself which will then diversify one's investments.
The primary difference between these two organizations is the fact that Acumen focuses on clean energy companies and local agriculture businesses in developing countries.

I Had Cancer
This non-profit organization is in its earliest stages, and has been created to help garner a community for those struggling with cancer, and those who have beat cancer.
Users can sign up with nothing more than their age, location, and type of cancer that they are struggling with.
They can then look through a list of cancer survivors in their area who can provide as much support as they need.

post continues after these free offers
a d v e r t i s e m e n t s
Today's Featured Free Offer
You're Doing it Wrong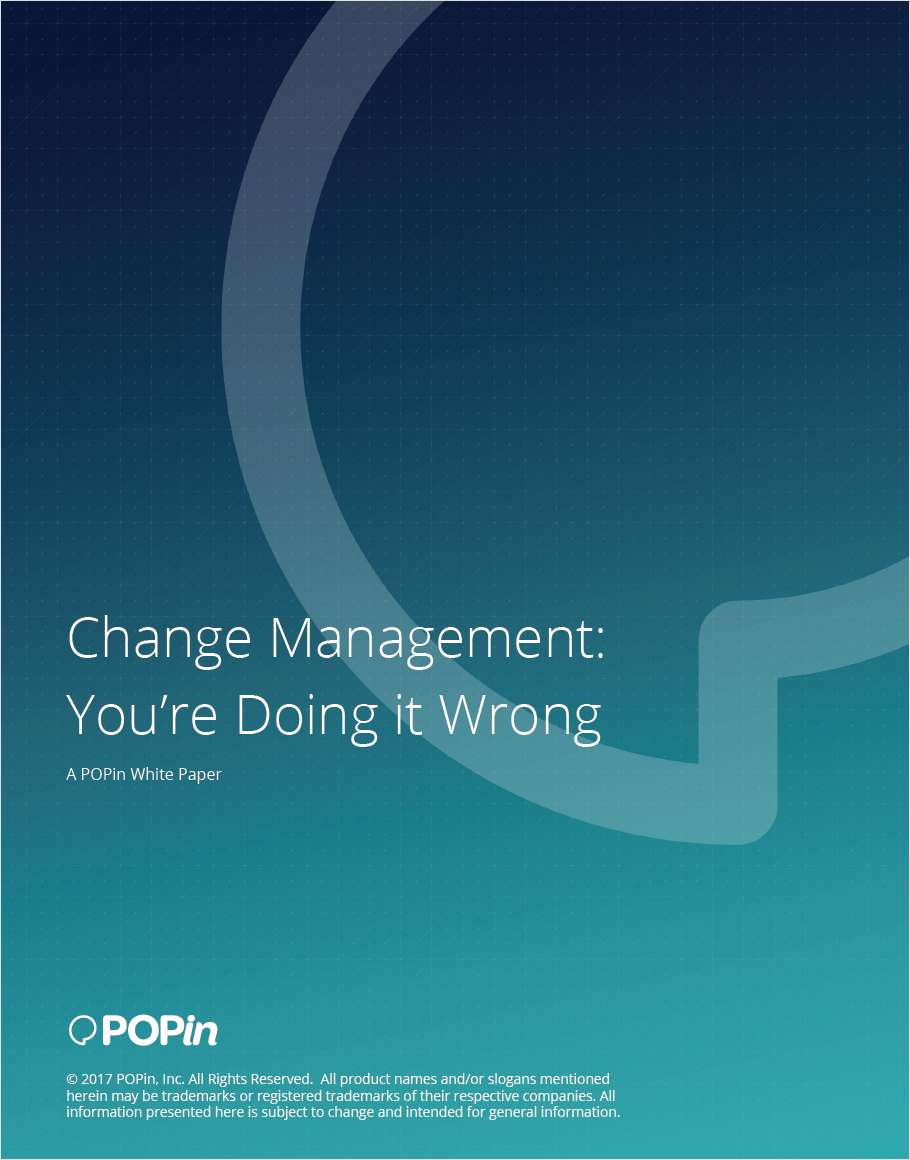 Change Management for Your Organization
I am a recovering change management consultant. Over the last 20 years or so, I've focused my career primarily in the people change management space. My job was to help companies realize the ROI of their multi-million dollar investments – whether they be investments in organizational redesign, new systems or large scale business transformations – by mitigating resistance, creating buy-in and driving adoption. The way to do that was to get the people on-board with what was happening. If they stopped resisting what was inevitable and just adopted the change, then all would be right in the "corporate" world. And I use the term "corporate" as a catch-all. These challenges and my project work spanned industries and organizations, from non-profit and government to privately owned and publicly traded enterprises.
The challenge is and always will be people. People will make or break the success of any change a company wants to make. So my job was part data analysis, part coaching, part writing, part training and part shrink. Get into the heads of the people to figure out what they wanted and find a way to make this change something they want. Or better yet – need. Call it marketing. Call it change management. Call it what you want. No matter how you slice and dice it, or whatever you call it, I was doing it wrong. And so are you.
If we apply the "Ask, Listen and Do" mindset to this problem, we as change management professionals can increase our effectiveness while enabling organizations to actually realize the ROI of their big dollar investments.
Let's look at 2 different change management models to see the difference and similarities: Lewin's Change Management Model and Prosci's ADKAR Model and 3-Phase Process.
Offered Free by: POPin
a d v e r t i s e m e n t
post continues from above
Charity: Water
Access to clean water is still a struggle in dozens of countries throughout the world, but there is an end in sight.
Charity: Water combines a number of projects, each designed to provide potable water in countries ranging from Bolivia to Cambodia.
The methods used by this organization range from Masters civil engineering students volunteering time, to media packets for companies that would like to start their own donation campaign.

One
One now has over 3 million global members, and its goal is to end extreme poverty around the world.
The company carries out a wide variety of projects and services and has recently raised over $100 million in relief funds.
Projects include education campaigns, food drives, AIDs research, and more.

The Last Word
Technology and non-profit organizations are now blending together seamlessly, and this means grassroots movements can be shared around the world with the click of a mouse.
These 5 non-profits are leading the world into a new and more charitable age.
Discover More Of Our Rabmlings
Our Social Media Presence
Where to Follow Us!
Twitter

More than 20 magazines and smart magazines to follow - check them out now!
LinkedIn
Minds.com
Open Group | Free Minds membership required
Google +
---
(Visited 1 times in the last 4 wks, 1 visits today)
The following two tabs change content below.
Brooke Chaplan is a freelance writer and blogger from New Mexico.
After graduating from the University of New Mexico she moved to Los Lunas where she spends her time reading, writing researching and running.
You can always reach her by email, social media, or by leaving comment below...
Latest posts by Brooke Chaplan (see all)