Use our LinkedIn Login to download this post to PDF or save it to MyLibrary!
p r e f e r r e d - v e n d o r
Appreciation for a Job Well-Done Is Always Welcomed
An employer's appreciation doesn't have to be celebrated just once — it can happen every month for a year
A month-to-month club sends employees a different treat or type of food every month.
There are clubs available for everything from fish and cheese to ties and socks.
They are a fun way to reward top employees who have contributed to the success of a business.
img credit : screen-walpaper.com
Here are 5 month-to-month clubs that any employee will enjoy….
Coffee
Coffee is often a part of every morning and afternoon for hard-working employees.
A coffee of the month club will send top employees a different flavor or strength of bean every month.
Some have unique flavors while others are harvested from halfway around the world.
This monthly delivery will be well appreciated by coffee lovers.
Fruit
Everyone knows that fruit is a healthy and sweet treat as part of a dessert or as a snack during the day.
A month-to-month fruit club will send a basket of fruits to top employees every 30 days.
The fruits arrive fresh from the grower.
This type of club can be enjoyed by one person or can be a welcome gift in the office that everyone will appreciate.
Chocolate
Few people in any office would turn away chocolate.
A chocolate of the month club sends top employees a large box of gourmet chocolate made by hand.
The chocolates come in many shapes and sizes.
Some have distinctive fillings like hazelnut or caramel cream.
Anyone can enjoy this luxurious monthly gift alone or with friends and family.
The selection usually varies each month.
Beer
Employers who give top employees a subscription to a beer of the month club are rewarding workers by making it easier to relax at home.
These types of clubs select different brands and microbrews each month.
Some people who enjoy one type of beer might not be aware of the wide range of flavors that are now available.
post continues after these free offers
a d v e r t i s e m e n t s
Today's Featured Free Offer
You're Doing it Wrong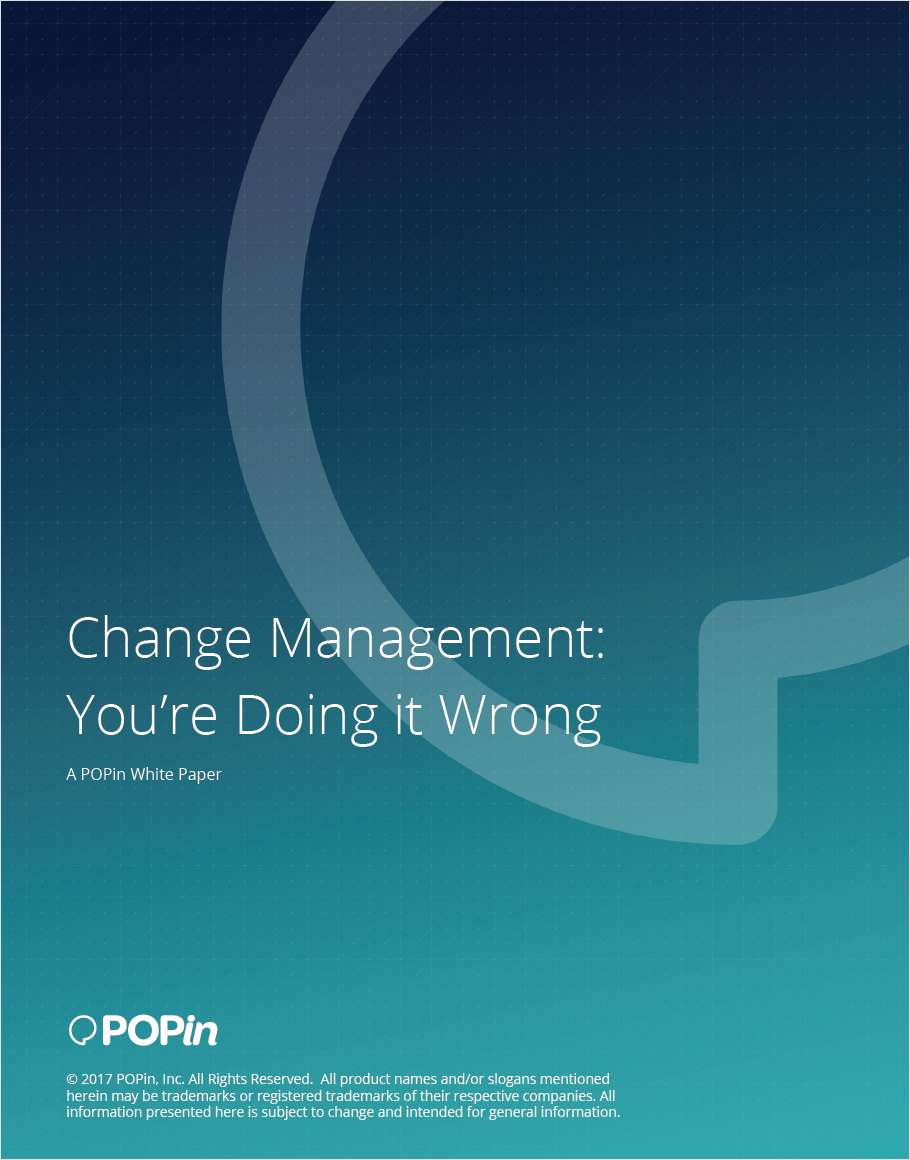 Change Management for Your Organization
I am a recovering change management consultant. Over the last 20 years or so, I've focused my career primarily in the people change management space. My job was to help companies realize the ROI of their multi-million dollar investments – whether they be investments in organizational redesign, new systems or large scale business transformations – by mitigating resistance, creating buy-in and driving adoption. The way to do that was to get the people on-board with what was happening. If they stopped resisting what was inevitable and just adopted the change, then all would be right in the "corporate" world. And I use the term "corporate" as a catch-all. These challenges and my project work spanned industries and organizations, from non-profit and government to privately owned and publicly traded enterprises.
The challenge is and always will be people. People will make or break the success of any change a company wants to make. So my job was part data analysis, part coaching, part writing, part training and part shrink. Get into the heads of the people to figure out what they wanted and find a way to make this change something they want. Or better yet – need. Call it marketing. Call it change management. Call it what you want. No matter how you slice and dice it, or whatever you call it, I was doing it wrong. And so are you.
If we apply the "Ask, Listen and Do" mindset to this problem, we as change management professionals can increase our effectiveness while enabling organizations to actually realize the ROI of their big dollar investments.
Let's look at 2 different change management models to see the difference and similarities: Lewin's Change Management Model and Prosci's ADKAR Model and 3-Phase Process.
Offered Free by: POPin
a d v e r t i s e m e n t
post continues from above
Many clubs send multiple varieties in a single shipment.
Deep Dish Pizza
Employees who love food will really enjoy a month-to-month club that sends deep dish pizza.
Locations like Great Clubs have made this savory treat available to anyone.
The club will send a few different deep dish pizzas directly to the employee.
The pizzas come with a variety of toppings that create a distinctive flavor.
The pies are made by hand and shipped overnight.
The Last Word
Choosing the right type of month-to-month club for top employees requires knowing what everyone enjoys.
This is especially true when ordering a club for the entire office.
Making the monthly gift personal will show extra appreciation from the company.
What Are Your Thoughts?
✔   Katherine is on the right track — perhaps the employee in question likes to workout, then a chocolate club gift would not be the best idea? Or then again… There are many options available — what have you heard or received when it come to month-to-month clubs?
✔   Some people will say this is so lame — yet, which one of these would turn the package away when it arrives? What other incentives can you list that could provide a good fit to your desires?
✔   What research and/or services can The HRIS World do for you and your company when it comes to Employee Retention? Feel free to leave a comment below or click below to use our contact page to reach us!
Please share your thoughts with us and our audience in the comments section below! Or you can reach us directly from our contact page.
Discover More About Employee Incentives, Motivation & Retention
Our Social Media Presence
Where to Follow Us!
Twitter

More than 20 magazines and smart magazines to follow - check them out now!
LinkedIn
Minds.com
Open Group | Free Minds membership required
Google +
---
(Visited 3 times in the last 4 wks, 3 visits today)
The following two tabs change content below.
Kathrine Kreger, is a freelance writer from Eugene, OR USA where she enjoys museums, art, and football. You can always reach Katherine via email, social media, or by leaving a comment below.
Latest posts by Katherine Kreger (see all)