Use our LinkedIn Login to download this post to PDF or save it to MyLibrary!
p r e f e r r e d - v e n d o r
Handing out business credit cards to employees can be a great alternative to reimbursing employees for business expenses – all the relevant expenditures end up on one simple statement, instead of a pile of receipts and the attendant paperwork.
At the same time, switching to plastic can have its own new challenges.
Following are some pointers for making the best use of business credit cards that you can…
1. Shop around for rewards
Assuming you're opening a new credit account for your business, you'll want to find one with the most useful rewards program you can find.
Even if you already have cards you've been using, it may be worth your while to check whether you can find a better deal. Many rewards programs are tailored specifically to business users, providing perks in the form of office supplies, software, or even utilities savings.
Then of course, there's the old standby of airline miles – travel accounts for the bulk of reimbursable employee expenses, so why not subsidize those per diems with the occasional free flight? Extra perks such as concierge services, airport lounges, etc. are also worth investigating.
2. Set clear limits
Obviously, personal and business expenses must be kept separate. Make sure that expectations are clearly laid out and understood by all employees, regarding what constitutes an acceptable purchase on company credit.
post continues after these free offers
a d v e r t i s e m e n t s
Today's Featured Free Offer
You're Doing it Wrong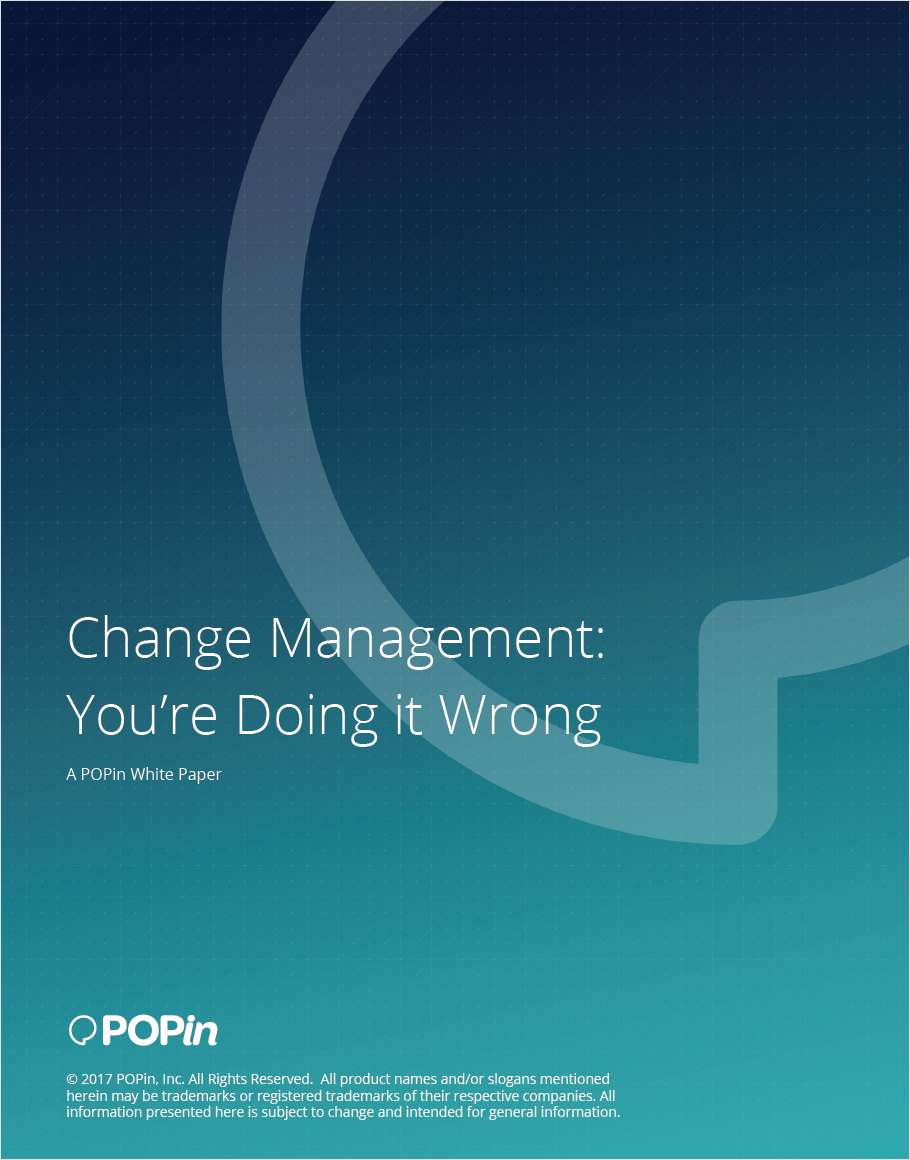 Change Management for Your Organization
I am a recovering change management consultant. Over the last 20 years or so, I've focused my career primarily in the people change management space. My job was to help companies realize the ROI of their multi-million dollar investments – whether they be investments in organizational redesign, new systems or large scale business transformations – by mitigating resistance, creating buy-in and driving adoption. The way to do that was to get the people on-board with what was happening. If they stopped resisting what was inevitable and just adopted the change, then all would be right in the "corporate" world. And I use the term "corporate" as a catch-all. These challenges and my project work spanned industries and organizations, from non-profit and government to privately owned and publicly traded enterprises.
The challenge is and always will be people. People will make or break the success of any change a company wants to make. So my job was part data analysis, part coaching, part writing, part training and part shrink. Get into the heads of the people to figure out what they wanted and find a way to make this change something they want. Or better yet – need. Call it marketing. Call it change management. Call it what you want. No matter how you slice and dice it, or whatever you call it, I was doing it wrong. And so are you.
If we apply the "Ask, Listen and Do" mindset to this problem, we as change management professionals can increase our effectiveness while enabling organizations to actually realize the ROI of their big dollar investments.
Let's look at 2 different change management models to see the difference and similarities: Lewin's Change Management Model and Prosci's ADKAR Model and 3-Phase Process.
Offered Free by: POPin
a d v e r t i s e m e n t
post continues from above
Limits should also be set in the most literal sense; maintain a line of credit on each card that's not too far above the reasonable expected use for each cardholder in a given month.
Be sure to give each employee a specific outline of the budget for a given project or trip.
3. Control the cards
Depending on the employee's job description and the rhythm of your business, you may not want to let your staff hold onto the cards at all times. Keep them in reserve for when they're needed, but make sure they're readily accessible at those times.
Remember that credit cards can be paid online, and purchases tracked practically in real time. Speaking of which…
4. Keep track
Always remember that maintaining your company's credit ratings is a top priority. Read monthly statements carefully and, in the absence of some particular, compelling reason not to, always pay down the complete balance.
The credit card company can provide you with a complete breakdown of transactions by cardholder, making it easy to keep track of employee budgets and spot any fraud or abuse (not all of which may be actionable or even worth a warning, but it's good to keep an eye out).
This material will also be needed by your accountants and perhaps the IRS eventually, so keeping it well-organized is crucial.
---
And there you have it! All the essentials for a modernized expense system. Just keep these tips in mind, and managing corporate charges will be a breeze!
Our Social Media Presence
Where to Follow Us!
Twitter

More than 20 magazines and smart magazines to follow - check them out now!
LinkedIn
Minds.com
Open Group | Free Minds membership required
Google +
---
(Visited 1 times in the last 4 wks, 1 visits today)
The following two tabs change content below.
Eliza Morgan is a full time freelance writer and blogger.
For the entrepreneur, those getting started, or planning to get started, Eliza
maintains a blog
specifically focused on managing financial needs.
You can reach Eliza by leaving a comment below or via email...